Conor McGregor takes another stab at 'petrified' Floyd Mayweather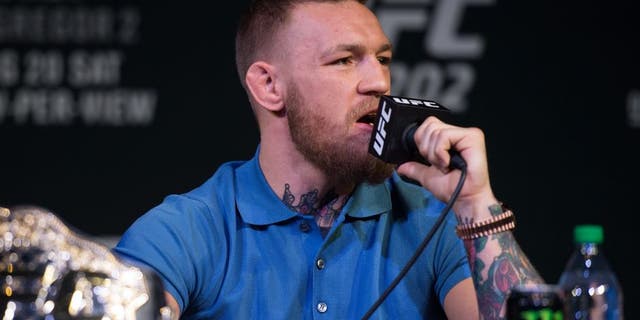 Conor McGregor has been spending some time in Las Vegas over the past week but still hasn't come face-to-face with potential opponent Floyd Mayweather during his travel.
McGregor originally went to Las Vegas for a meeting with the Nevada State Athletic Commission to request another disciplinary hearing for his actions at the UFC 202 press conference last August where he tossed bottles and cans at opponent Nate Diaz.
The commission will vote on that second hearing in March, but McGregor's trip also came with some expected side effects -- most notably rumors that his stop in Las Vegas would also result in some negotiations with Mayweather that would bring their proposed super fight one step closer to reality.
Well according to McGregor, who spoke briefly with TMZ this weekend, he didn't talk to Mayweather at all and instead decided to take a few more shots at the retired boxer as they continue to banter back and forth in the media while trying to put the fight together.
"Floyd's a [expletive] and he's petrified," McGregor said. "I flew to Las Vegas and he didn't show his face. As soon as I touched down in Vegas, he retired twice. He retired twice."
Mayweather has continuously responded to McGregor via his own social media accounts including a prior message that intimated perhaps the UFC stood as the final roadblock in putting their fight together.
The UFC maintains exclusive rights to McGregor as a contracted athlete so it's tough to see how a bout with Mayweather would come together without their involvement.
The only thing that's clear at this stage is that McGregor is still targeting Mayweather as his most desired opponent because the payday he would likely earn would be far greater than anything he's made in the UFC to date.
Now it's just a matter of getting the two superstars on the same page to agree on a financial arrangement to finally get the fight finished.
If the most recent comments from McGregor and Mayweather are any indication, that's much easier said than done.