Conor McGregor explains three ways to beat a man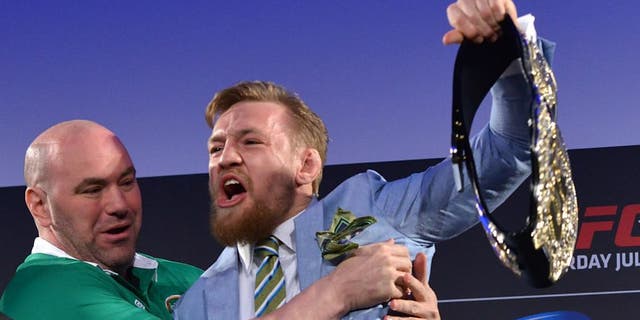 NEWYou can now listen to Fox News articles!
Conor McGregor became the UFC featherweight champion by using his fearsome fists, but in many ways, he beat a lot of his past opponents before they ever stepped into the Octagon with him.
McGregor's mental warfare has become the stuff of legend since he joined the UFC roster and there isn't anyone else in the sport right now with a greater gift for getting in an opponent's head than the outspoken Irishman.
Dustin Poirier admitted that McGregor got under his skin so bad ahead of their fight at UFC 178 that it absolutely affected his performance, and he's since changed his approach because of it.
Using the gift of gab to verbally batter an opponent is a huge asset and McGregor explains that it's one of three key factors he uses to defeat anybody who opposes him in the UFC.
"Verbal warfare is another form of warfare, so I look to engage in that 100 percent," McGregor told ESPN this week. "It's just part of the game. It's part of the business."
You beat him verbally, you beat him mentally and then finally you beat him physically. That's the three ways to beat a man. -- Conor McGregor
McGregor has enjoyed a mental advantage over almost every opponent he's faced in the UFC outside of Nate Diaz, who stands as the only loss on his record since joining the promotion in 2013.
Diaz went toe to toe with McGregor inside and outside of the Octagon the first time they met and he'll likely turn up the heat again as they prepare to face each other against on Aug. 20 at UFC 202.
Before they fight, McGregor and Diaz will first square off at the UFC 202 press conference on Thursday in Las Vegas, and the verbal warfare for the rematch likely will ratchet up when the two get behind the microphone while sitting just feet from each other.
McGregor says he's learned a lot from that March fight, but it had nothing to do with the intense staredowns or near-brawl they engaged in during one press conference ahead of their bout at UFC 196.
The biggest mistake that McGregor says cost him the fight was the unnecessary adjustment he made to his diet after missing out on a lightweight title shot against Rafael dos Anjos, who pulled out of their bout due to injury.
Instead of fighting at 155 pounds, McGregor took on Diaz at 170 pounds and he says the changes he made to his diet over the last two weeks ahead of the fight made a drastic difference in his overall performance.
"I am forever, forever learning. I think in the last fight, I mismanaged my weight," McGregor explained. "I was working with my nutritionist for the lightweight title fight to make 155 pounds. I was on track. Nine days out from the fight, I'm in phenomenal condition, and then the weight got changed [to 170] and all of a sudden I'm 10 pounds below and I'm like, I don't need this diet because I need to eat up to the weight.
"So I threw that out. I disengaged from that. I started eating two steaks a day, two breakfasts. I'd have a coffee and some cookies with that, please, also. I'd be in the gym six to eight hours on fight week. I've got bags of energy. I can do this all day. But it came back and bit me in the ass. My body went into shock. I over-trained and then mismanaged the weight, and it came back to bite me on the ass."
This time around, McGregor says he's made the necessary changes to his diet and he's actually become obsessed about his nutrition to ensure that the mistakes that he made against Diaz the last time won't come back around during the rematch.
"My nutrition is another thing that I've become obsessed with lately. Right now I'm following a strict nutrition plan, and I eat on the clock," McGregor said. "My body is feeling good. It's not depleting me."
McGregor will attempt to carry that momentum into the press conference on Thursday and then again in August when he tries to seek vengeance against Diaz in the main event at UFC 202 in Las Vegas.