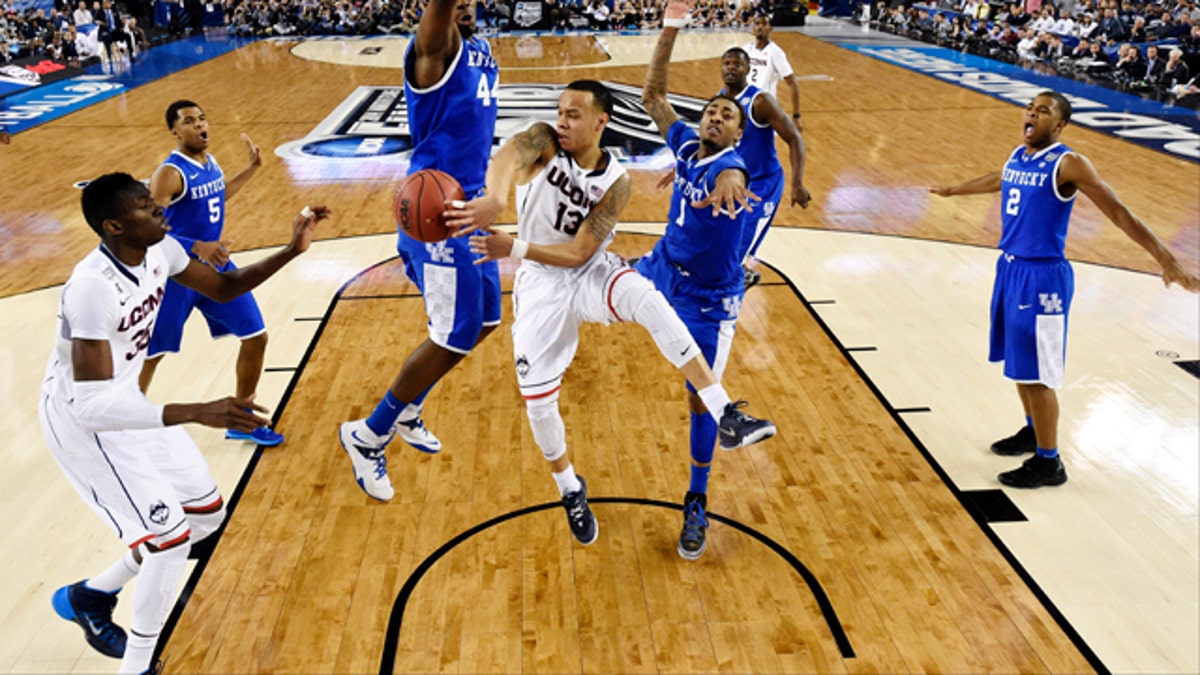 Shabazz Napier scored 22 points and was named the Final Four's Most Outstanding Player while Ryan Boatright added 14 points as Connecticut defeated Kentucky 60-54 Monday night to win the school's fourth NCAA men's basketball national championship.
Connecticut led by as many as 15 points in the first half, and never trailed in the game, despite three Kentucky rallies to cut the Huskies' lead to one.
After the Wildcats made the score 48-47 on two James Young foul shots with just over eight minutes to go, Aaron Harrison missed a three that would have given Kentucky its first lead. Napier nailed a trey at the other end to bump UConn's lead back up to four. Then, after Julius Randle made the score 51-49 with a layup, Niels Giffey knocked down another three to make the score 54-49. Kentucky only made one field goal in the game's final five minutes and UConn remained cool when it counted. The Huskies made all 10 of their foul shots, while Kentucky only made 13 of their 24 free throws.
UConn's victory gave the school its fourth men's basketball title and second in four years. The loss denied Kentucky coach John Calipari his second championship in three years. Kentucky remains stuck on eight men's basketball championships, the second-most in the NCAA's Division I behind UCLA.
Napier kneeled down and put his forehead to the court for a long while after the buzzer sounded. He was wiping back tears when he cut down the net.
"Honestly, I want to get everybody's attention right quick," Napier said. "You're looking at the hungry Huskies. Ladies and gentlemen, this is what happens when you banned us."
Yes, it is only a short year since the Huskies were barred from March Madness because of grades problems. That stoked a fire no one could put out in 2014.
In all, Calipari's One and Doners got outdone by a more fundamentally sound, more-seasoned group that came into this tournament a seventh-seeded afterthought but walked away with the program's fourth national title since 1999. They were the highest seed to win it all since Rollie Massimino's eighth-seeded Villanova squad in 1985.
Napier and Boatright now go down with Kemba Walker, Emeka Okafor and all those other UConn champs of years past. This adds to the school's titles in 1999, 2004 and 2011.
This one was, by far, the most unexpected.
A short year ago, UConn was preparing for its first season in the new American Athletic Conference after being booted from the Big East and not welcomed by any of the so-called power conferences. Longtime coach Jim Calhoun left because of health problems. And most damaging -- the NCAA ban that triggered an exodus of five key players to the NBA or other schools.
Napier stuck around. So did Boatright. And Calhoun's replacement, Kevin Ollie, figured out how to get the most out of their grit and court sense.
"Coach Calhoun, the greatest coach ever," Ollie said. "He paved the way, we just walked through it."
"It's not about going to the next level, it's not about going to the pros, but playing for your university, playing for your teammates," Giffey said. "And I'm so proud of all the guys on this team that stuck with this team."
The big question in Kentucky is what will happen to all those freshmen. Julius Randle (10 points, six rebounds) is a lottery pick if he leaves for the NBA. Young and the Harrison brothers could be first-rounders, too. The big question is whether they'll want to leave on this note.
Kentucky was the preseason No. 1 team, a huge disappointment through much of this season, then came on just in time for a run to the final.
But they got outdone by a team on a different sort of mission -- a team led by Napier, who stuck with the program even though he knew the 2012-13 season was for nothing but fun.
Oh, what fun this was, though.
Napier earned Most Outstanding Player honors on both ends of the court, keeping a hand in Aaron Harrison's face most of the night and holding him to a 3-for-7, seven-point night.
He could also shoot it a bit -- including a 3-pointer in the first half when UConn was having trouble dissecting the Kentucky zone. The shot came from about 30 feet, right in front of the edge of the Final Four logo at Center Court, or, as Dick Vitale put it: "He shot that one from Fort Worth."
They felt it back in Storrs, where they could be celebrating another title shortly. The UConn women play for the national title Tuesday.
If they win, it will be the first sweep of the titles since 2004. The last school to do it: UConn, of course.
The Associated Press contributed to this report.