Concussion leads to Colts running back giving up football at age 22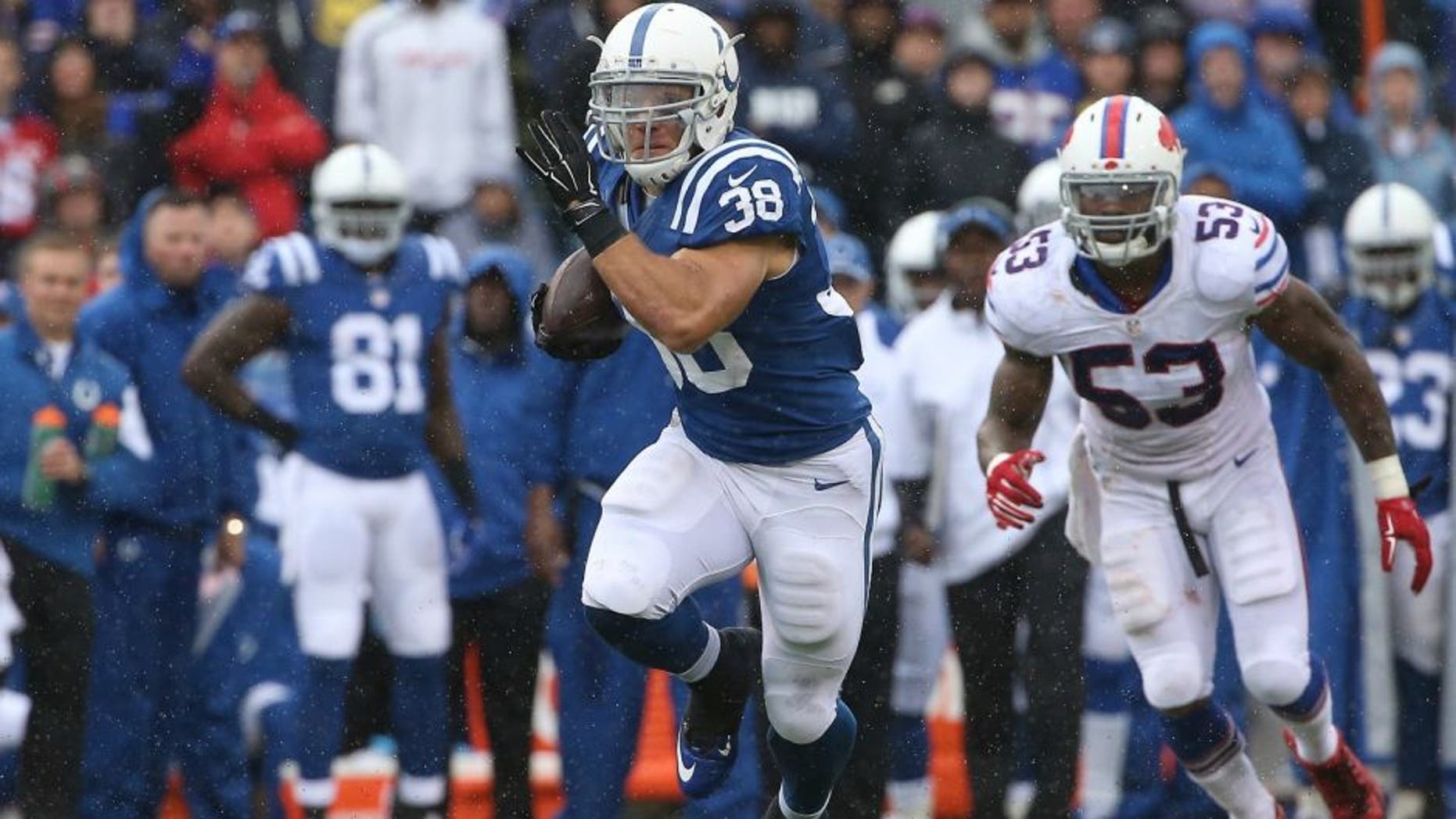 Indianapolis Colts running back Tyler Varga announced his retirement Tuesday, stepping away from the game of football after one season in the NFL.
Colts fans notwithstanding, the move likely did little to move the needle. An undrafted free agent out of Yale, Varga was somewhat anonymous by NFL standards -- he was said to be the last player to make the Indy roster out of training camp last season -- and was no guarantee to make the squad or see the field again this fall.
But the circumstances of Varga's sudden retirement are what make his decision so unique, and important. At age 22, Varga is moving on, not because he's worried about whether he can make it in the league, but because he's concerned about what impact continuing to play might have on his health going forward.
"For me, the risk involved in going back and possibly sustaining another bad head injury like that wasn't worth it," Varga told FOX Sports by phone Wednesday. "Obviously that risk profile is going to look different for everybody, and whether or not you have other opportunities in life is going to way in your decision. But given my situation, it wasn't right for me to go back and play."
Last season, Varga suffered a concussion while covering a kickoff during a Sept. 27 win over Tennessee Titans. Two weeks later, the Colts put Varga, who had never been diagnosed with a concussion prior to the hit, on season-ending injured reserve. Varga then spent the next several months dealing with post-concussion symptoms, which didn't fully subside until February.
Originally, Varga expressed a desire to return to the NFL this season despite the ordeal, and participated in Colts' offseason workouts. Ultimately, he decided that putting on the pads represented a chance he wasn't willing to take.
"I took my time figuring it out and figuring out, 'All right, is this a decision I want to make? Do I want to go back and play? Should I go back and play?' And for me, at the end of the day, the answer is no," Varga said. "But I definitely can say that I thought through it and played out all the different possibilities in my head. And I think I made a sound decision."
Still, that decision, which Varga said he's been mulling for months, didn't come easily. But Varga said he's positive his desire to play again isn't strong enough to make him change his mind.
"I think when you work so hard, or as hard as I have, to get to where you are and compete at such a high level, you've invested a lot to get to that point, and you want to be absolutely sure that the decision you're making or thinking about making is the right one," Varga said. "I'm also a competitor, so a little bit of that natural instinct takes over as well, but when you're making a big decision like this, you can't put the toothpaste back in the tube. I wanted to be absolutely sure."
To that point, Varga said returning to the team during the offseason was all part of the process. Varga said there was no particular moment or impact during workouts that changed his mind about playing; rather, he knew he needed to get on the field before he could truly decide whether leaving the game behind was the right choice.
"Obviously it wasn't a real fun time for a few months, and you just don't feel like yourself," Varga said of his initial recovery. "So it's hard to make decisions when you're in that state, but now I'm in a clearer mind.
"You get that itch, sort of, come season time, and that's going to cloud your judgment as well, so getting back out there on the field during the spring sort of allowed me to feel it," he continued. "It allowed me to think about it and make it a little bit more real to help me make a decision, and it definitely contributed to the process."
Still, Varga said he fully expects to long for the field once the season kicks off later this summer.
"Look, football has been a really big part of my life for a long time now, and I'm sure I'll miss it," Varga said. "I'm sure I'll miss competing, but I'll find other ways to compete. I have other interests outside of football and I have a great degree to fall back on. I think I'll have some opportunities in front of me that I can pursue, and I'm confident in my ability to pursue them."
As far as his post-football career is concerned, Varga isn't positive what direction he wants to take his life, but it's certain that his evolutionary biology degree from his Ivy League alma mater will go a long way toward attaining those goals.
"I'm just trying to make the best decision for my future," Varga said. "Whatever I end up doing, I want to work toward being in a team environment again, because I sort of like that. I want to be learning and continue to grow as a person and challenge myself."
At this point, Varga said he's unsure whether he'll become an public advocate for concussion safety in football, but he said he's encouraged by the steps he and other players have taken in recent years to put long-term health first.
"I think that being aware of the risks involved in playing the game is an important part of deciding to partake in football activities in the first place," Varga said. "There's a lot of great things about football, but there are also a lot of drawbacks about playing the game, and I hope that players are becoming more aware. Definitely with the media attention and movies and all that's come out recently about head injuries has shed some light on it, and I think there's probably a lot more work to be done.
"But at this point, the more information that's out there, the better it is for all of these people who are participating," Varga continued. "I think it's a positive thing that we're moving in the right direction."
And as he steps away from the game for good, Varga said he's doing so with no regrets.
"If I could do it all again, I'd do everything exactly the way I did it," Varga said. "Things don't always end the way that you want them to, but I'm proud of what I've accomplished and no one can say that it wasn't difficult to do what I did.
"Things got cut a little shorter than I expected, but that's why I took the hard road in the long run, going to Yale and getting a degree, studying hard and having a backup plan," he continued. "The plan was put in place for situations like this. I didn't want to be stuck between a rock and a hard place. I wanted to have the liberty to choose my next move, rather than feeling compelled to go back because I had no other options."
If I could do it all again, I'd do everything exactly the way I did it. Tyler Varga
You can follow Sam Gardner on Twitter or email him at samgardnerfox@gmail.com.