College coaches join the call for answers as Baylor allegations keep growing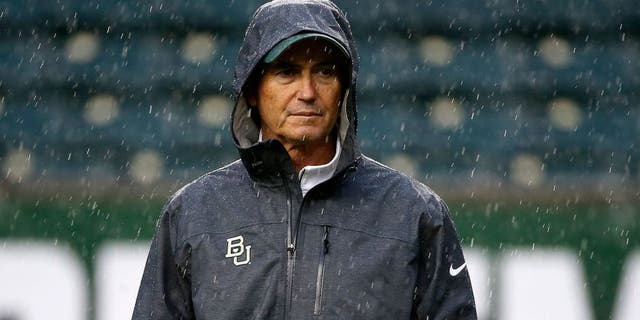 NEWYou can now listen to Fox News articles!
My phone rang less than five minutes after I tweeted about Wednesday's "Outside the Lines" report on more allegations of violence against Baylor football players. It was the first of nine calls and texts I received over the course of the day from college coaches talking about this latest investigation into Baylor's handling of sexual violence cases involving its program.
"They're gonna have to fire him, aren't they?" a veteran college coach asked.
"Him" is head coach Art Briles, the man who took a perennial Big 12 doormat and made it into a powerhouse. Briles even got a fancy new stadium built. The 60-year-old is 32-7 the past three seasons at a place that hadn't had a single winning season in the 13 years before he took over in 2008.
The pictures of Briles and the university, however, appear to show something very unsavory about the program's rise. Wednesday's report included allegations by a former Baylor student that she had been assaulted by Briles' old running back at Baylor on two occasions in 2014 and that the coach and university president Ken Starr both were made aware of the incidents. What they did with that information is unknown, but the woman said the player was not disciplined. (She declined to press charges, telling OTL she didn't think the school would punish him and because she was about to graduate, but the police report still included photos of her bruises, according to OTL.)
"I'd seen other girls go through it, and nothing ever happened to the football players," the woman told OTL. "It's mind-boggling to see it continue to happen. I can't understand why. I think as long as they're catching footballs and scoring touchdowns, the school won't do anything."
The woman also told OTL that Pepper Hamilton, the outside law firm conducting the independent review of Baylor, never contacted her. Last Friday, Baylor's board was given a preliminary update on its findings even though the report is still being finalized.
Wednesday's report is, sadly, just the latest documenting a string of disturbing allegations involving Baylor football players. My colleague Stewart Mandel wrote a column last month titled "Something's rotten at Baylor and it's way past time to pay attention." That piece included a jarring stat, that nine women had reported to police that they had been raped or assaulted by Baylor football players since 2009.
Based on this new report, that number clearly is now into double digits.
There are three big questions here: Who knew what happened? When did they know about it? And, what action was taken? One current college football coach
Earlier this winter, there had been another OTL report about Baylor football players and allegations of sexual violence. Starr opted not to respond to that publicly until a few hours before the Super Bowl by releasing a statement saying Baylor is "firmly committed to providing a safe and supportive environment" for students. Last month Starr told the Fort Worth Star-Telegram: "I am in favor of transparency. Stand up, take your medicine if you made a mistake."
Baylor is a private university, so it is not required to release the findings of the independent review. One of the football coaches that FOX Sports spoke to thought Baylor would feel compelled to now given the spotlight on its university, not just its prized football program.
"If you don't (release the findings), it's going to look like you're hiding something given all of these allegations that are now out there," he said. "There's just been so much of it. All of that (Shawn) Oakman stuff. Now this."
The allegations are gruesome. This isn't about players getting money on the side or extra benefits. That stuff is trivial compared to what is being alleged and looked into at Waco. This story, of course, is much bigger than wins or losses of a football program.
One longtime college head coach said Wednesday the thing that stuck with him the most from the latest OTL report was just the number of incidents and how many of the cases involving Baylor football players leave big questions about what, if anything at all, was done to investigate them.
"These guys kept playing?" the coach said. "The message you're sending is, 'This isn't a big deal.'"
The coach pointed out that because of the Clery Act, which requires schools to keep records of crime on and near their campuses, universities and athletic departments have had to become very diligent in the protocol when incidents occur. Or at least they're supposed to have.
"There are three big questions here: Who knew what happened? When did they know about it? And, what action was taken?
I am in favor of transparency. Stand up, take your medicine if you made a mistake. Baylor president Ken Starr, to the Fort Worth Star-Telegram
"This is a guy (Briles) who prides himself in being a players' coach and coaching his team like a high school team. It's really hard to believe that he didn't know about any of this stuff."
FOX Sports attempted to reach Briles and athletic director Ian McCaw through a spokesman for Baylor's athletics department, who referred the request to Baylor campus PR.
"The assessment and recommendations from Pepper Hamilton are currently under review by our Board of Regents," Baylor spokeswoman Lori Fogleman said in a statement given to the Waco Tribune. "We are certain the actions that result from this deliberative process will yield improvements across a variety of areas that rebuild and reinforce confidence in our University. We are saddened when any student, including a student-athlete, acts in a manner inconsistent with Baylor's mission or is a victim of such behavior."
We will have to wait and see what this "deliberative process" reveals and what actions the university takes. Meanwhile, the ugly allegations around Baylor keep piling up.