Colin Kaepernick comeback campaign undertaken by 49ers fans after gruesome Garoppolo injury
A knee helped derail Colin Kaepernick's NFL career — could a knee also be the reason he gets a second chance?
San Francisco 49ers fans were heartbroken Sunday as Jimmy Garoppolo, their prized $137 million quarterback, went down with a knee injury during a game against the Kansas City Chiefs. The team fears he could be lost for the season.
While the team has tapped C.J. Beathard to be Garoppolo's replacement for the foreseeable future, fans – and even a free agent cornerback – took to social media to campaign for the organization to bring back Kaepernick, the team's quarterback from 2011-2016.
"49ers better call @Kaepernick7," free agent cornerback Marcus Cromartie tweeted along with a photo of him and Kaepernick together in a San Francisco uniform.
"Hey, 49ers, Kaepernick is available," one fan tweeted.
"If it turns out that the Jimmy Garoppolo injury is as bad as we fear, the #49ers can always bring back Colin Kaepernick," another fan wrote.
But with Kaepernick, comes controversy.
Kaepernick started a political movement throughout the league when he kneeled during the national anthem before a preseason game in 2016 to protest perceived racial injustice in the U.S.
His failure to sign with an NFL team after he opted out of his contract following the 2016 season sparked a collusion case against the league. He alleged he remains unsigned because of his protests. He will have a chance to take his grievances to court after an arbitrator denied the NFL's request to throw out his claim that owners conspired to keep him out of the league.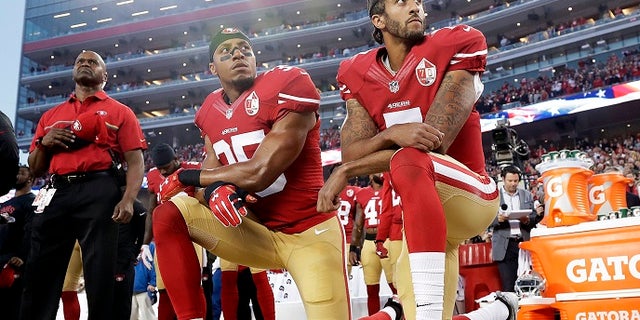 Kaepernick led the 49ers to the Super Bowl in 2013 and the last time the 49ers had a winning record, the University of Nevada product was under center.
Kaepernick also has experience in a run-pass option offense, which is what head coach Kyle Shanahan is currently running with his team.
However, USA Today noted the 49ers have signaled they were finished with Kaepernick for good once he opted out of his contract, a move that spurred them to draft Beathard and sign Brian Hoyer. General manager John Lynch also noted Kaepernick would have been released had he not opted out.
While the newspaper notes Kaepernick's completion rate hasn't been good since 2013, the quarterback finished around the 60 percent mark in his final three years and only completed 58 percent of his passes in his breakout 2013 season.
Kaepernick's attorney last week also speculated there could be two teams interested in Kaepernick.
"I would just say, 'Stay tuned''... that next week there may be some news," attorney Mark Geragos told TMZ Sports.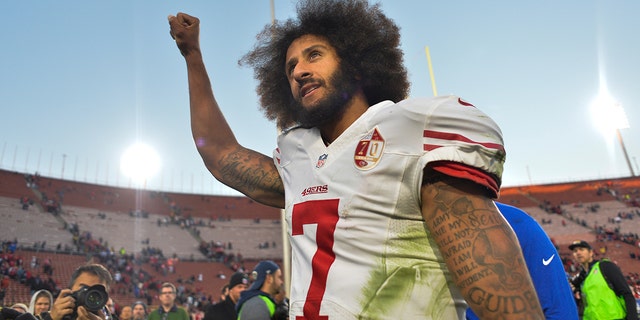 He floated the New England Patriots and Oakland Raiders as potential suitors.
With the 49ers being picked by many experts as a playoff contender, the team is faced with handing Beathard the reigns or turning to a quarterback who has a winning pedigree in San Francisco.