Christianity 'interwoven' into Clemson's football program, religion watchdog claims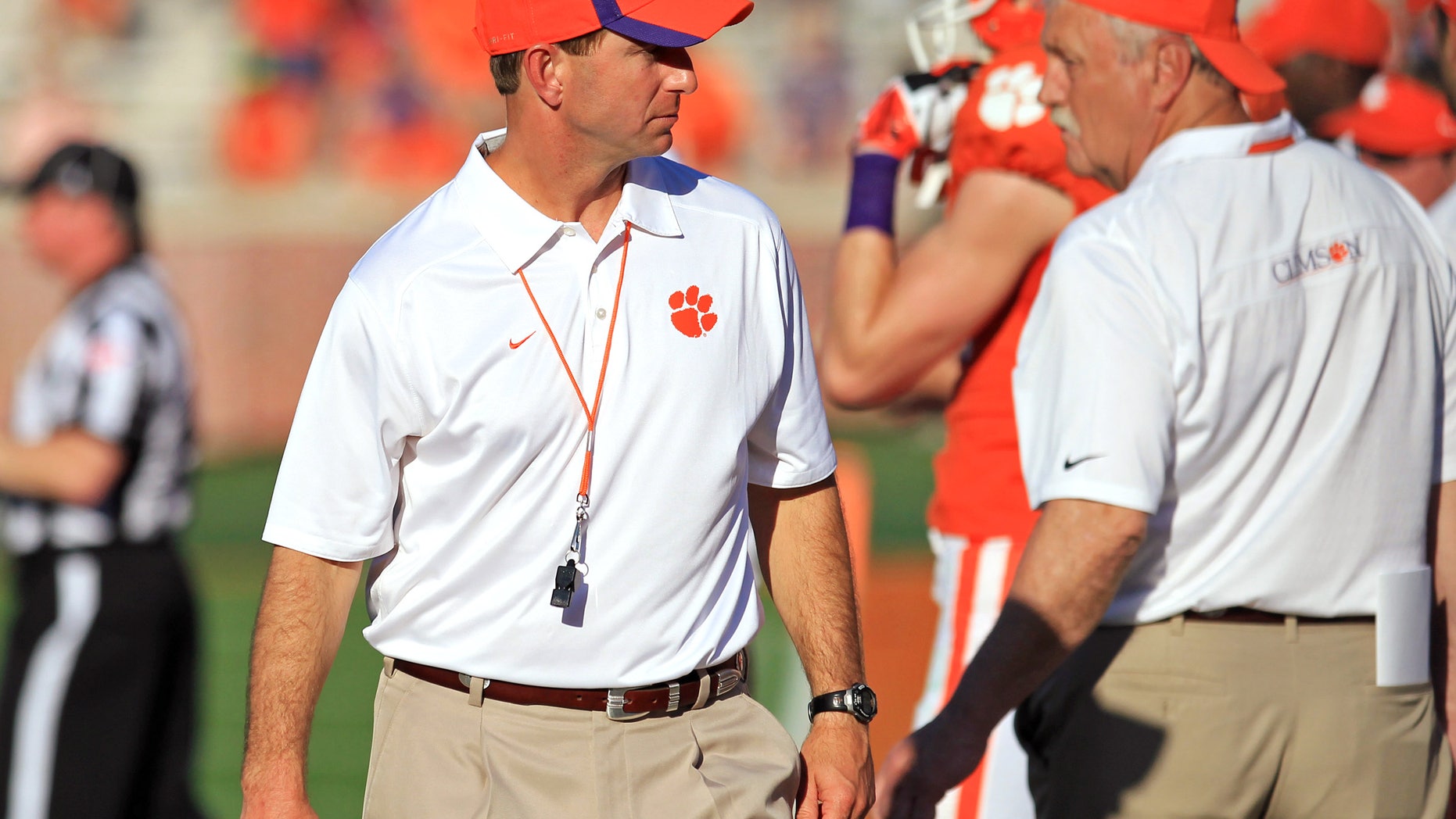 Christianity is "interwoven" into Clemson University's football program, according to a national organization that monitors separation between church and state.
The public university in Clemson, S.C., received a letter of complaint from the Freedom From Religion Foundation on April 10, urging school officials to stop the "commingling of religion and athletics" at the 21,000-student institution.
"Christian worship seems interwoven into Clemson's football program," FFRF Staff Attorney Patrick Elliott wrote. "We are concerned that this commingling of religion and athletics, not from student initiative, but rather from the attitudes and unconstitutional behaviors of the coaching staff."
Dabo Swinney, head coach of the university's football team, personally invited former Tigers players James Trapp to become  the team's chaplain in 2011, violating both the U.S. Constitution and the university's own guidelines since student groups are to select their choice to then be approved by their coach, Elliott claims.
"Mr. Trapp, as a paid employee of a state university, may not proselytize or promote religion and may not use his university office to do so," Elliott wrote. "Mr. Trapp's legal duties and obligations as a state employee prohibit him from using state resources (i.e., his office in the Jervey Athletic Center) and his official position as a recruiting assistant to proselytize. If Mr. Trapp is to evangelize the team, he must not do so as the recruiting assistant, nor can it be at coach Swinney's insistence."
Cathy Sims, a spokeswoman for the university, defended Clemson's football program on Tuesday, saying the Wisconsin-based watchdog group is off-base in its assessment.
"We believe the practices of the football staff regarding religion are compliant with the Constitution and appropriately accommodate differing religious views," the university said in a written statement obtained by The State. "Participation in religious activities is purely voluntary, and there are no repercussions for students who decline to do so. We are not aware of any complaints from current or former student-athletes about feeling pressured or forced to participate in religious activities."
A Clemson official told the newspaper that Trapp — who is listed as campus director of the Fellowship of Christian Athletes organization — is not a university employee. He is listed in the university's media guide as a "volunteer team advisor," The State reports.
Swinney, meanwhile, who signed an eight-year deal worth more than $27 million, has been unabashed about his devotion to God since joining the team in 2008.
"To be here as the head coach at Clemson, that doesn't just happen," Swinney told reporters in 2008. "I hope people will really listen to me when I tell them what my secret to success is, and that is to put your eyes on the Lord in everything you do, and believe in yourself, and don't quit."