Chris Weidman's coach Ray Longo questions his decision to let him fight hurt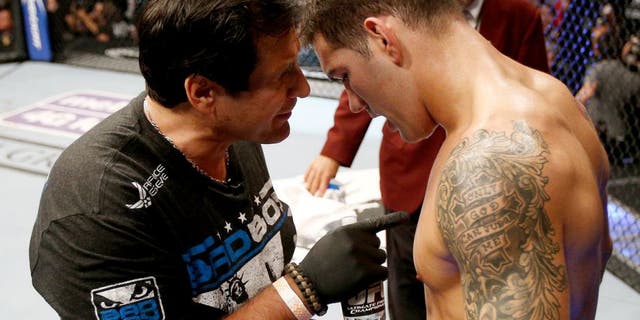 Chris Weidman and Luke Rockhold both say that they went into their UFC 194 middleweight title fight in far less than optimal condition. Rockhold says he was fighting a dangerous virus and on antibiotics, and Weidman claims he hobbled into the cage with a broken foot.
According to Weidman's coach Ray Longo, it may have been better for "The All-American" to have postponed his title defense until his foot had healed. "He has fought with injuries before. I've seen this guy walk through fire before -- but as his coach, I feel bad," Longo recently told ESPN.
"Maybe I should have been more vocal about this or that. You can't make excuses. His teammate, Aljamain Sterling, was banged up going into his fight on Dec. 11 and he won. So, you never know."
Longo says that Weidman had to change his training camp to take his broken foot into account. As a result, Weidman wasn't able to get into the type of shape he usually is in.
"If you want to know the truth, he was banged up," he continued.
"He had a fractured foot in two places. We tried to work around it, but I think mentally it had an effect on him, because he wasn't able to push the cardio the right way."
Once Weidman and his team decided to proceed with the fight, their training and rehab options were limited. Being so close to his charges also complicates things for the coach.
"If you decide to fight, what can you do during camp? Put a boot on him, so someone takes a picture and he's walking around in a boot? He didn't wear one. It's a nightmare," he admitted.
"And these guys are my friends, so I'm in a weird spot sometimes. You basically have to tell them they're not doing it."