Chip Kelly praises 'complete quarterback' Cam Newton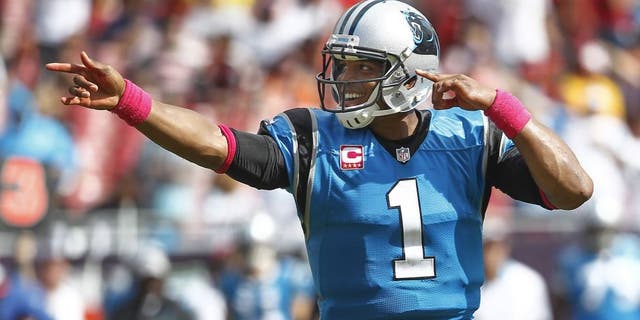 There's no doubting the talent of Cam Newton at this point. He's led the Carolina Panthers to a 5-0 start and seems to be playing the best football of his career. With that being said, plenty of people are taking notice, including Philadelphia Eagles head coach Chip Kelly.
The Eagles are set to square off with the Panthers on Sunday Night Football in Week 7, and according to David Newton of ESPN, Kelly had nothing but positive things to say about Newton.
"He's obviously a legitimate dual-threat quarterback," Kelly told ESPN. "He's just so big. He's different than any other dual-threat. He's tough to kind of corral. [Seattle's] Russell Wilson ... presents a whole different set of issues.
"But with Cam, you may have him and hit him ... then he explodes out of there and you'd better have somebody on top of him to contain him because he's such a dangerous threat running the football."
Kelly's heavy praise of Newton didn't stop there, as he went on to call him something that many critics have argued throughout Newton's entire career -- a complete quarterback.
"He's a complete quarterback, and that's the thing that is scary. He can beat you with his arms and his legs." Kelly finished.
There's no question that Newton is playing at an elite level right now, but the Eagles are looking to show that they are up to the ask of slowing both Newton, and the undefeated Panthers down.
MORE NEWS: Want stories delivered to you? Sign up for our NFL newsletters.