Chase Elliott's shoes honor father's record Talladega qualifying run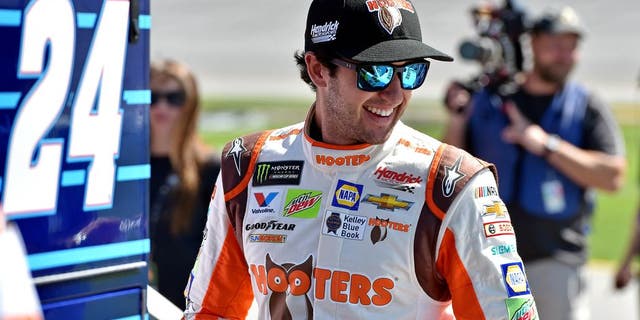 When it comes to speed in NASCAR, the first thought of any die-hard fan should be Bill Elliott's record-setting qualifying lap of 212.809 miles per hour at Talladega Superspeedway in 1987.
Thirty years after that accomplishment, Bill's son, Chase will start eighth at Talladega androck some kicks that honor his father's accomplishment.
Im really excited about the shoes," Elliott said during a media availability at Talladega. "I would take them off and show you, but that would take me a minute. I posted a picture on my Instagram if anybody is interested. It was 30 years ago this weekend that Dad ran 212 mph here in that old Coors car, which I think it's really cool."
The younger Elliott knows the importance of his father's feat, even though it came nearly nine years before he was born.
"He still has a few of his Coors cars in the shop and I always think its pretty neat to look at them and see how they were built and what they put into them and just how simple everything was," Chase Elliott said. "They just tried to simplify things as best they could. They were kind of in their own box with having the spoiler laid back as far as it could possibly go. Like he says, they just didnt know any better. They did it their own way and did really good at it. I think its really cool and a great part of racing history in general. Obviously, Im a little biased because of my dad.
Bill reflected on his record-breaking run on its 30th anniversary and how it capped off a climb from humble roots in the small town of Dawsonville, Georgia.
I think the qualifying record at Talladega just kind of puts an exclamation point on our legacy. Im talking about for our whole family me, Dan, Ernie and my dad, said Bill Elliott. We came out of nothing. We came out of a little town in Dawsonville, Georgia that wasnt even on the map. We were kind of like David and Goliath with what we did and what we accomplished.
It didn't take Bill long to become a household name in NASCAR as he won the Most Popular Driver award a record 16 times during his career, but he achieved a mythical status that day at Talladega.
The fans went nuts. They loved it. They loved that stuff back then. The faster the better, said Elliott. We had worked so hard to get to that point that it was very satisfying from our end. We put a lot of effort into our speedway programs and already had really good power, so we were able to kind of marry it all together.
When you follow in the footsteps of your dad's success, there's plenty to listen to and take away. Chase has focused on his father's advice with fans in his young career.
"But, I think from a fans perspective, one thing (Bill Elliott) has always talked about is you may show up to events and you might have some folks that dont care to be there and some that do care to be there, but if theres just one person there that you could change their day and make their day worth coming for, or getting up for, then our job is good. At the end of the day, I think weve done our part. All it takes is one person and I agree with that. If you can change one persons day for the better, I think its all worth it.
With the advancements in driver safety and the addition of restrictor plates, Chase won't have the chance to break his father's record on the race track anytime soon, buthe'd hop behind the wheel of that 1987 Ford Thunderbird if given the opportunity.
I dont know that I could handle it. But, I would definitely try, for sure. Id love to give it a shot," Chase Elliott said. "But, I dont know that I would have what it takes to hold her wide-open. Thats not easy back then. Those things. I remember Dad telling me stories. They basically kept leaning the spoiler back until he just couldnt take it anymore. And that was how they figured out when to stop. He kept pushing the limit until he couldnt drive it, which is pretty cool, really.
While his father didn't comment on if his son could handle the speed of his 1987 Thunderbird, he knows today's cars could easily beat that speed if some modifications were made.
It would be broken easily if you had the latitude to do the things that we did as far as taking more drag out of the car, but with the current configuration and the spoilers they run on the cars today, it wont be broken, Bill Elliott said. But its dictated by the evolution of the sport and the safety of the drivers. That being said, if you unrestricted the cars, and with the way technology is today, I dont know why they wouldnt go over there and run 225-230. I mean, we had 625 horsepower back then and now theyve got 850 to the rear wheels. If you put all of that together today, the sky is the limit.