Chase Elliott holds off Kyle Busch, others to win XFINITY race at RIR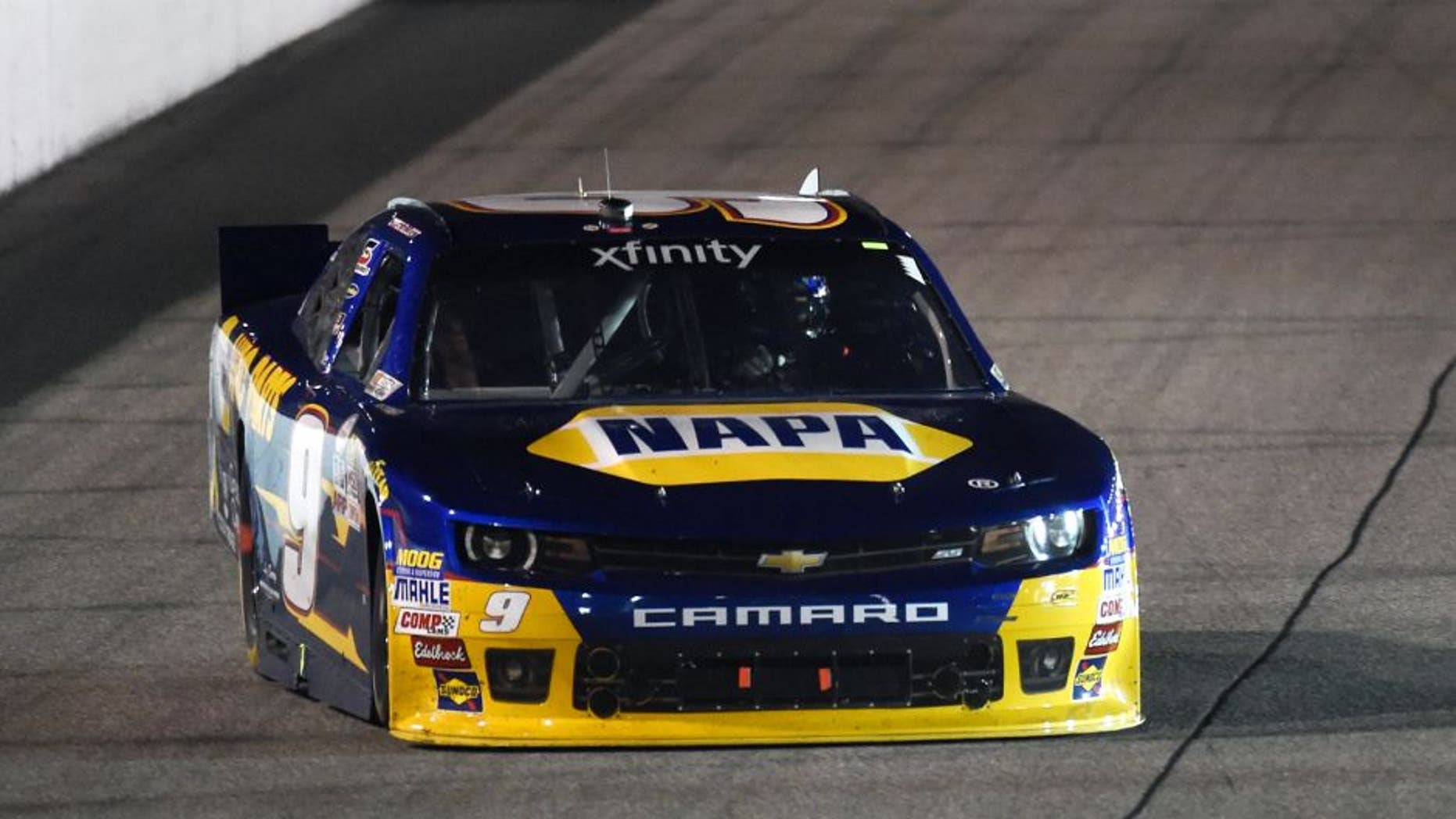 Defending XFINITY Series champion Chase Elliott held off Kyle Busch and the rest of the field for his first win of the season at Richmond International Raceway under the lights on Friday night.
"Man, we've had a couple chances (to win this season) but things just didn't go our way," Elliott said in Victory Lane.
Then he gestured to his pit crew and said, "These guys right here won the race for us. Our pit stops were just phenomenal ... This is amazing."
Busch finished second, followed by Brian Scott. Joey Logano and Erik Jones rounded out the top five.
It was the first time in 23 races that the lower-series race at RIR was not won by a Sprint Cup Series regular. The last regular competitor in the lower series to win on the 0.75-mile, D-shaped oval was Busch back in 2004.
But this night ended up belonging to the 19-year-old Elliott instead of Busch.
Elliott got away from Busch on a restart with 26 laps to go and then held the Sprint Cup veteran and others off over the closing laps to end a 39-race winless streak of his own.
Busch, starting fourth to Elliott's first on the restart, appeared to make contact with the defending series champion, but Elliott was able to get away enough so that Busch could never put a bumper on him again.
It was a big night for JR Motorsports, which owns the No. 9 car driven by Elliott and also the No. 88 that was driven on this occasion by Josh Berry, who finished seventh after surprisingly moving into the top five late in the race before a botched pit stop cost him several spots.
Nonetheless, Berry was impressive on the short track and said he hoped some potential sponsors for next year were watching.
"We're looking for partner to do full-time next year in the NASCAR XFINITY Series," Berry said on pit road after the race. "I hope I helped that cause tonight. I'm just a short-track racer at heart, so tonight played into my hands. I've still got a lot to learn on the bigger tracks, but this was a blast tonight."
Dale Earnhardt Jr., one of the owners of JR Motorsports, certainly was watching. He made it a point to stop by Berry's car and congratulate him on his race before making his way to Victory Lane to celebrate with Elliott.
That Earnhardt Jr. got to do both was a bonus. Berry actually came into the pits in fourth on the final stop of the night, but got blocked into his stall briefly and came out ninth as a result.
Afterward, Berry acknowledged that it meant a great deal to him to have Earnhardt Jr. seek him out and tell him he did a good job.
"It was an awesome run. ... I need to do better on restarts and I need to do better on pit road. Then I really think we might have had a shot to win the race," Berry said.
Elliott, meanwhile, said he was just pleased to break his 39-race winless drought and get back to Victory Lane after some near-misses earlier this season.
"We always want to come and give it our best shot to win, but everybody brought it this weekend. (Crew chief) Ernie (Cope) brought a great race car, like I said the pit stops were phenomenal ... I'm just super excited to get back into Victory Lane," Elliott said.
The Associated Press contributed to this report.