Celtics-Wizards clash in crucial Game 5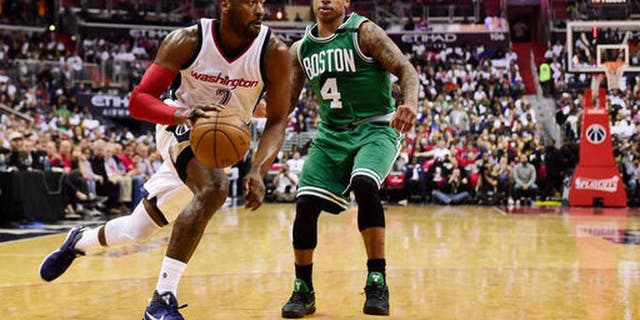 BOSTON -- The Washington Wizards and Boston Celtics have different views on recent history as they head into Game 5 of their Eastern Conference semifinal series Wednesday night.
The Wizards hope that history changes.
The Celtics hope it stays just the way it is.
The teams have met eight times this season. Eight nasty get-togethers dating all the way back to early in the season. Eight games -- and the home team has won eight games.
The Wizards have to change that if they have designs of meeting the resting Cleveland Cavaliers in the conference finals.
Washington went 19-22 on the road during the regular season and is just 1-4 in the playoffs. But that one win was a 115-99 victory at Atlanta in Game 6 of the first round -- in a game that saw the Wizards blow a big lead before rallying again down the stretch behind John Wall.
"We came here with that focus and determination that we wanted to do the same thing those guys did to us two years ago," Wall said after scoring 19 of his 42 points in the fourth quarter. "Me and Brad (Beal) led the way. We locked in. Our teammates understood what we had (to do). We didn't want to have a Game 7."
The same could be said for the Wizards in this series. A victory Wednesday would allow them to go for the series win back in Washington on Friday.
"We're the better team and we feel like we've been the better team," said Wizards forward Markieff Morris.
The Wizards led the opener 16-0 and lost, but then used runs of 22-0 and 26-0 to win Games 3 and 4 -- Wall overcoming an 0-of-9 start in the latter to lead the way.
"Ah, that's nothing, man. Wall's a great player, man," Morris said of Wall's 0-of-9 start. "He'll start 0 for 20, he's still gonna get into it. He's still gonna have an effect on the game."
The Celtics had a slow start at home this season, but finished 30-11 before losing the first two games to Rajon Rondo and the Chicago Bulls in the first round. They have won three straight at home since, but had to rally from that 0-16 start to win Game 1.
They couldn't rally in D.C.
"We played pretty good in stretches but then two stretches killed us on this trip to D.C.," Boston coach Brad Stevens said after Game 4. "One in the first quarter (in Game 3), one in the third quarter (in Game 4). We have to play better throughout the whole game (in Game 5).
"And, I said it the other night, I just don't want to sit up here and talk about what we're not doing. You have to credit them. They're playing really well. They're a good team, really talented, really athletic, their length is bothering us. We have to do a better job of utilizing spacing to take some of their length out of play."
Said Jae Crowder: "We need to go back home."
The Wizards get Kelly Oubre Jr. back from his one-game suspension for running into Kelly Olynyk. Coach Scott Brooks said Oubre should "bring some ear plugs" to Game 5.
Olynyk, who failed to grab a rebound in 23 minutes in Game 4, has been called "a dirty player" by, of all people, Draymond Green of the Golden State Warriors.
"I'm pretty sure some guys might have their opinion on Draymond with some of the plays he's made in the past," Olynyk teammate Avery Bradley said Tuesday.
Bradley is hurting because of a hip pointer but said Tuesday he felt better.