Celtics will try to avoid 0-2 hole against Bulls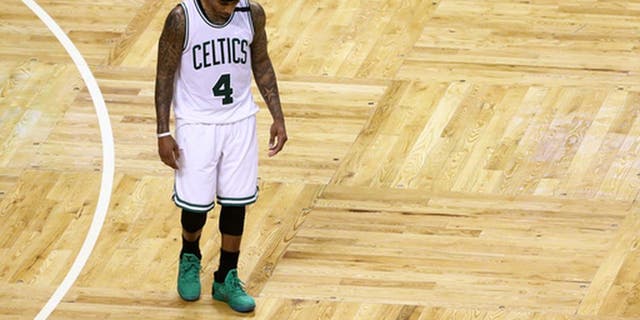 BOSTON -- Guard Isaiah Thomas of the Boston Celtics will fly to Tacoma, Wash., on Wednesday to join his grieving family following the death of his younger sister.
But first, Thomas and his teammates have to see if they can even their playoff series with the Chicago Bulls.
The Bulls opened the best-of-seven series with a 106-102 win Sunday, on a night that could only be described as eerie after the death of Thomas's sister, Chyna, in a one-car accident in Washington.
"They haven't finalized the memorial service plans or funeral plans," Celtics coach Brad Stevens said at practice Monday. "They're still working on that as a family. If that time comes, when that time comes, when they solidify those plans, obviously we hope to be able to go."
Thomas, who was emotional before the game and looking stunned the entire night, still managed to score 33 points in a game that saw the eighth-seeded Bulls manhandle the Eastern Conference No. 1 seed on the boards to get the win.
Chicago hauled down an amazing 20 offensive rebounds to win for the eighth time in its last 11 games.
"The series isn't over, it's just beginning," said former Celtic Rajon Rondo, who had the task of trying to stay with Thomas much of the night, with Jimmy Butler also helping out. "As people say, the series starts when you take advantage of home court, and we did that tonight.
"But all we did was win one game. We have three more to go and it's going to be even tougher."
Bobby Portis, playing his first playoff game, was outstanding, finishing with 19 points, nine rebounds, three assists and two blocked shots in 29 minutes off the Chicago bench.
"Tonight was Bobby's night," Bulls guard Dwyane Wade said. "Give credit to our team, our second unit. The first day of practice after we made the playoffs, we came in on Friday and they tore our butts off. They came out and gave us a taste of what we were going to see tonight from a defensive pressure standpoint.
"That's how you win games, when it's a whole team involved."
Butler, who wants to guard Thomas (coach Fred Hoiberg thinks it takes too much out of his best player to do it consistently), scored 15 of his 30 points in the fourth quarter. He also grabbed nine rebounds and Robin Lopez hauled down eight of his team's 20 offensive boards in the win. But the key was Portis, who averaged 6.8 points and 4.5 rebounds per game during the regular season.
"I've always been confident," Portis said. "It helps at the same time I knew the circumstances of what my team needed from me. I went out there and played my basketball game. I took the shots that came to me tonight."
The Celtics know what they did wrong Sunday and what has to be done Tuesday night -- a loss meaning they would be down 0-2 heading to Chicago.
"I think a lot of it had to do with Lopez," Avery Bradley said of the rebounding assault. "I think he had eight offensive rebounds. We have to do a better job as a team being able to contain him. Bigs have to box him out. Guards have to come down and rebound.
"So it's a team issue. We have to help each other out. Make sure we fix it for next game. If we were able to fix that, I think it's a different outcome."
Thomas kept to himself after the game and wasn't available to the media again Monday.
"He's trying his best to compartmentalize when he's here to work on what he needs to work on, but I'm sure that's difficult," Stevens said. "But we were together for some film, some walk-through and we'll be back together tomorrow. I think he's as good as he can be, I guess."