Carolina Panthers' Greg Olsen thinks NASCAR deserves respect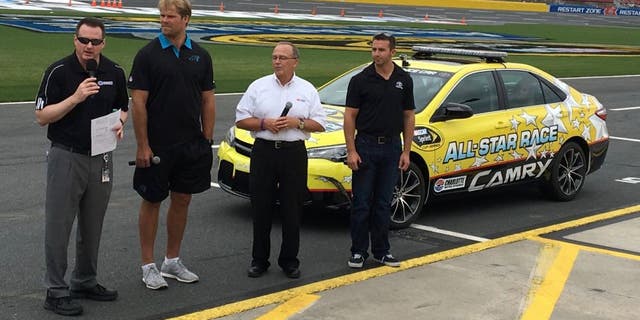 NEWYou can now listen to Fox News articles!
Greg Olsen, the AP All-Pro second team tight end for the Carolina Panthers, has a whole new respect for and appreciation of NASCAR.
Olsen will drive the pace car in Saturday night's Sprint All-Star Race (FS1, 7 p.m. ET) and Tuesday he was at Charlotte Motor Speedway, where got driving instructions from NASCAR Sprint Cup Series regular Matt DiBenedetto and earned his pace-car certification from NASCAR's Brett Bodine.
"I have a lot of respect and a lot of appreciation for other people who do things at a very high level," said Olsen. "Whether that's other sports, NASCAR or whatever -- what they do, day in and day out, the grind."
Olsen was impressed with the stamina it takes to work the entire NASCAR schedule, which runs from mid-February to mid-November each year. "Thirty-eight weekends of the year, they're going from city to city. That's a grind.
"And just getting a little taste of how fast they're going and the coordination you have to have to go right up on the wall and then bank it down," said Olsen. "We're only going 85 (miles per hour) and they're going 220. It's just a pretty incredible thing what they're able to do, the coordination with the pit crews and the guys in the pits doing the changes."
The experienced intrigued the star tight end.
"It's a well-oiled machine," Olsen said of being at a NASCAR event. "It's really interesting to see it up close and personal, and just see how much goes into more than just the car driving fast. Seeing it up close and personal lets you wrap your head around it."
And Olsen will have plenty of time to do just that on Saturday night.