Carolina OC Mike Shula has earned a chance to run a team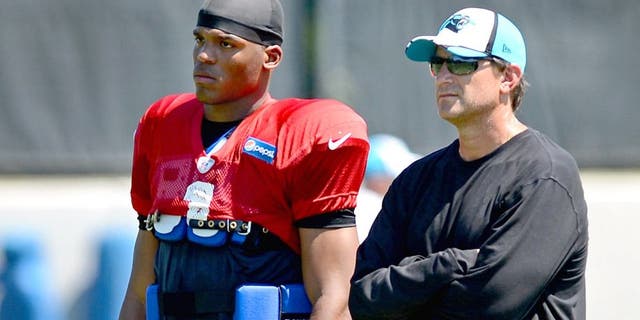 All seven of the NFL's head coaching vacancies were filled by candidates whose primary football experience is on offense.
So why wouldn't any of the hiring teams at least interview the coordinator whose team fields the No. 1 scoring unit led by the league's Most Valuable Player frontrunner he helped develop?
The snub makes no sense -- not that Mike Shula is sweating it.
Contrary to a media report that gained widespread attention two weeks ago, Shula told FOX Sports that he was willing to interview for head coaching jobs while the Panthers are still alive in the playoffs. But for whatever reason, Shula's phone wasn't ringing during the window when franchises could meet with coaches from teams in the postseason.
"All I said (to the media) was I'm focused on the playoffs," Shula told FOX Sports about the subject. "The other quote was if it did happen, if I was approached, I'd have to consider that at the time. Those were my only quotes.
"Somebody said I had an agent out there talking, too. I don't have an agent. I have a friend that helps me, but he definitely wasn't that person … I don't know where that (report) came from."
Shula's resume is more impressive than those of some of his peers who were hired to lead teams. Since he was promoted to coordinator in 2013, Shula's unit has improved each year to the point Carolina averaged more points (31.3) than the more highly touted Arizona Cardinals offense the Panthers will face in Sunday's NFC Championship game.
The 2015 Panthers flourished despite losing top wide receiver Kelvin Benjamin to a season-ending knee injury during a training camp practice. The running game ranked second in the NFL with a 142.6-yard average. Two bargain-basement free-agent signings (left tackle Michael Oher and wide receiver Ted Ginn Jr.) showed why they were originally drafted in the first round after falling upon hard times with other teams. Young talent like wide receiver Devin Funchess and guards Trai Turner and Andrew Norwell has developed nicely.
And then there's Cam.
Already the NFL's top rushing quarterback, Cam Newton took his game to a new level as a passer in 2015. He became the first player in NFL history to throw for at least 30 touchdowns (he had 35) and run for at least 10 scores in a single season.
Shula was Newton's quarterbacks coach during his first two NFL seasons in 2011 and 2012. The bond has grown even stronger since. Newton greatly contributes to Carolina's weekly game plan when meeting with Shula about the plays he thinks can be most successful.
Considering the importance of grooming young quarterbacks -- and how many coaching staffs fail in that regard -- why Shula didn't get a head coaching sniff is even more baffling.
The only two reasons I could think of:

• Clubs with head vacancies usually don't want to wait to fill them with assistants on teams making a deep postseason run. Of the 15 head coaches hired between 2013 and 2015, only one (Atlanta's Dan Quinn) came from a squad that reached the conference championship game or Super Bowl.
Asked whether that worked against him, Shula said, "I do think teams want to find the guy right away because they always feel that if a coach goes and gets hired by another team it's like, 'Well, that's one we lost out on. We better go get the next guy.' There might be a little bit of that."

• Shula had a bumpy tenure as Alabama's head coach from 2003 to 2006 before being replaced by Nick Saban. But to think Shula has neither grown professionally nor learned from his four years with the Crimson Tide during the past decade would be foolish.
Shula, 50, isn't bitter about failing to land one of the NFL jobs that opened. He also might not have jumped even if offered a gig if he didn't feel it was the right fit.
"I really haven't thought about it that much," said Shula, the son of Hall of Fame head coach Don Shula. "It doesn't bother me just because I'm happy with what I'm doing for a lot of reasons."
And the Panthers should be happy that seven rivals dropped the ball by not having Shula on their shortlist of head coaching candidates to pursue.