Carlos Arroyo, Miami Heat Guard, Finds Off-Court Spark as Reggaeton Artist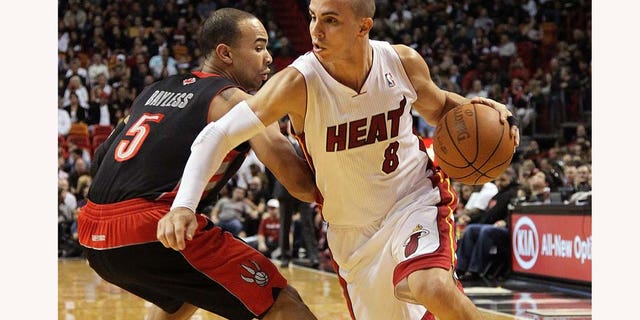 BOSTON – In his spare time, Carlos Arroyo – when he is not dishing assists to fellow Miami Heat players LeBron James, Dwyane Wade and Chris Bosh – is likely bouncing beats, and not basketballs.
The native Puerto Rican is probably known to some fans more for his Reggaeton skillz than his playmaking skills.
"Reggaeton has been part of my culture, the music that we listen to in our country," Arroyo told Fox News Latino after a pregame workout recently in Boston.
His love of the music – an urban mix of West Indian reggae, Latin Caribbean tunes and Hip Hop – goes back to when he was a kid growing up in eastern pueblo of Fajardo. Back then, it was El Gran Combo playing on a tape deck or record player, or Arroyo just listening to tropical beats on the radio.
"Music has been part of who I am, as an athlete, because in reality I train with music," Arroyo said. "Before a game, I concentrate [by] listening to music. I've been around all of that since I was a kid."
Time is scarce for Arroyo during the NBA's 82-game regular season marathon – not to mention a likely playoff run by the Heat – but he says he finds precious minutes every now and then to scribble down lyrics. After some of those lyrics get pieced together for songs, Arroyo leans on the support of producers, artists and writers in the music industry for advice.
"I have a lot of friends in the music business. Thanks to them and their professional criticism, they've given me a hand and the confidence so that I can do things with music," he said. "I'm happy with what's taking place with that."
Through his independent record label, "Arroyo Hit Music," the artist has released two singles. In 2009, he dropped "Oculto Secreto."
And last summer, he teamed with friend and fellow reguetonero Yomo for his second song, "Se Va Conmigo," looking like a seasoned artist on the video for the track.
And when it was time to remix the song, he had a pioneer from the genre step in to lend support.
"Whomever doesn't know Ivy Queen doesn't know about our country's music," Arroyo said. "She's a sister. A great friend for over a lot of years.
"We discussed the remix and she liked the original song, so it happened that we made the remix," he added. "People liked it a lot."
Asked to rank his top five reguetoneros, Arroyo politely said he was a fan all the artists in the genre. He did say, however, that Luís Fonsi, Enrique Iglesias, Wisin y Yandel, Daddy Yankee, Juan Luís Guerra and Jowell y Randy – who are expected to be featured in an upcoming song – were all on his Ipod playlist.
One Hip Hop artist, too, he has his eyes on working with is fellow Puerto Rican, Fat Joe.
As for his day job, Arroyo was signed by Miami last season after he had spent the 2008-09 season with Maccabi Tel Aviv of the Israeli Basketball Super League. He led that team to the league championship and was named Finals most valuable player.
During that season, he averaged 15.3 points, handed out 5.8 assists and shot 45.3 percent from beyond the arc in 28 games.
After the season, Arroyo – much like James, whose "Decision" took his talents to South Beach – had to decide where to sign. Among many factors, one thing that didn't play into his own decision was whether the Heat would sign the so-called the Big Three of James, Wade and Bosh.
"I was worried about my contract. In reality I wasn't thinking about the other players, who does sign or not," Arroyo said. "My life is based on me. I'm responsible with what happens in my career and my decisions.
"I was more focused on that," he added. "I was also a free agent but I'm happy to return to the franchise and to have the team we have."
Arroyo, who's the fifth Boricua to play in the league, started out the season as the starting point guard for the Heat. Through 42 games, he averaged 22 minutes, 6.4 points, 2.2 assists, and less than one turnover per contest.
But he has found himself on the bench of late; at times, he has not played at all. His replacement, Mario Chalmers, has averaged 6.4 points, 2.3 assists and 1.2 turnovers through Tuesday.
The benching came as a surprise to Arroyo, who'd done everything he's been asked to do, particularly feeding the ball to James, Bosh and Wade. But instead of complaining and airing his disappointment through the press, Arroyo has taken the high road and continued his team-first mentality.
"It's been a bit frustrating but my job is to stay prepared and wait for my chance again," he said. "I'll be ready when my name is called."
So the brash Reggaeton artist who, off the court, is the center of attention in his videos, is an unselfish, small piece of a larger puzzle on it.
"I have to support my team," Arroyo said. "This is not about Carlos Arroyo, it's about the Miami Heat. We hope to improve as a team so that we win the world championship."
Adry Torres, who has covered MLB, NFL, NBA and NCAA basketball games and related events, is a regular contributor to Fox News Latino. He can be reached at elpiloto137@gmail.com or follow him on Twitter @adrytorresnyc.
Follow us on twitter.com/foxnewslatino
Like us at facebook.com/foxnewslatino