Caps' Tom Wilson snipes game-winner in OT, completes Game 1 comeback against Leafs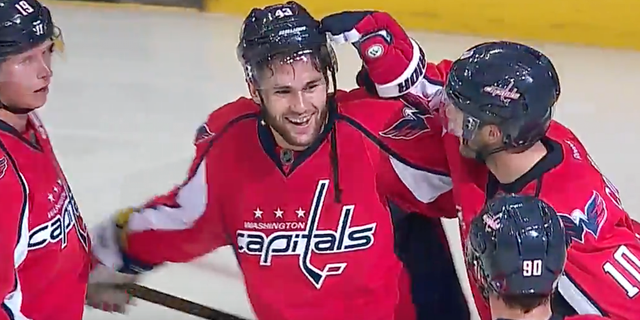 Thursday's first round series opener between the Washington Capitals and Toronto Maple Leafs was a thrilling contest that needed overtime to find a hero. That hero turned out to bean unlikely one.
Caps forward Tom Wilson -- a notorious agitator who only scored seven goals this season -- managed to net the game-winner in OT when he knocked down an attempted clear and fired a shot on net from along the boards.The game-winner capped a rally by Washingtonafter theyfell into a 2-0 deficit early in the game.
Toronto goalie Frederik Andersen made an impressive 41 saves -- a handful of which were of high difficulty -- in the losing effort, but he gave up a couple of questionable goals as well. The Capitals' game-tying goal came when Andersen lost track of a loose puck between his own legs, then the overtime winner from a bad angle.
It was a tough way for the Leafs to surrender the opening game of the series, but Toronto can hang their hat on the fact that they played well and were able to hang with the East's top team for 60-plus minutes.