Caps miss their chance to close out Game 3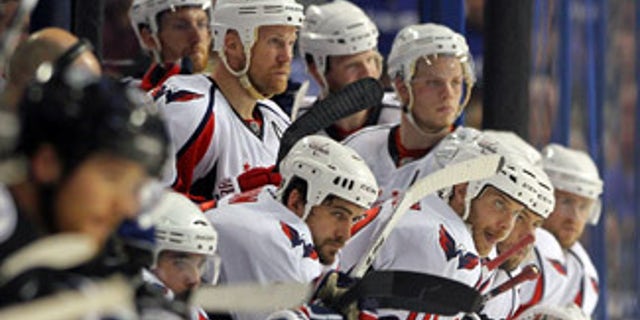 TAMPA, Fla. -- The Washington Capitals were once the most feared offensive team in hockey, seemingly able to score a goal whenever they needed to – and often regardless of the degree of difficulty.
That's what made Mike Knuble's visible frustration after Washington's 4-3 loss in Game 3 to the Tampa Bay Lightning so poignant. Knuble was almost in disbelief about how the Lightning have been able to find offense when they need it in this series, which Tampa Bay now leads 3-0.
Knuble knows that type of team well -- his Capitals used to be the same way. Washington finally had a lead in the third period in this series, only to see it vanish in a span of 24 seconds.
"It's like they're uncanny when they want to get a goal," Knuble said. "It's like they just snap their fingers or hit a button. They just dial it up. You see, it's like they're flipping a switch. When they're down they're just like, they know they're gonna score. I don't know what it is. It leaves you flabbergasted; you don't know what to say about it.
"We've done it all year – we've been 3-2 in the third period going in and closed out the game. I don't know. Like I said, they dial it up. They just pressed and waited and got one and another 30 seconds later they got another one. It's like they're snapping their fingers. I don't know what it is."
Washington's Eric Fehr was unable to get the puck out of the defensive zone along the right wall and Steven Stamkos got the puck from Victor Hedman before unleashing a world-class snap shot past Michal Neuvirth to make it 3-3.
Nate Thompson then won a race for the puck as it went into the right corner of the Washington zone seconds later and sent it toward the net where it hit off Ryan Malone's leg and crossed the goal line for a 4-3 lead.
A lead the Capitals had worked so hard to salvage was gone in the blink of an eye.
"Just defensive plays -- it seems like we have a lapse during a game of certain minutes and they capitalized on it," center Jason Arnott said. "We're not going to go too far -- we've got to learn how to play 60 minutes solid defensively and not give up odd-man rushes and especially back-to-back goals like that. When they get a goal, we have to be even more prepared to go out and have a big shift after that.
"We lapse for a certain amount of time. We get up and I think we think it's over. Guys just relax a little bit and they just come. In the playoffs you've got to be focused and ready on every shift. If you're not bad things happened."
Knuble was right -- the Capitals have done it all year. Washington was 29-0-3 this season when leading after two periods.
The Capitals, once a team that yielded too many goals, have also been a near-lock to win this season if they scored enough. They were 41-0-3 when scoring at least three goals in a game -- before this Tuesday night in Tampa.
"You're just upset. You're frustrated because you keep giving 'em chances," Knuble said. "You keep letting 'em come back, letting 'em come back. You don't win – you're not gonna win doing that. And then we have to play with a lead and then we have to order up another one, another goal, and then they tie it and they we've gotta work hard and get another one. We score three or four goals a night in a playoff game, that's gotta be automatic. This time of the year, the way this series has been going 3-2, if you score three goals in a game, that's a win."
Once Tampa Bay grabbed the lead, the Lightning were able to do what the Capitals could not -- they put the clamps on Washington's offensive attack in the final period for the third straight game.
Washington managed just five shots in the third period for the third straight game. The Capitals actually needed a late flurry to get there -- they had only one shot in the first 12 minutes of the final period.
Alex Ovechkin's stick clipped Dwayne Roloson's neck early in the third period -- seconds after he had the team's first shot on net. Roloson was on the ice for about a minute but stayed in the game.
Instead of testing the shaken-up goaltender, the Capitals were unable to put a shot on him and if there had been an opportunity there it passed.
"We have to just stick to our system and when we do that we play great hockey," Arnott said. "When we don't it is in our head or there is breakdowns and we get into this run-and-gun situation and they seem to capitalize on it. We can't do that if we want to win.
"Other teams have done it. Previously I was down 3-1 against Philly and we came back to end up winning the Stanley Cup. Anything is possible. We have to stay positive and focused in here. The good thing is we got some goals off Roloson and we'll work off that."