Brock Lesnar gives his opinion on Conor McGregor as UFC's biggest draw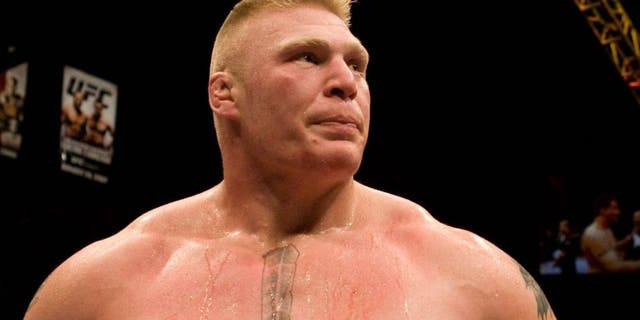 NEWYou can now listen to Fox News articles!
On the day he arrived in the UFC, Brock Lesnar was immediately one of the biggest stars in the sport who commanded a crowd no matter who he was fighting or where the bout was taking place.
Lesnar's star power from the world of professional wrestling as one of the marquee names from WWE translated into becoming arguably the largest draw of his day, which then culminated at UFC 100 where he faced Frank Mir in the main event.
The UFC doesn't released numbers from pay-per-view sales, but the seminal card featuring Lesnar vs. Mir at the top was highly regarded as the biggest show in the company's history.
Since the time that Lesnar walked away from the sport and returned to WWE, several other names have popped up to take that spotlight including UFC featherweight champion Conor McGregor.
Over his last few fights, McGregor has sold a huge number of pay-per-views and he has no problem touting that he is the biggest draw in the sport these days. So now that Lesnar is coming back home to co-headline UFC 200 in July, how does he feel that McGregor is claiming the crown that he once held?
"If somebody wants to state that they're the biggest pay-per-view draw in the world, I don't care," Lesnar said about McGregor when speaking to ESPN recently. "I've never came out and said 'hey listen, I hold the most pay-per-view buys'. Alls I know is what I got paid and I'm happy to do so.
I'm a prize fighter. I don't hang my championships on the wall because they don't pay the bills. -- Brock Lesnar
Lesnar admits he's never met McGregor much less held a conversation with him, but he's definitely familiar with his body of work inside and outside the Octagon.
Lesnar has never been the loud, outspoken type of fighter to call out opponents and promote bouts with his mouth as much as his muscle, but he applauds McGregor for doing both.
"I don't know him but I know of Conor McGregor and this sport has evolved even from the first time that I entered into the Octagon," Lesnar said. "I think that people were finding out that you have to talk the talk and more importantly you have to walk the walk and so for guys that can talk and walk the walk, I think it's great. It's great for the company.
"I've got no qualms with anybody."
Lesnar's arrival ahead of UFC 200 will certainly boost pay-per-view sales for the card as he takes on Mark Hunt in the co-main event on a show that already features three title fights.
McGregor will return to action about six weeks later when he faces Nate Diaz in the main event from UFC 202 also in Las Vegas.
Whether Lesnar's card ends up doing the biggest numbers or McGregor promotes another huge pay-per-view buy rate to add to his resume, it looks like the UFC is poised for potentially the biggest summer of all time between the two shows.