Brock Lesnar fails second drug test at UFC 200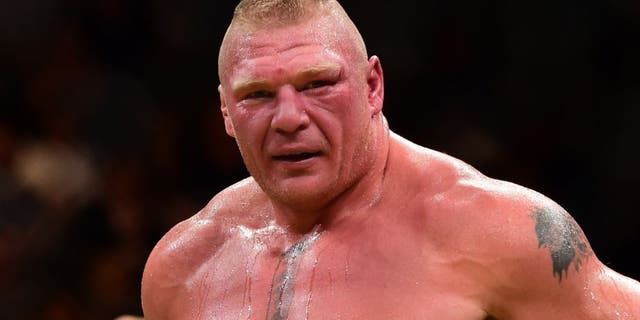 NEWYou can now listen to Fox News articles!
Brock Lesnar failed a second drug test from the night of his fight on July 9 at UFC 200.
UFC officials announced the news Tuesday after being notified by USADA (United States Anti-Doping Agency), which oversees the promotion's drug testing program.
"The UFC organization was notified today that the U.S. Anti-Doping Agency (USADA) has informed Brock Lesnar that his in-competition sample collection from July 9, 2016, at UFC 200, has tested positive for the same substance as his previously announced out-of-competition collection on June 28, 2016," UFC officials said in a statement.
"USADA, the independent administrator of the UFC Anti-Doping Policy, will handle the results management and appropriate adjudication of this case. It is important to note that, under the UFC Anti-Doping Policy, there is a full fair legal review process that is afforded to all athletes before any sanctions are imposed. The Nevada State Athletic Commission also retains jurisdiction over this matter as the sample collection was performed at UFC 200 in Las Vegas.
"Consistent with all previous potential anti-doping violations, additional information will be provided at the appropriate time as the process moves forward."
Lesnar's second failed test won't be treated as a separate case for the WWE superstar but instead just additional evidence for his eventual adjudication process so there won't be two different sanctions handed down if he's punished for the doping violation.
Lesnar will face possible sanctions from the Nevada State Athletic Commission as well because the testing was done in such close proximity to his fight with Mark Hunt at UFC 200.
The banned substance Lesnar has now tested positive for on two occasions has not been revealed, although the Nevada commission could reveal that information when it holds a preliminary hearing on the matter in August or September.
Lesnar released a statement regarding the first drug test failure, saying "we will get to the bottom of this" while also maintaining that all of his previous tests administered came back negative.
Now there's a whole new set of problems for the former heavyweight champion as he faces two test failures -- one out of completion from June 28 and another in completion on the night of his fight on July 9.
Lesnar is afforded a full appeals process through USADA but his punishment could be as severe as two years or possibly four years under "aggravated" circumstances.