'Boys, Eagles out to put teeth in East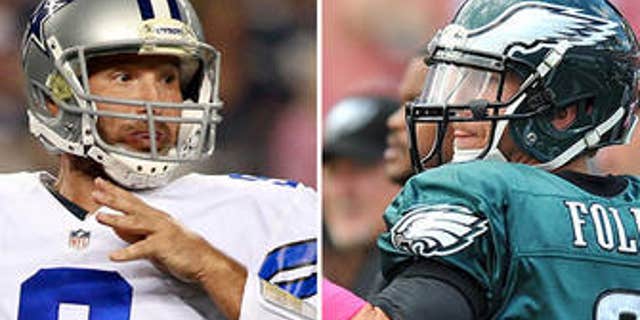 NEWYou can now listen to Fox News articles!
The Dallas Cowboys play the Philadelphia Eagles on Sunday. For the love of Luis Zendejas, will one of them please stop sputtering?
If you're too young to remember Zendejas, you're too young to remember when the NFC East wasn't a punch line. We've all enjoyed a good laugh at Jerry Jones' expense -- but enough is enough.
As much as you may hate overhyped, big-market bullies, the NFL is a better place when the NFC East has a fearsome team (or teams). We mean no disrespect to the West, South or any other direction -- but let's be honest.
While teams like the Seahawks and Chiefs make great stories, how many people spit up their coffee when Kansas City is discussed over breakfast?
Then there are the Cowboys, Giants, Eagles and R-R-Redsk....
The mere mention of the name makes people turn a color Dan Snyder loves. The football nation needs more of the passion only the NFC East can bring. What it has is a division that BCS computers would reject.
The Cowboys and Eagles are both 3-3 entering FOX's Game of the Week, which qualifies as a Clash of the Titans in the division.
Never mind that the overall record of the teams Philadelphia has beaten is 1-15. The Cowboys aren't much better at 3-12.
What's worse? Chip Kelly is calling it just another game.
"I've never been a guy that's been got into the whole hate aspect of, 'We hate them, so let's stay later tonight and study harder and work harder,'" the Eagles coach said.
Somewhere, Buddy Ryan is putting his fist through a wall. Rex's old man was around when Eagles-Cowboys meant war.
It meant Tom Landry running up the score on Philly's '87 scab team. It meant Randall Cunningham pretending to take a knee and then sticking a TD in Landry's face. It meant Eagles fans pelting Jimmy Johnson with snowballs after Bounty Bowl II.
And it meant Bounty Bowl I in 1989, when Ryan offered $200 for somebody to knock Zendejas out of the game.
Jessie Small promptly demolished the 5-foot-9 kicker. That could never happen nowadays, since nobody in the NFC East believes in tackling.
Philadelphia is last in the NFL in total defense, while Dallas is 30th. The Redskins are 27th and the Giants are 24th. When they're not playing each other, NFC East teams have been outscored 452-324.
And to think the NFC East used to pride itself on mano-a-mano football. The division won seven Super Bowls between 1987 and 1997. Deconstructing what went wrong is like trying to pinpoint the exact eclair that killed Elvis. There are so many possibilities.
In Dallas, it can be traced to Jones being drunk on power. You want mediocrity? Since 1997, the Cowboys are 131-131.
That would look good in Washington, where Mike Shanahan's career and Robert Griffin III's knee have become victims of the Snyder curse.
Then there are the sad-sack Giants. The old formula for New York was, "Be mediocre for four months, get hot in the playoffs and trigger a debate whether Eli is better than Peyton."
Now we're debating whether Eli is better than Archie, who's only slightly younger than Tom Coughlin.
As for the Eagles, they've put their future in Kelly's up-tempo hands. And for now he's put it in Nick Foles young hands. We'll take that as a positive sign. Michael Vick (see, there's another word that gets an immediate reaction) is too undependable to succeed with long-term.
DeMarcus Ware is expected to miss the first game of his eight-year career on Sunday, so Foles has that going for him. Fantasy owners will get fat on this game. Pencil Tony Romo in for 600 yards and an interception in the final two minutes.
Whichever team survives will temporarily carry the hopes and dreams of the NFC East. The first team to seven wins might take the division. That would earn the right to get blown out by the 49ers in the wild-card game.
We'd like to say this nonsense has to stop immediately, but the NFC East's problems are systemic. Jones and Snyder will have to have their cold, dead fingers pried off their teams. The Giants have to rebuild.
The only realistic hope for now is Philadelphia, even if Kelly isn't into all this hated-rival stuff.
Fine, we won't call Sunday's game Bounty Bowl III.
At this point, we'd pay $200 just to see somebody make a tackle.
The original article can be found at FOXSports.com: 'Boys, Eagles out to put teeth in East.