'BizNasty' gets company as O'Brien joins Twitter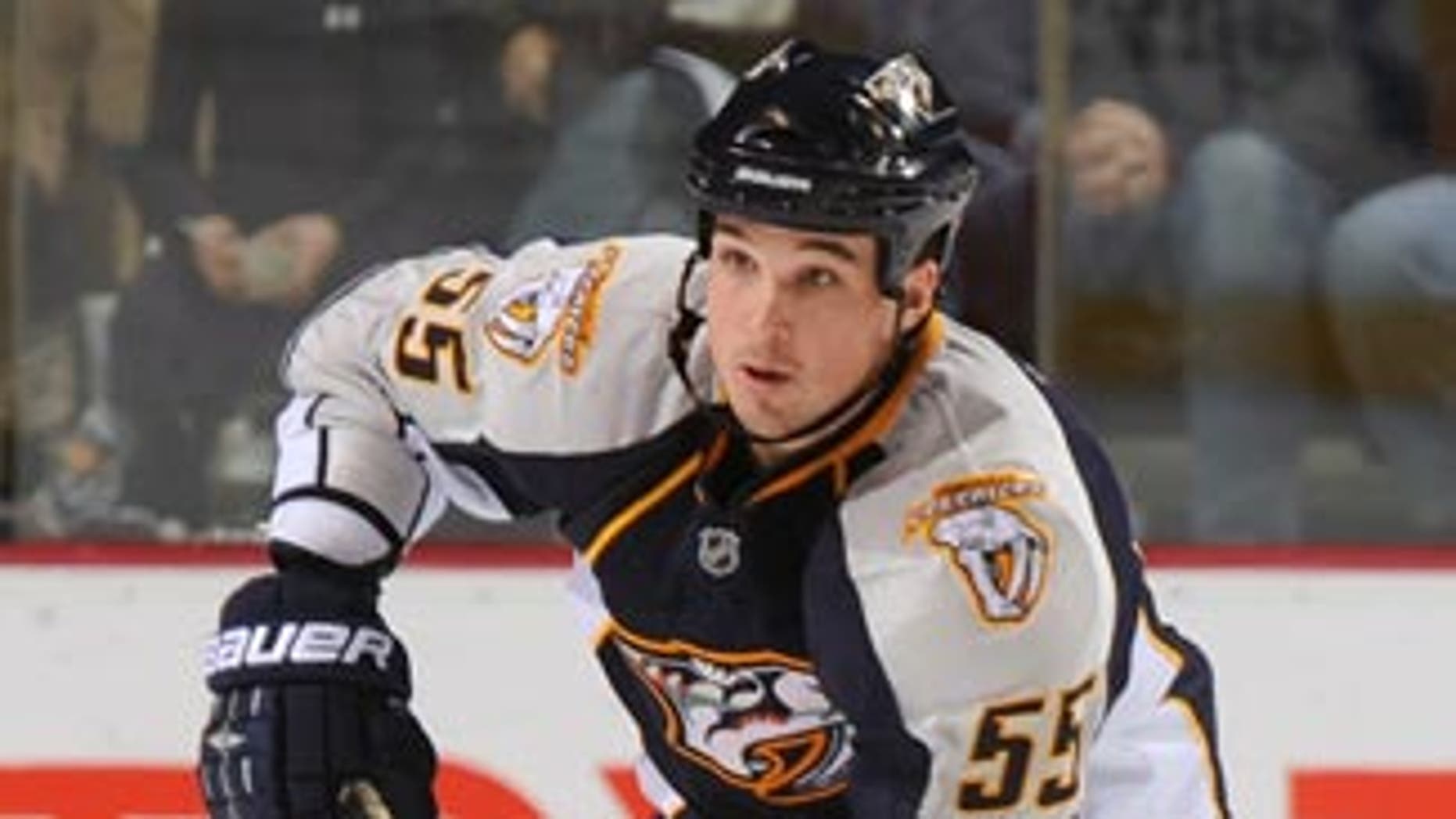 NASHVILLE, Tenn. -- Some of the big news of the day following Nashville's morning skate was that quotable defenseman Shane O'Brien has joined Twitter.
His account is ShaneObrien55 and he was gaining several hundred followers by the hour, with 6,750 by 2:15 p.m. Central time on Tuesday. O'Brien thanked pal Paul Bissonnette -- the Phoenix Coyotes' left wing who is perhaps far better known by his Twitter handle BizNasty2point0 with more than 74,000 followers -- for encouraging his foray into social media.
"I got to give Biz a lot of credit, actually," O'Brien said. "He gave me a little shout out. I was thinking about joining the world of social networking, so I'm a little bit behind the times. I decided I'll jump in there. It's a great thing. It'll give the fans what they deserve here in Nashville.
"It's more fun than anything. I hope I don't say anything that gets me in trouble."
Whether the outspoken O'Brien would join Twitter was a topic of debate in Nashville in recent weeks. Because he played for Anaheim and Vancouver and because of his colorful quotes, O'Brien has found himself a much sought-after commodity by the media for a sixth defenseman.
Predators coach Barry Trotz said that O'Brien was forewarned about his commentary on Twitter.
"We've talked to Shane about that," said Trotz, who joked that O'Brien needs to throw away his cell phone because every member of the media has his number. "He realizes in the past he's done some things that have got him in a little bit of trouble. I talked to (Canucks coach Alain Vigneault) when we got Shane. Shane is growing up and realizing that what you say and do, especially in this day and age, can be twisted any way or implied any way you want, and he's learning it the hard way."
Nonetheless, that did not stop O'Brien from speaking out on Tuesday about whether Vancouver's famous "green men" -- who taunt opposing players when they're in the penalty box at Rogers Arena -- make the trip to Nashville for the game.
"Yeah, the green men -- I give them respect for putting on those green tight suits," he said, his words loaded with sarcasm. "I know it's cold in the buildings, too, so it's really impressive for them to throw on those green tight suits. I just said I never noticed that there's always guys sitting next to them, not any hot chicks. Maybe they got to re-evaluate that, but they're funny and I'm sure they'll be doing their thing.
"Hopefully, we don't take any penalties and they'll be a non-factor."
Bowness Time: With the Canucks holding an optional skate on Tuesday, Vigneault elected not to address the media, leaving those duties to popular associate coach Rick Bowness, a former head coach with several teams.
A major topic of inquiry for the Canucks has been their lack of scoring in the series. Bowness approached it philosophically.
"We didn't score a lot of goals against Chicago (in the first round) either, so it's a continuation for us," Bowness said. "We've got to get our defense more involved. We get a lot of shots on a regular basis from our (defense), who are very good at joining the rush. Our problem, which eliminates that, is we've turned the puck over in the neutral zone far too many times. When you do that you're losing that second-wave."
As for how to solve the riddle that has been Preds goalie Pekka Rinne, Bowness said, "You take all the clichés and throw them out. You score goals by putting the puck where the goalie isn't."
More on the Green Men: Trotz was asked if the Predators had filed a complaint with the League over the antics of the green men in Vancouver and he said that they had not. But then he addressed fan behavior in tones that were alternately serious and joking, but always entertaining.
"Fans hang over the glass," he said. "You can cross the line. We haven't filed any complaint in terms of that. When you start getting over the glass and start doing that, you can cross a line a little bit. Because the players feel a little bit threatened; you just try to avoid some of that stuff when you can.
"And that's why I think you see security around the penalty boxes and the benches in every rink. You don't want a fan getting involved with a player because the player's always going to be wrong, just because that's society. The player should know better, but the fans should know better. I think there's a give and-take."
Then he told a story about one year when the Predators were playing San Jose in the playoffs. He said he was walking from his hotel to the arena when he turned a corner and found a park where fans were burning him in effigy in a trash can.
When they saw him, they momentarily stopped what they were doing and quieted down. And as soon as he walked past them down the ramp into the building, he heard them start up again with derisive comments in his direction.
"'We hate you. You guys are going to lose.' It's all about the fans' involvement and that's OK," he said. "The first series we had a car painted with a Ducks logo and everybody for charity could pound it out. Those are good things. When they cross a line is when there's actual people getting in people's face.
"But I think it's all about emotion. It's all about the pride for the Canucks, the pride for the Predators. We both have very passionate fan bases … I went for a long walk in Vancouver and I was out by Stanley Park and I was walking to a restaurant and there's two young guys sitting on the bench and they go, 'Excuse me, you look like the coach of the Predators.' And I said, 'No, that's insulting. I think he's ugly.' And I walked away. They're all great."
When asked, Trotz confirmed that he was mistaken for Mike Keenan at the NHL Entry Draft in Montreal. He said he doesn't think he looks like Keenan.
"I've been mistaken for a number of different people," said Trotz, who is short with a prominent bald head and a goatee. "I don't blend in very well, if you can tell."