Beyonce uses Ronda Rousey's 'do nothing b****' speech in concert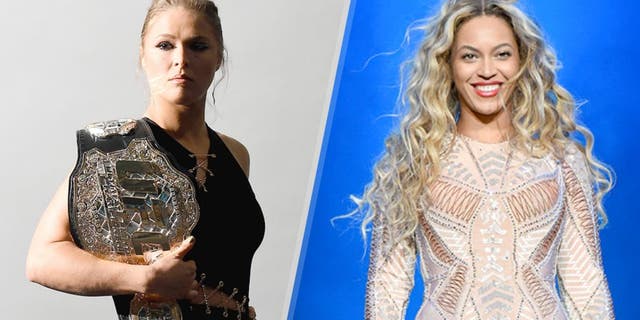 NEWYou can now listen to Fox News articles!
Ronda Rousey's celebrity continues to grow and the latest example was a famous speech by the UFC women's bantamweight champion showing up during a Beyonce concert this weekend.
Rousey made waves just before her fight against Bethe Correia at UFC 190 when she coined the phrase 'do nothing b--ch' for the first time. It actually happened during an episode of UFC Embedded that coincidentally has over 1.2 million views on YouTube.
""I have this one term for the kind of woman that my mother raised me to not be. I call it a 'do-nothing b--ch'," Rousey said in August. "She's a b--ch who just tries to be pretty and be taken care of by someone else.
"That's why I think it's hilarious if people say that my body looks masculine, or something like that. I'm just like, 'Listen, just because my body was developed for a purpose other than f--king millionaires doesn't mean it's masculine.' I think it's femininely bad-ass as f--k because there's not a single muscle on my body that isn't for a purpose. Because, I'm not a do-nothing b--ch."
Well, Beyonce was apparently listening to Rousey's words because the R&B star used the speech at her concert recently ahead of singing her track titled 'Diva'.
UFC president Dana White caught wind of the concert and shared the video on his Twitter account late Saturday night.
Rousey already sold over 56,000 t-shirt emblazoned with the words 'Don't Be a D.N.B.' with a portion of the profits going to help women with body image issues.
Now Rousey can add her famous phrase making it into a Beyonce concert as well.
How long before someone uses it on a TV series or a major motion picture? The countdown starts now.