Benteke earns Liverpool victory over table-toppers Leicester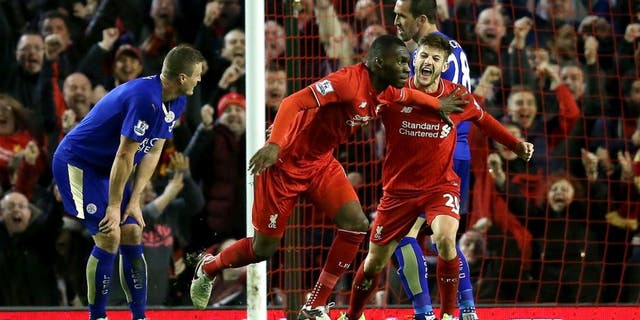 NEWYou can now listen to Fox News articles!
Substitute Christian Benteke, who came on in the first half for an injured Divock Origi, struck in the 63rd minute Saturday to give Liverpool a 1-0 Boxing Day triumph to deny top-of-the-table Leicester City the positive result they would have wanted to begin a demanding holiday-week test.
The Foxes, who have never beaten Liverpool in seven Premier League meetings, came to town having gone 8-2-0 since a Sept. 26 loss to Arsenal, surging to the top of the table at Christmas against all the odds. They had not failed to score in any Premier League match this season.
Liverpool has never lost a Boxing Day Premier League match at Anfield but came into this one winless in their last three league starts. They set about their business of protecting that enviable Boxing Day record right from the start. Benteke's goal, scored with an outstretched right leg just after the hour mark, ensured that they would maintain their holiday success.
Leicester City began the busy festive season program two points ahead of Arsenal, but did not show the same flair which has characterized recent games. Credit Liverpool for that as the Reds maintained a tight grip in midfield and produced a strong performance.
It doesn't get easier for the Foxes on Tuesday when they are at home to Manchester City and will have to expect another serious challenge to their title chances. They finish their holiday schedule at home to Bournemouth next Saturday.
Arsenal, meanwhile, had a Saturday night fixture at Southampton which offered them the opportunity to go top of the table with a victory.
Philippe Coutinho and Origi were the most significant men in the opening half when Liverpool was very much in charge. Origi, who was beating Robert Huth and Wes Morgan when he attacked down the right wing, created two good openings before appearing to tweak a hamstring in the 37th minute. The lively winger was replaced by Benteke. At the moment of the change Origi's loss appeared to be significant but Benteke got the vital goal in his relief role.
Leicester, not looking like the side which had risen to the top of the Premier League, managed just one good chance in the first half. That fell to Riyad Mahrez in the 42nd minute after he accepted a pass from N'Golo Kante before lining up a drive from 22 meters that Simon Mignolet two-handed away. Jamie Vardy, the Foxes' goal-machine this year, was not a factor, managing only a looping header toward goal that never troubled Mignolet. He was later taken off in the 68th minute without having made an impression on the match.
As they have done all season, the visitors turned up their pace in the final 20 minutes, finally making Mignolet be involved in the match. The Liverpool keeper had some good fortune in the 82nd minute when a long Christian Fuchs throw in deflected near the goal line before coming off Mamadou Sakho's body and safely into Mignolet's arms.
Benteke had gotten a header chance in the 60th minute when Jordan Henderson supplied the cross, but was not able to get his shot on target. Three minutes later he did connect, finding space at the top of the box, then stretching to first-time the feed from Roberto Firmino past Schmeichel's dive to his left-hand post.