Bengals' Pacman Jones: Marvin Lewis probably saved my life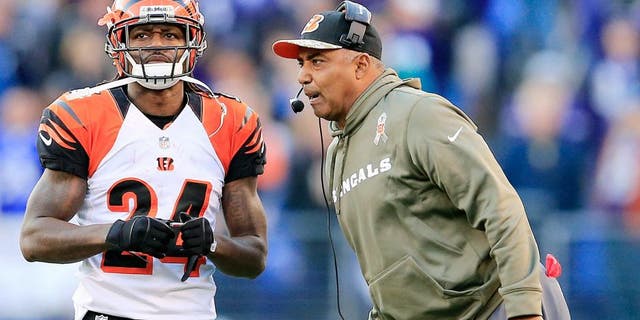 NEWYou can now listen to Fox News articles!
Bengals cornerback Adam Jones reflected back on how head coach Marvin Lewis rescued him from a deep, dark hole when he got the call for a tryout after the 2009 season.
Jones didn't play in 2009 after he was cut by the Dallas Cowboys in the offseason. He was faced with the prospect of his NFL career being over after a series of off-field incidents followed by subpar play. Then came the call from Lewis.
"The best way to describe it," Jones said on Dan Le Betard's ESPN Radio show, "is if you're stuck in the hole, and you don't have no one but God, and everyone turned their back on you, and you look up and it's light up at the [top of the] tunnel, but where you're standing at it's dark as hell."
Now 32 and coming off being named first-team All-Pro as a returner, Jones is much wiser and grateful that he's been able to prove to Lewis over the last six seasons that he made the right call. He knows he's come a long way from his lone season in Dallas, when he was forced by Cowboys owner Jerry Jones to have a round-the-clock security detail to to keep him out of trouble.
"The most scared I was when I left Dallas," Jones said. "Just because I didn't grow up and handle my business. I didn't play good. I was overweight and football wasn't fun at that time for me. I really had to dig deep when I left Dallas.
"Coach Lewis called me and probably saved my life," Jones said.