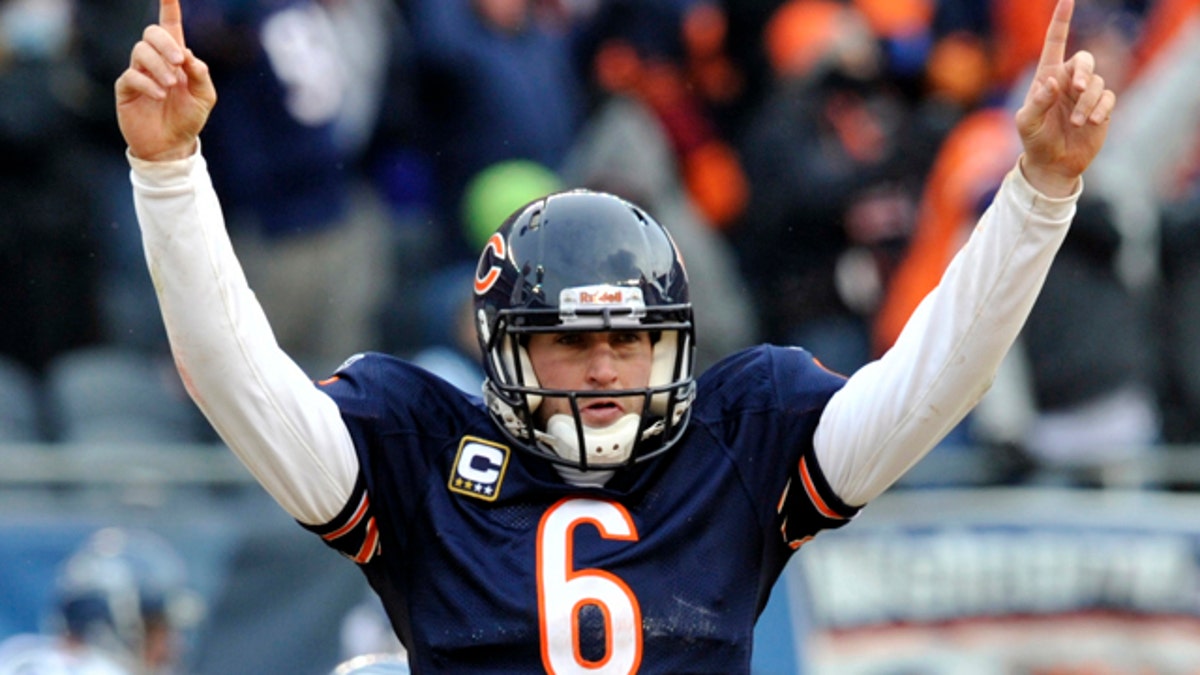 CHICAGO – Football's oldest rivalry has a grand new prize: a spot in the Super Bowl.
Maybe even with an anniversary reprise of the "Super Bowl Shuffle" if the Chicago Bears can get past the Green Bay Packers.
"It's a big deal. We have a lot of history with them," Bears star linebacker Brian Urlacher said after a 35-24 victory over Seattle set up an NFC championship game matchup with Green Bay. "We don't like them, they don't like us."
Jay Cutler ran for two touchdowns and threw for two as Chicago (12-5) pounded the Seahawks from the outset. The Bears' built a 28-0 lead, but it was against the first division winner with a losing record, making it difficult to measure how good they are. The NFL will find out next week against the Packers (12-6), who have beaten third-seeded Philadelphia and top-seeded Atlanta on the road this month.
The last time Chicago won the NFL title, Walter Payton, Jim McMahon and Mike Singletary did the "Super Bowl Shuffle" all over their opponents. That was 25 years ago, and to compare these Bears with the wild bunch that won Chicago's only Super Bowl 25 years ago is a stretch.
But next Sunday's matchup is fitting if only for the history: It will be the biggest game in Chicago's 90-year series with the Packers. They will play for the 182nd time next Sunday, but it's their first meeting for the NFC title.
"Now that we have beaten the Seahawks, it just doesn't get any better, as I see it, than for the NFC championship coming down to the Packers coming down on our turf this time," Bears coach Lovie Smith said. "The Packers and Bears to finish it up."
Cutler made it possible as much as anybody. And he did it with nimble feet as well as precise throws, running for 6- and 9-yard TDs.
"It was fun," he said with a smile. "That first one was called. Second one was kind of improv."
There was nothing improvisational about the way the Bears' defense shut down an offense that scored 41 points against New Orleans last week, but that gained only 111 through three periods at Soldier Field, where Seattle managed a 23-20 victory in October. The Seahawks' points all came with the outcome decided.
"Now we're back, playing together, hopefully peaking at the right time," Urlacher said.
Cutler, in his first postseason game, showed none of the wild swings that often have marked his five-year career. His shifty moves on a 6-yard run made it 21-0, essentially turning everyone's attention to next weekend.
"We're both familiar with each other, so nothing's going to be new," Cutler said. "We have our hands full."
Not much was expected of the Bears when the season began, but they've improved mightily since falling to 4-3 heading into their bye week. They clinched a playoff berth with two games remaining, grabbing their first NFC North championship since 2006 — when they lost to Indianapolis in the Super Bowl.
Unlike Atlanta and Pittsburgh on Saturday, they showed no rust from having a bye in dominating Seattle. Then again, the Seahawks showed none of the surging emotions or big-play abilities they sprung on the Saints at home. It was merely a one-week reprieve, and they went even flatter after tight end John Carlson was carted off with a head injury in the first quarter following a nasty spill; Carlson landed on the side of his helmet and his shoulder, but had movement in his extremities.
Seattle lost cornerback Marcus Trufant to a head injury in the third quarter when he collided with Kellen Davis' knee while trying to make a tackle. Trufant also was carted off, but he also had feeling in his extremities.
Coach Pete Carroll said both players were hospitalized and were expected to stay overnight for observation. He said "all indications are that they are OK."
Chicago put away the game with touchdowns on three of its first four possessions, by which time Urlacher, Julius Peppers and the rest of the defense had taken charge.
Greg Olsen, showing impressive speed for a tight end, streaked past safety Lawyer Milloy for a 58-yard TD reception on Chicago's third offensive play. Chester Taylor added a 1-yard TD run and Cutler's 6-yarder built an insurmountable lead.
Cutler liked using his feet so much he added a 9-yard sprint in the third quarter to make it 28-0. He even threw in a 21-yard scramble in the fourth quarter and finished with a career-best 43 yards rushing, 9 more than the Seahawks.
"Jay's a very athletic quarterback," Seahawks linebacker Will Herring said. "So we have to account for that. He really hurt us with his feet."
Olindo Mare's 30-yard field goal got the first points for Seattle, which will get mixed reviews in Carroll's first season as coach. The Seahawks went 7-9, hardly what they had in mind when they hired Carroll away from Southern Cal. Still, they won the weak NFC West, and they eliminated the defending Super Bowl champions in the wild-card round.
"It took a long time for them to ... fight and compete and do the things we want them to do," Carroll said. "I would have loved to have got this game today that so many people didn't think we could. I see where we're going and I'm proud of that."
But the prospect of a .500 team playing for a berth in the Super Bowl is gone, even though Matt Hasselbeck threw for three fourth-quarter touchdowns.
So bring on the Packers, who lost to the Bears 33-14 at Wrigley Field on Dec. 14, 1941 in their only previous playoff meeting.
Green Bay beat Chicago 10-3 in the season finale to clinch a playoff spot earlier this month. The Packers haven't been to the Super Bowl since the 1997 season, when they lost to Denver.
Notes: Cutler is the second QB in league history to have two TDs rushing and two passing in a postseason game. Otto Graham did it for Cleveland in 1954 and '55. ... Cutler was 15 for 28 for 274 yards and was sacked three times. Hasselbeck finished 26 for 46 for 258 and was sacked twice. ... Record-setting punt returner Devin Hester had one 26-yard runback, but otherwise had little impact for Chicago.