Barcelona vs. Real Madrid: The Best El Clasico Face-Offs of All Time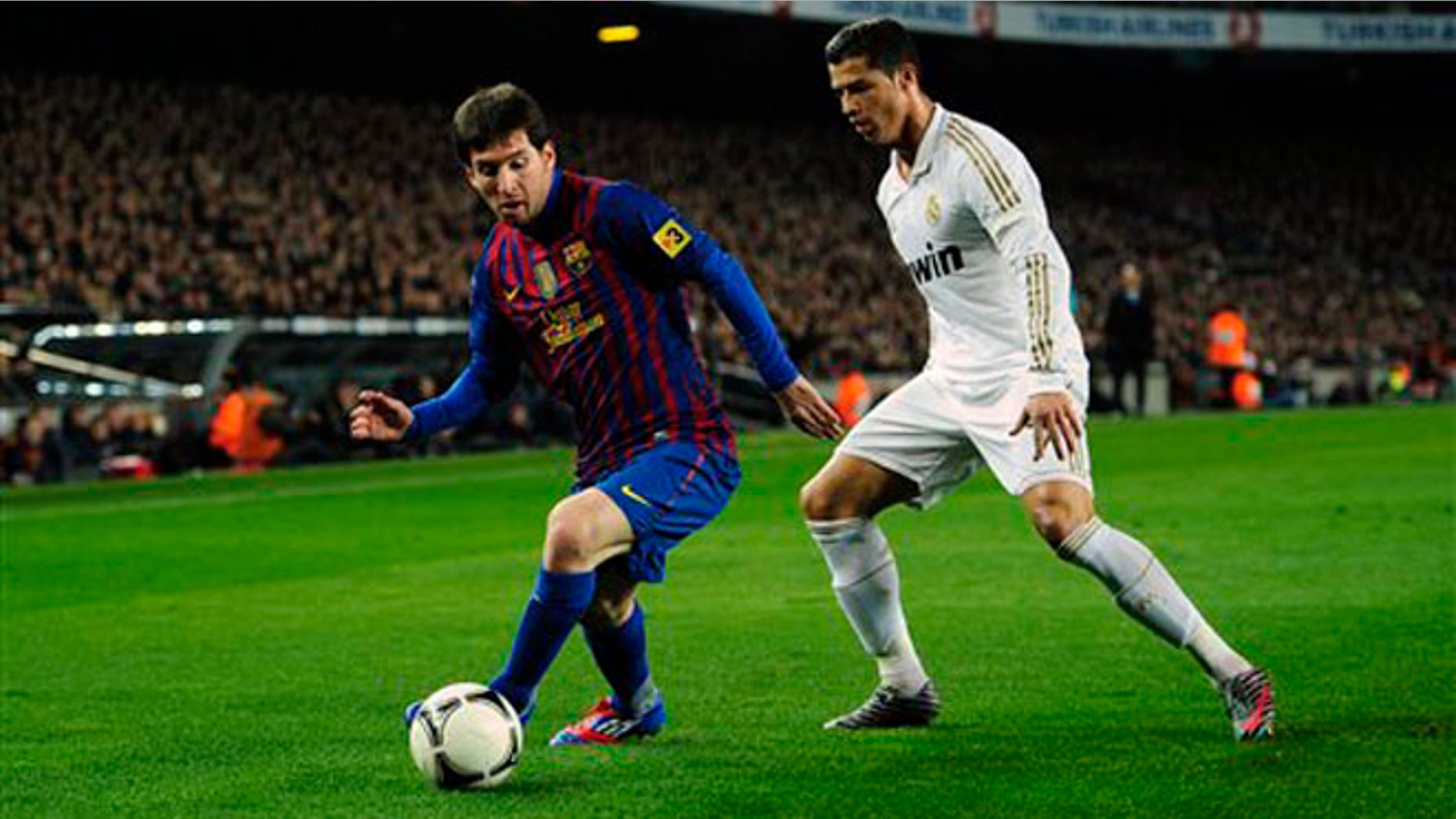 Barcelona and Real Madrid will knock heads today in the 164th edition of soccer's greatest rivalry --El Clásico --at 2 pm ET, 11 am PT.
Will it become a classic El Clasico or just another encounter?
Taking into account all of the confrontations between these two clubs -- Spain's La Liga, Copa del Rey, Spanish Cup and UEFA Champions League, here are one writer's batch of so many historic and unforgettable encounters. While it would be easy to make a list of the best games of the last decade, I have tried to keep the historical perspective by including some confrontations from the distant past.
1. A Double Serving of Alfredo Di Stefano
Real Madrid 5, Barcelona 0 (La Liga), Oct. 25, 1953
After a bitter battle over the Argentine international, Alfredo Di Stefano showed his worth and then some to Real as he literally had the first and last words in this confrontation. He tallied in the 10th minute to give the hosts a 1-0 lead and added an exclamation point in the 85th minute. This was the beginning of Real's domination of European soccer, which culminated with five consecutive European Cup crowns, which has not been duplicated since. No one has scored more goals in the series than Di Stefano (18, 14 in La Liga).
2. The Magnificent 11
Barcelona 5, Real Madrid 0 (La Liga), Nov. 29, 2010
A week prior to this encounter, Real rolled to an 8-0 thrashing of Almeria. Cristiano Ronaldo boasted, "Let's see if Barcelona can score eight goals next Monday." Well, Barca didn't score eight, but five was more enough as it humiliated its foes, 5-0, at Camp Nou. How dominant were the hosts? The great Lionel Messi did not score and they still routed Real. Observers hailed Barcelona as one of the greatest, if not the greatest club team ever. Xavi started the romp in the 10th minute. Pedro made it 2-0 eight minutes later. David Villa scored the next two goals (55th and 58th minutes) before Jeffren Suarez closed it out in the final minute. "We are proud because the world has seen us play the way we like to play," Barcelona coach Pep Guardiola said.
3. Duel of the Century -- not
Real Madrid 2, Barcelona 0 (Champions League), 2002
Real Madrid 1, Barcelona 1 (Champions League), 2002
The Spanish press called it the "Duel of the Century." Ha! Some duel. This aggregate goals series -- the first leg was at Barcelona -- was decided very quickly. Frenchman Zinedine Zidane found the back of the net in the 55th minute for Real and English Steve McManaman added a crushing goal two minutes into stoppage time. Buoyed by the two-goal margin on the road, Raul tallied in the 43rd minute before Barca was given a consolation own goal six minutes later in the second leg. It was way too little and way too late as a superior Real side went on to win the title.
4. A Rare Standing Ovation

Barcelona 3, Real Madrid 0 (La Liga), Nov. 19, 2005
When he wanted to play and was fit, Ronaldinho could dominate games. He did so in this encounter. Cameroon international striker Samuel Eto'o lifted the visitors into a 1-0 advantage in the 14th minute before the Brazilian struck for not one, but two goals off a pair of brilliant efforts in the 59th and 77th minutes. In a sight that no ever expected to see, the Real fans gave Ronaldinho a standing ovation.
5. Who Says a Tie is Like Kissing Your Sister?
Barcelona 3, Real Madrid 3 (La Liga), March 10, 2007
What a game! What a start! What a see-saw battle! And what a fantastic finish! Dutch international Ruud van Nistelrooy started it with a goal in the fourth minute, but Messi equalized in the 12th minute. Only two minutes later van Nistelrooy converted a penalty kick for a 2-1 Real advantage. But Barcelona, and namely Messi, was far from finished as the Argentine standout tied it again in the 27th minute. It wasn't until the 72nd minute that Sergio Ramos lifted the visitors into a 3-2 lead. But Mr. Messi came through one more time, this time with a dramatic score with two minutes remaining to complete the scoring fest.
6. No Contest

Barcelona 6, Real Madrid 2 (La Liga), May 2, 2009
Incredible as it might sound this game was close at one time. Gonzalo Higuain gave Madrid a one-goal lead in the 14th minute. Thierry Henry equalized three minutes later and Carles Puyol broke the deadlock in the 19th minute and the visitors -- yes, the visitors -- were on their way to a big victory. Messi tallied in the 35th minute before Ramos' goal closed the gap to 3-2 in the 56th minute. But once again Barcelona struck quickly -- two minutes later via Henry's second score. Messi also had a brace, scoring in the 75th minute. Gerard Pique closed out the rout in the 83rd minute.
7. One Last Time for Glory
Real Madrid 3, Barcelona 1 (European Cup), 1960
Real Madrid 3, Barcelona 1 (European Cup), 1960
No, that is no typo. Real beat Barcelona twice in the semifinals of the European Cup (now better known as the UEFA Champions League), the first time these two teams tussled in the most important club competition in the world. In the first leg in Madrid, Di Stefano tallied in the 17th and 84th minutes and Hungarian legend Ferenc Puskas added another in the 28th minute to offset a goal by Eulogio Martinez in the 37th minute. In the second leg in Barcelona, Sandor Kocsis, a former teammate of Puskas on the Hungarian Magic Magyars, scored in the ninth minute for a 1-0 home team lead, which pulled Barca within 3-2 in total goals. However, Puskas answered back in the 25th and 75th minutes and Francisco Gento added a third. Real went on to win its fifth consecutive Euro Cup, a record that surely will never be broken.
8. Di Stefano's Rant
Barcelona 1, Real Madrid 1 (La Liga), April 16, 2011
Messi (53rd minute) and Cristiano Ronaldo (82nd minute) traded penalties at Santiago Bernabeu Stadium, a result that virtually assured Barca a third consecutive La Liga title. It was what was said after the game that made as many headlines as Di Stefano, Real's 84-year-old honorary president, ripped his own team. "Barcelona's soccer in the Bernabeu was simply brilliant," Di Stefano wrote in the Spanish sports daily newspaper Marca. "Its superiority was there for the whole planet to see. Madrid was a team without personality. The decision to try to play Barcelona on the counterattack was clearly not the right one. Barcelona plays soccer and dances while Madrid just runs back and forth constantly, tiring itself out." Ouch! Double ouch from a man who captured a five Euro crowns and eight La Liga titles. It turned out to be first of four confrontations over an 18-day period between the archrivals. Real won the Copa del Rey, 1-0, on Ronaldo's extra-time goal. But Barca moved on in the Champions League, winning the first leg, 2-0, behind a pair of Messi goals. The teams tied the second leg, 1-1.
9. The Never-Ending Cup Tie
Real Madrid 4, Barcealona 2 (Copa del Rey), 1916
The first time these rivals clashed in Copa del Rey, they needed not two, not three, but four matches to decide the semifinal series. In the days before total goals decided home-and-home series, Barca won the first encounter at home, 2-1, and host Real recorded a 4-1 triumph as Bernabeu hit for a hat-trick. So, they needed a third match, which ended in a 6-6 draw at Real (Bernabeu had a brace in that one and Paulino Alcántara had a hat-trick for Barca). Finally, the fourth time was the charm for Real, which recorded a 4-2 win (Bernabeu had a goal in that one). A player named Martinez scored in every match for Barcelona.
10. The Very First Time
Barcelona 3, Real Madrid 1 (Copa de la Coronacion), May 13, 1902
As it turned out, the very first struggle between these two rivals wasn't in La Liga, Copa del Rey, the Spanish Super Cup. It was in a competition called Copa de la Coronacion in its semifinals at the Hipodromo in Madrid. The identities of the goal-scorers are not exactly known, at according to my research. But in the long run, Barca supporters wouldn't care. They only care that their team emerged victorious.
Michael Lewis, who has covered international soccer for more than three decades, can be reached at SoccerWriter516@aol.com.