Barcelona Shutout by Chelsea in Champion's League Semifinal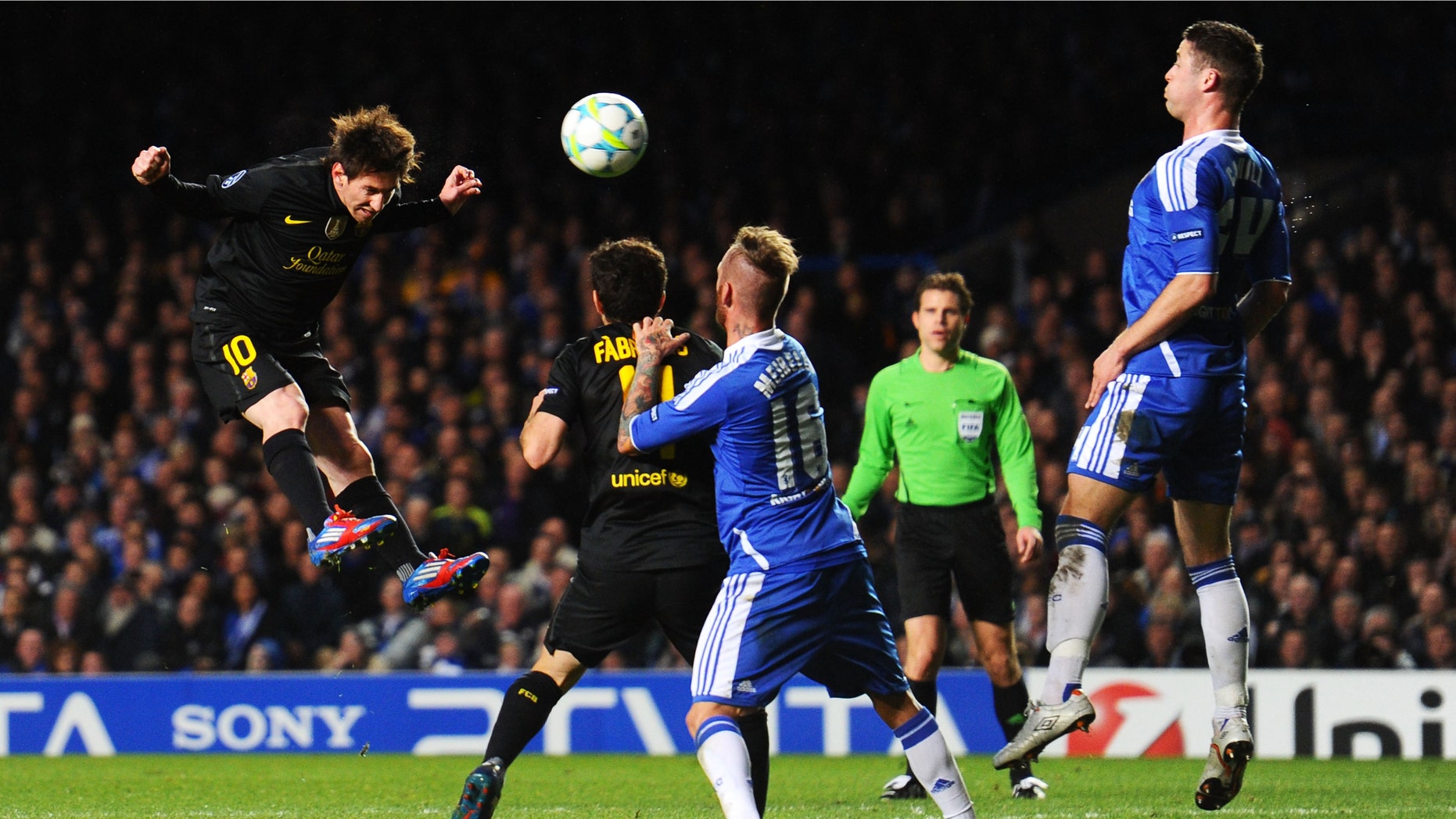 Whether you're at home, on the road or in a neutral venue, it's certainly not easy to keep a clean sheet against the most lethal scoring team in the known soccer universe.
Few teams can take credit for such a rare occurrence.
But Chelsea on Wednesday somehow pulled off what many soccer observers felt was virtually impossible: the Blues blanked Barcelona and the great Lionel Messi, 1-0, in the first leg of its UEFA Champions League semifinal series. Chelsea kept Barca off the scoreboard, denying the Spanish side a vital away goal in this aggregate goals series, which continues at Camp Nou Stadium on Tuesday.
Didier Drogba connected for the lone goal of the encounter two minutes into first-half stoppage time. Then it was up to him and his teammates to thwart and frustrate Barca over the final 45-plus minutes.
It wasn't easy and it wasn't without its dramatic moments. Hearts were probably in the stomachs of both sides' supporters in the second minute of stoppage time when Pedro Rodríguez's close-range shot banged off the right post and out of bounds, It  was the visitors' last gasp, the second time they hit the woodwork (Alexis Sánchez banged one off the crossbar in the first half).
As it turned out, Messi was involved in the winning goal, but not exactly the way coach Pep Guardiola had envisioned. About a minute after he got up clutching his groin just as first-half stoppage time began, Messi was stripped of the ball by Frank Lampard in Barcelona's half. Lampard found Brazilian Ramires streaking down the left side. Ramires centered to Drogba, who beat goalkeeper Victor Valdes. with a left-footed shot from eight yards for a precious one-goal lead.
It should be no surprise that Chelsea has done so well in Champions League competition this season, because it was the 11th time the Blues tallied first, which is essential for any time to be successful, no matter what league, level or competition.
The first half had a recurring theme. Barcelona would keep the ball for long periods of time and sometimes get a shot on goal, forcing goalkeeper Peter Cech to make a save on a shot from Cesc Fabregas or Messi. Chelsea would repel an attack or try for a quick counter with Didier Drogba leading the charge.
"Goodness me, if that's what they're like away from home," Fox Soccer Channel announcer said. "What are they going to be next week?"
Not surprisingly, the goal and the 1-0 lead allowed Chelsea to keep virtually its entire squad behind the ball in the second half, which was the logical thing to do against a team that boasts Lionel Messi.
The Blues blocked shots -- defender Ashley Cole cleared Fabregas's shot off the goal line just before Drogba's goal -- cut down angles, fouled, when necessary. Messi and his Barca teammates could not make much of their free-kick opportunities and relied on the outstanding goalkeeping of Cech.
Cech was called to knock away with both hands Carles Puyol's close-range header off a Messi free kick in the 87th minute.
It wasn't very pretty, but quite effective.
When you get to this level, in the semifinals of the world's most important continental club competition, you don't get points and victories on how well a team plays or how pretty you are.
But we're only halfway there. There still is another half of what is essentially a 180-minute match.
It remains to be seen whether Chelsea can defend against Barcelona on the road at Nou Camp.
One thing is certain: both teams have their work cut out for them before Tuesday's second leg.
On Saturday, Chelsea plays at Arsenal in a London derby, while Barcelona hosts archrival Real Madrid.
Man, talk jumping from the frying pan into the fire.
Michael Lewis, who has covered international for more than three decades, can be reached at SoccerWriter516@aol.com.
Follow us on twitter.com/foxnewslatino
Like us at facebook.com/foxnewslatino