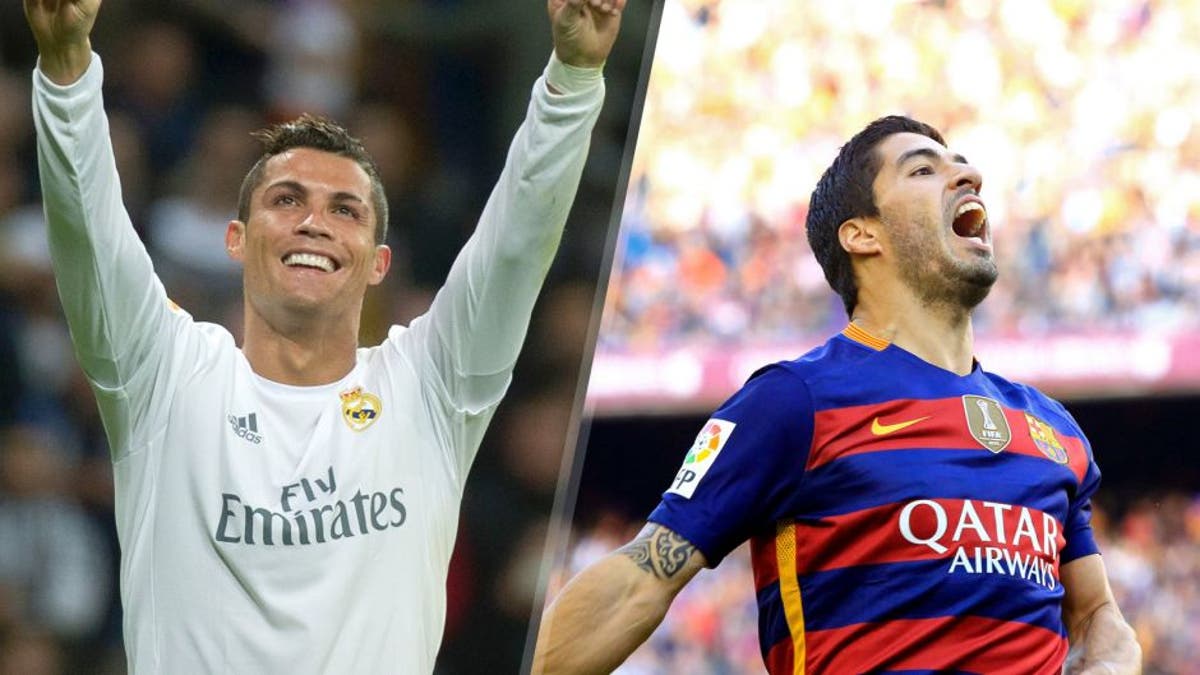 It has been a deliberate quirk of Liga's fixture list over recent years that the two major clubs from each of Spain's two major cities meet at the same time, or at least on the same weekend, of the calendar: Catalonia goes to Castille, while Castille comes to Catalonia. In an Iberia where conspiracy theories are easily stimulated, it was once thought within Catalonia, home of Barcelona and Espanyol, that making Barcelona take on Atletico Madrid on the same weekend that Real Madrid meet Espanyol was a means to subtly allow Real Madrid an advantage.
Why so? Because Espanyol are never title contenders, at least in modern history. But the big two clubs, Atletico and Real, from the Spanish capital, can be, and are. They have both been champions in the last four years, interrupters of Barcelona's 21st century hold on that prize.
But in the 18 months since Atletico famously grabbed the Liga title from Barca on the last day of the 2103-14 season, by drawing 1-1 at Camp Nou, the sporting heart of Catalonia, Barca have learned to master both Madrid's best clubs. Of all the home wins - 11 out of 12 Primera Division matches - accumulated by Barca this season, Saturday's 2-1 win over Atletico looks the most significant.
It was certainly one of their toughest. Atletico took the lead, through Koke, and when Atletico have a lead, they usually have lock-down mechanisms installed in their hardware to hold at least a point. For that characteristic, Atletico going 1-0 up against versus free-scoring Barcelona promised intrigue, fascination. The contest supplied both on Saturday. Containment is what Diego Simeone's Atletico do excellently; they counter-attack efficiently too. They are a stubborn challenge for a team like Barcelona.
But this is an exceptional Barcelona, even by the standards set by the Barca of Frank Rijkaard's management in the mid-2000s, and even compared with the dynasty established by Pep Guardiola in the garlanded years between 2008 and 2012. Barcelona under Luis Enrique, who took over as head coach at Camp Nou 18 months ago, have something those predecessors did not: His Barcelona have played Atletico six times; they have won all of those matches, in Cup and league.
If there is a feather to plant in the cap of Luis Enrique besides the obvious, heavily plumed ones of a Champions League title, a Liga in his first season there, a Copa del Rey, a European Super Cup and a FIFA Club World Cup, it is the habit of beating the most resistant, rugged team in Spain, and the team who last interrupted Barcelona's status as likeliest Liga winners: Atletico. For all the baggage-laden rivalry with Real Madrid, Atletico put alarm into Barcelona like no other Spanish adversary, and not always for reasons the soccer purist instinctively respects. They are rough. The horror that registered on Luis Enrique's face on Saturday when Felipe Luis, by no means one of Simeone's most ferociously pugnacious combatants, inflicted a damaging thud on Lionel Messi's knee, felt visceral.
Felipe Luis, quite correctly, was sent off for that foul. Atletico also lost Diego Godin, whose regular misjudgements of the line that separates hardness from brutality are the impediment between his being regarded as just a superb modern centre-half and being spoken of as the very best in the world in his position, to a red card. Yet Simeone could not be begrudged his praise of his team for competing, even with nine men against Barcelona's 11. "I feel proud," said Simeone, "If you have to lose, you want lose like we did." Even an understaffed Atletico had remained competitive, a worry to the Barcelona of Messi --€" who scored the equalizer -- of Neymar, and of Luis Suarez, who scored the winning goal.
But, fact is, Atletico are less of a worry now as challengers for the Liga title, and by a distance. Barcelona's win means a three-point cushion at the top, over Simeone's outfit, for Luis Enrique's men with 16 matches to go, or, rather, 17 matches to go for Barca, who have played one game fewer than Atletico and Real Madrid, who are third thanks to their straightforward three points.
Against Espanyol, at the Bernabeu, Real were close to guaranteed a win. Espanyol may be citizens to Spain's second city; they may have a strong, defined support-base in urban Catalonia; they may be in a state of optimism for having attracted investment from the Chinese magnate Chen Yansheng, now the majority shareholder in the club who declared his intention to have the club playing Champions League soccer within three years in the lead-up to the visit to the Bernabeu. But they are still regular fall-guys to Madrid's gluttonous goalscorers.
Cristiano Ronaldo, for instance, loves playing Espanyol more than any other Spanish opponent. He scored five times against them earlier this season. By half-time on Sunday, he had scored another two, his second goal a work of wonder, with two brilliant pieces of bagatelle dribbling, left foot to right, in the preamble of the virtuoso strike that put Real Madrid 4-0 up before half time.
Ronaldo had already converted a penalty, to add to Karim Benzema's early header. James Rodriguez, with a heavily deflected shot, scored Madrid's third. Ronaldo then headed in for his hat-trick in the second half, and, in doing so, maintained Madrid's remarkable home record under the nascent management career of Zinedine Zidane of a win every game, with at least five goals per match. This time it would be six, once Jese, a substitute, forced the luckless Espanyol defender, Oscar Duarte, to divert past his own goalkeeper, for 6-0.