Baltimore Ravens national anthem singer resigns: 'I do not belong there'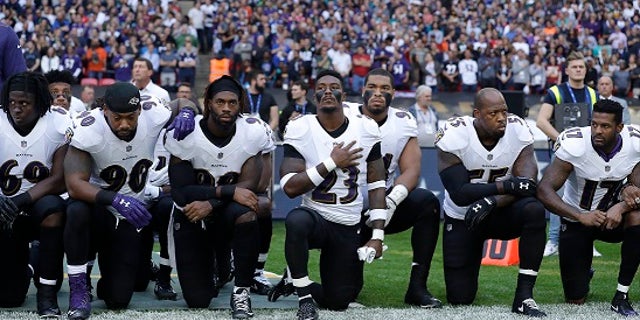 Baltimore Ravens national anthem singer Joey Odoms announced his resignation Tuesday -- two days after hundreds of NFL players knelt during "The Star-Spangled Banner," including several Ravens players.
Odoms, a former Maryland National Guard member who served in Afghanistan, announced the move in a Facebook and Instagram post, The Baltimore Sun reported.
"The tone/actions of a large number of NFL fans in the midst of our country's cultural crisis have convinced me that I do not belong there," Odoms wrote. "Someone once told me to always 'go where you're welcomed.' This is not an emotional reaction to recent events, rather an ethical decision that part of me regrets but my core knows is the right choice."
SEAHAWKS, TITANS, STEELERS STAY IN LOCKER ROOMS DURING NATIONAL ANTHEM AS MORE PLAYERS PROTEST
Odoms ended his post by thanking his fans "for the opportunity to grow as a performer and for allowing me to live out a dream of sharing my gift with you."
Kevin Byrne, a senior vice president of the team's public and community relations, confirmed Odoms' resignation to The Baltimore Sun.
"We greatly appreciate the work Joey did for us and we thank him," Byrne told The Baltimore Sun.
Sunday began with members of the Jacksonville Jaguars and the Baltimore Ravens either taking a knee or locking arms as the U.S. national anthem was sung at London's Wembley Stadium. Those who were not kneeling, including the coaches on both teams and Jaguars owner Shahid Khan, locked arms during the national anthem. The players then stood up for "God Save the Queen," the British anthem.
The protests were in response to President Trump's comments Friday night during a rally for Alabama's Senate primary.
TRUMP SPEAKS WITH COWBOYS OWNER AFTER PROTEST: 'PLAYERS WILL STAND FOR COUNTRY'
"Wouldn't you love to see one of these NFL owners, when somebody disrespects our flag, to say 'get that son of a b ---- off the field right now? Out! He's fired! He's fired,'" Trump told the crowd.
Trump's remarks sparked criticism from a number of professional athletes and NFL Commissioner Roger Goodell.
"Divisive comments like these demonstrate an unfortunate lack of respect for the NFL, our great game and all of our players, and a failure to understand the overwhelming force for good our clubs and players represent in our communities," Goodell said.
More than 200 players around the NFL knelt or sat during the national anthem on Sunday, according to The Associated Press.
The Baltimore Sun reported that Ravens fans had varied reactions to the display with some commending the players and others pledging to stop buying tickets and end their support for the team.
Odoms, a former 911 operator, received the position ahead of eight other finalists to sing the anthem at home games, The Baltimore Sun reported. The crooner expressed interest in the job after meeting John Harbaugh, the Ravens coach, during his 2013 tour in Afghanistan. He ended his service with the Maryland National Guard in August 2016.