ASU kicker Zane Gonzalez enjoying best season in a record-breaking NCAA career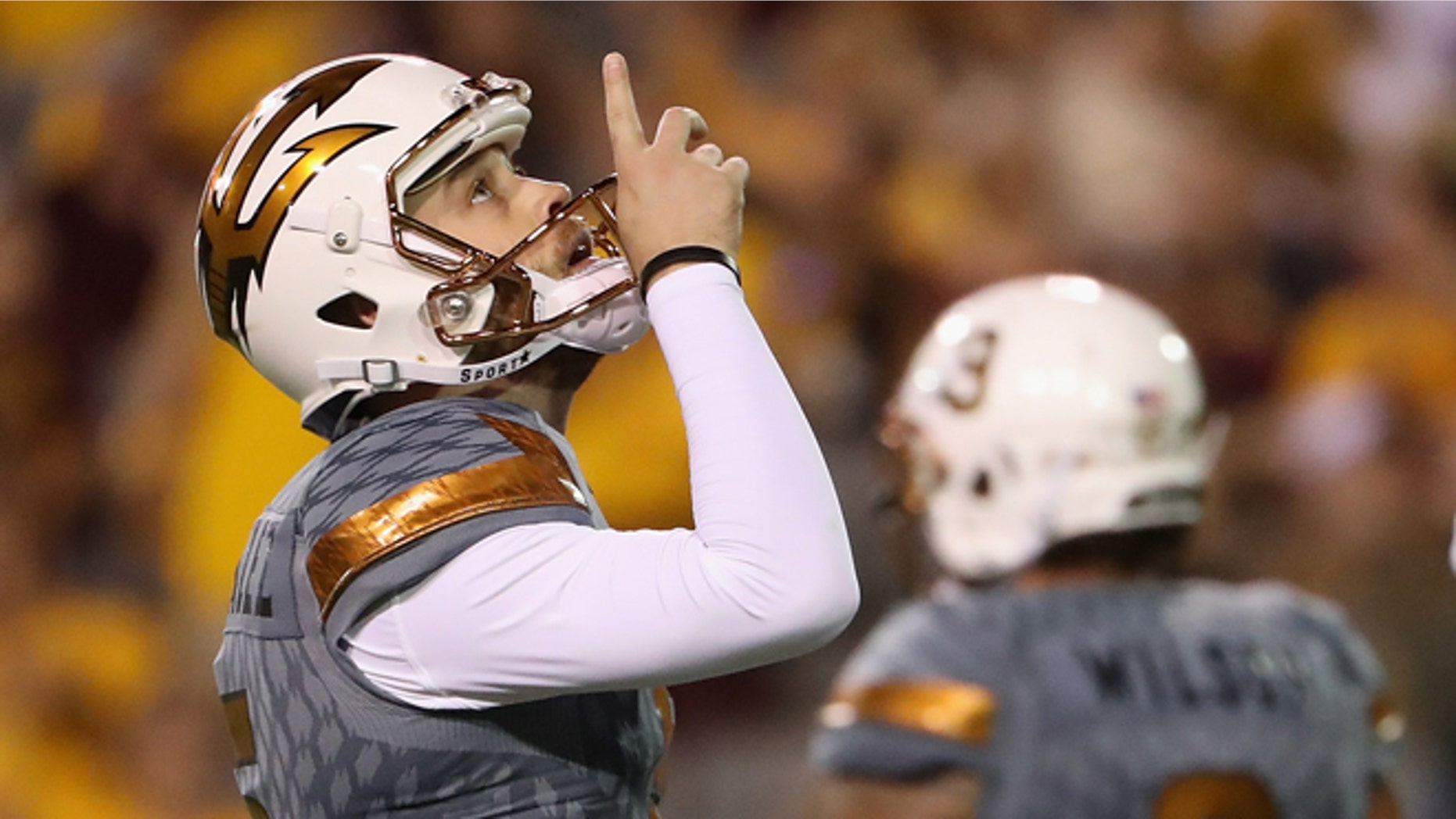 On the evening of Oct. 8, 2016, in Tempe, Arizona State University's senior kicker, Zane Gonzalez, made three field goals in the Sun Devils' 23-20 victory over UCLA.
To the casual fan, it may seem like just another day at the stadium for Gonzalez. But those three kicks gave him 89 field goals for his career – the new NCAA Football Bowl Subdivision record, previously held by the Florida State place-kicker Dustin Hopkins between 2009 and 2012.
Gonzalez now also has 458 career points, which puts him second all-time among kickers trailing Hopkins by 8 points.
ASU (5-1, 2-1 in the PAC-12) plays Colorado (4-2, 2-1) Saturday evening in Boulder, and with at least five more games on the Sun Devils' schedule – not counting a possible bowl game or PAC-12 conference championship appearance – Gonzalez seems a lock to set that record too.
While the communications major is proud of his achievements, he never stops working to perform at his best.
"It's awesome, it's a great accomplishment," Gonzalez told Fox News Latino. "It's the highlight of my career, although I wish my [kicking] percentage would be a little better."
It's hard to know what he means. This year he has made 16 of 17 field goals he's attempted (94.1 percent) and 24 of 25 points-after-touchdowns (96 percent).
Gonzalez hails from Deer Park, Texas, just outside of Houston. His father's father was born in Mexico, while his mother's family has its roots in Arkansas.
He attended Deer Park High School, which counts former Major League Baseball pitcher Andy Pettitte and NFL defensive tackle Tommy Jeter among its alums. Deer Park's football team reached the state playoffs every year from 1990 to 2014.
Gonzalez was a member of the 2011 and 2012 squads, for which he went a total 26-of-28 on field goal attempts and never missed an extra point.
Despite his consistency, the only schools that recruited him were ASU, Wisconsin and Nevada. The 6' 1", 195-pound kicker admits that the experience was difficult on him.
"The recruiting process for me was pretty horrible," he told FNL. "I wasn't highly looked at coming out of high school because of my size. I ended up getting an offer from Nevada, but I didn't really feel like I wanted to go there. It wasn't the place for me."
Also a soccer standout, Gonzalez considered giving up on football, but decided against it.
"I got a full [scholarship] offer from Wisconsin, and from there Arizona State kind of counter-offered," he said. "It was a simple decision, you can't beat the weather out here in Phoenix."
Joining the Sun Devils indeed turned out to be the right call.
This year Gonzalez has gone an astounding 13-for-13 on attempts of 49 yards or fewer. His only miss came from 53 yards, and even at 50-plus yards he is 3-of-4 – in his first three seasons at ASU he was 0-for-4 from long-distance.
Gonzalez is aware of being the latest in the long list of successful Hispanic place kickers, which includes the legendary Sun Devil, Luis Zendejas, Raul Allegre (Texas), Martín Gramática (Kansas State), his twin brother Bill (South Florida), José Cortez (Oregon State) and most recently Roberto Aguayo (Florida State).
"It's an honor just being in that category … It's awesome that I can be where I am at right now," Gonzalez said.
All of those men went on to have productive NFL careers. And with the type of leg strength and accuracy that Gonzalez possesses, some NFL team is sure to have an interest. Does he envision himself kicking on Sundays in the near future?
"Yeah, 100 percent. I'm going to try to pursue the NFL and see where it goes from there," Gonzalez said.
And if pro football doesn't work out?
"I'll probably work here at ASU or somewhere where I can be a part of a sports program or public relations [team]," he said.
But for now, he is on top of the NCAA football world, with a conference opponent to play on Saturday and a clear path to a bowl game.
It doesn't get any better than that.
Like us on Facebook
Follow us on Twitter & Instagram