Astros tabbed with top farm system in 2015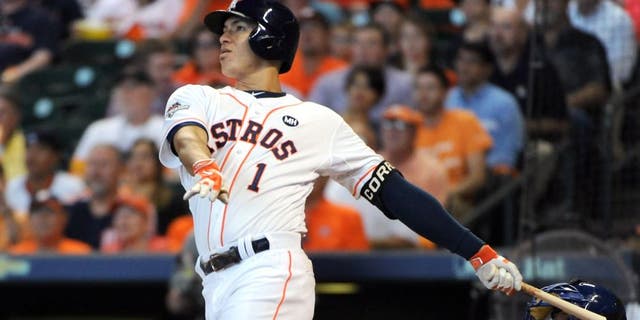 In 2015, the Houston Astros finally turned the corner en route to the playoffs for the first time in 10 years, surprising fans and media alike that the success was 'ahead of schedule.'
Thursday, the Astros were named the Best Farm System of the 2015 by MiLB.com, according to a press release.
While Houston was facing off against the eventual World-Series champion Kansas City Royals in the ALDS, coming within just six outs at one point of eliminating the champs, the Astros organization had seven minor league teams qualifying for their own playoffs. Of the seven teams, the Triple-A Fresno Grizzlies and the Rookie Level Greeneville Astros each captured championship titles in their respective leagues.
Along with the minor-league playoffs teams, the teams boasted two batting champions (OF Jon Kemmer, Double-A Corpus Christi Hooks and IF Bobby Wernes, Class A Short Season New York-Penn League), and two Manager of the Years award winners (Rodney Linares, Hooks and Josh Bonifay, Class A Midwest League). Hooks infielder A.J. Reed led all of minor league baseball in home runs (34), RBI (127) and OPS (1.044) while battling a spectacular .340. Because of the lofty numbers he posted in 2015, he as he was named Baseball America Minor League Player of the Year, ESPN.com Prospect of the Year, Astros Minor League Players of the Year, California League Most Valuable Player and MiLB Offensive Player of the Year. It is speculated that Reed could make the jump to the Astros in 2016 to give the team a stronger presence at first base after it was mostly a platoon position in 2015.
The talent level of the farm system was in full display in 2015 for the Astros as IF Carlos Correa, RHP Lance McCullers, OF Preston Tucker and RHP Vince Velasquez all made their major-league debuts contributing to the playoff season. Correa's 22 homer's led all MLB shortstops as he earned AL Rookie of the Year honors. With the depth in the minors, the Astros were able to pull two deadline trades obtaining LHP Scott Kazmir, OF Carlos Gomez, and RHP Mike Fiers.
What does this mean back in Houston? Well, the Astros aren't fading away any time soon with a stockpile of minor-league talent chomping at the bit to move up to the big leagues. The 2015 season was a building point, and with other top talent getting into the mix -- the Astros will likely be a force for years to come.