Are You A World Cup Illiterate? Don't Worry, Just Learn These ABCs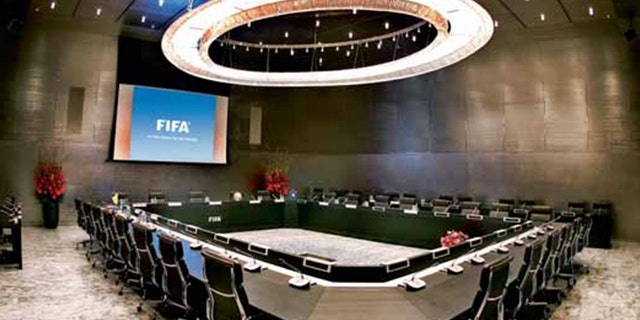 NEWYou can now listen to Fox News articles!
With the 2014 World Cup less than a month away – the opening match takes place June 12 in Sao Paulo, Brazil – Fox News Latino is providing a light-hearted glossary for newly-minted soccer fans who might be a bit unfamiliar with the history of the game.
Americas Where this World Cup is being competed, and, therefore, the most compelling reason why no European nation will win this time around. No European squad has ever won a Cup held in the Americas; only one Latin American nation has won in Europe (Brazil in Sweden in 1958); and no team not from either Europe or South America has ever won.
Azerbaijan A country somewhere between Europe and Asia that failed to qualify for the 2014 World Cup. Tofiq Bahramov Stadium in the capital city of Baku is, however, the only known example of a soccer arena that's named after a linesman most famous for botching a call—the "Russian" who helped Swiss ref Gottfried Dienst rule in favor of counting the phantom goal credited to Geoff Hurst of England that helped defeat West Germany at the 1966 final.
Karma dictates that Azerbaijan never qualify for the Cup.
West German goalkeeper Hans Tilkowski (L), England's Geoff Hurst and Tofiq Bahramov (statue) on June 6, 2011 in Baku, Azerbaijan. (Stu Forster/Getty Images)
bladder An organ in the human body that collects urine and helps excrete it.
Blatter, Sepp A human in the FIFA executive body who seems to collect allegations of corruption and other execrable behavior.
Brazil A large country in South America that is hosting the World Cup for a second time—just the second Latin American country to play host twice (after Mexico in 1970 and 1986).
In 1958, it became the second country from the Americas to win the Cup (after Uruguay). Apparently, Brazil has won the tournament a few times since.
catenaccio A style of play devised in the 1960s by Swiss clock manufacturers that stressed defense and created the position of the libero or sweeper. In the 1970s, the Italian national squad rode the style of play to, well, nothing—not quite understanding that it's a system that benefits less talented squads much more than it does talented ones, such as, oh, say, Italy.
Nevertheless, the Italians have clung to it in modified forms ever since.
chilena A bicycle kick executed directly over one's head and with one's back to the goal mouth. Relationship to people from the country of Chile: None.
El Tri A loose affiliation of football players from Mexico that, were it half as good as its fans think it is, still wouldn't be twice as good as it actually is.
England The Mexico of Europe.
FIFA A tight-knit, secretive cabal of extortioners, bribe-takers and racketeers that occasionally sponsors sporting events. Its headquarters are either in Zurich, Switzerland, or in a secret underground bunker beneath a volcano on a remote island in the South Atlantic.
Diego Maradona scores over Peter Shilton of England with divine intervention, June 22, 1986. (Allsport UK /Allsport)
Hand of God, the The agent credited by Diego Maradona as responsible for his first goal in a 1986 World Cup quarterfinal match against England that Argentina won, 2-1.
This, it turned out, was not, as much of a whopping, bald-faced lie by the Argentinian as originally believed. The divinity of Maradona is now taken as an article of faith by 40 million or so of his countrymen – possibly even Pope Francis.
Hand of the Devil, the The agent credited by members of the press as the one responsible for Luis Suárez preventing a goal by Ghana at the end of injury time in a 2010 World Cup quarterfinal match that Uruguay won on penalty kicks.
This, it turned out, was in fact a whopping, bald-faced lie. The devil, it's clear, would be far more subtle and charming about his perfidy than the Uruguayan, who has been known to resort to trying to eat opposing players.
host nation The advantage of playing in front of supporters is well-documented—in 2010 South Africa became the first host nation not to advance out of the group stage since 1938, when there was no group stage.
And while there's no doubt that England (1966) and France (1998) were carried along to Cup victories by waves of fan frenzy, the host nation advantage may give a bigger boost to non-elite squads than to elite teams like Brazil.
This may have something to do with Italy, Germany, Brazil, and Argentina having been so good for so long that rounding up fans in just about any country isn't too difficult.
luck, bad The only sort of luck that ever seems to befall a Cup team that one is rooting for.
luck, good The only sort of luck that ever seems to occur to a Cup team playing against a team one is rooting for.
The Jules Rimet trophy, ca. 1965 (Central Press/Getty Images)
Rimet, Jules A figure from the prehistory of soccer who did something that caused something else to happen.
FIFA named the World Cup's original trophy—hardware so ugly that the organization chose to give it away as punishment to the first country that won too many Cups (see: Brazil)—after Rimet.
United States, the The nation outside the traditional powers in Europe and South America likeliest to win a World Cup. Just not this year.
Uruguay The alpha and omega of World Cup action. Alpha, as in the first nation to win the Cup way back in 1930. Omega, as in the last nation to qualify for the 2014 edition.
voodoo What the Haitian squad, aided by soccer-mad dictator, Jean Claude "Baby Doc" Duvalier, allegedly used to help it qualify for the 1974 World Cup. Didn't seem to affect Poland, which destroyed Duvalier's team, 7-0.
A U.S. fan blows a vuvuzela on June 26, 2010. (Ian Walton/Getty Images)
vuvuzela A droning South African instrument of torture devised by Nelson Mandela that, hopefully, has been heard its last at World Cup games.