Andretti ready to move on after tensions with teammate in Indy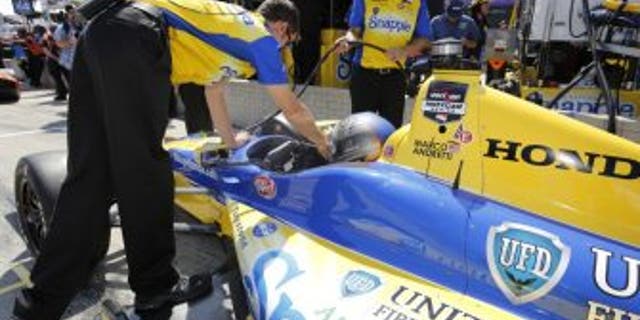 DETROIT – The last person Marco Andretti wanted to see after last Sunday's 98th Indianapolis 500 was his Andretti Autosport teammate Ryan Hunter-Reay. Andretti believed Hunter-Reay chop-blocked him in a battle for second place while Helio Castroneves was in the lead with just a few laps left in the biggest race of the year.
Hunter-Reay's block killed the momentum on Andretti's car and he had to settle for third-place while Hunter-Reay went on to win the second-closest Indianapolis 500 in history – just 0.0600-seconds ahead of Castroneves.
Instead of going into Victory Lane to congratulate his teammate, Marco stormed out of his car, left the third-place finisher's press conference after just a few minutes and departed the Indianapolis Motor Speedway. When Hunter-Reay was back at the Speedway last Monday for the traditional Winner's Photo he was unaware that the son of team owner Michael Andretti was upset with the battle for position.
"It wasn't a block at all," Hunter-Reay explained on Monday. "He didn't have the position. His front wing got to my left rear. If he wanted the position, he needed to be higher up there. We always talk about going for the win at the end of the race.
"It's the Indy 500. It's all go. There are no manners at that point. We had great, clean racing at the end."
By Monday night's Indianapolis 500 Victory Celebration, Marco Andretti appeared to have accepted his fate and was more gracious as all 33 drivers accepted their prize money for the Indy 500.
As the Verizon IndyCar Series reconvened at the Raceway at Belle Isle Park – a 13-turn, 2.36-mile temporary street course located in a city park on the Detroit River – Young Andretti had accepted his fate. He had just finished two practice sessions for this weekend's Chevrolet Dual in Detroit and admitted he was more upset at not winning the Indy 500 than he was with his teammate's actions.
"It was just really dicey at the end of the race," Andretti said Friday. "I had a go on Ryan. We both almost crashed in Turn 3. But, you know, I caught myself. I did a role reversal in my head and said I would have done the same thing because it's the Indy 500.
"It was a heat-of-the-moment thing. He's a deserving winner. He was up there so he did something right."
The 27 hours between the end of Sunday's dramatic Indianapolis 500 and the Victory Celebration on Monday night did a lot to calm Andretti's temper and allowed him to put it in perspective.
"The first time I got to see him was at the banquet," Andretti said of Hunter-Reay. "I wasn't exactly alongside of him in the race, but I was there enough to where I need a little bit more teammate room.
"At the same time if I would have passed him there, his hopes were dashed. He did something right, like I said. There's nothing that we can do.
"I was more angry at the fact that I didn't win the race. I was trying so hard. Like I said, he did the right thing for him."
Andretti's adversity is a classic example that in a race as big as the Indianapolis 500, there is only one winner and 32 losers. Even second-place doesn't get to celebrate.
And in the fast-paced nature of the Verizon IndyCar Series, it's back to work just four days after the Victory Celebration for the biggest race of the year.
Once again, Andretti was in a foul mood but this time it had nothing to do with his teammate. He was upset at his Dallara/Honda race car.
Andretti was 16th quick out of 22 drivers on Friday with a time of 1:19.0057 (107.081 milers per hour) around the street course. By comparison, defending Detroit winner Simon Pagenaud of Schmidt Peterson Motorsports was the quickest at 1:17.6502 (108.950 mph) in another Honda.
"It was a complete waste for me," Andretti said. "We had brake problems in practice two. Practice one, we tried a little experiment, didn't work out. We weren't able to reset with what we thought was going to be a good setup because we had brake issues the entire practice two. It's very unfortunate because that's 50 percent of our practice for the weekend. I'm at a little bit of a deficit for tomorrow. We'll see what we have in the morning. That's all we can do.
"It's especially tough coming off almost a month of oval trim because it's so hard to get proper workouts in, be properly fit for a doubleheader. I was trying to go running as much as I could. But the schedule in the month of May is so strenuous, it's hard to really stay with it.
"This week leading up to the race, I was beating myself up pretty good. I'm not even fully recovered yet. Hopefully tomorrow we'll be up to the task. I should be."
Any other race of the year, Andretti would have probably been happy with a third-place finish.
But the Indianapolis 500 is no other race.
"I think any other racetrack it would be awesome," Andretti said. "But at Indy we fell short again, so a little bit of a disappointment there. We probably should have been more aggressive with the aero package at the end of the race. We lost some track position the last stop. So it's actually a good thing we didn't.
"We were there. I guess we should just hopefully keep coming back and having shots at it.
"Hopefully my number is picked one day there."
**********
Be sure to catch Bruce Martin's Honda IndyCar Report on RACEDAY on FOX Sports Radio every Sunday from 6-8 a.m. Eastern Time. Sunday's is 2014 Indianapolis 500 winner Ryan Hunter-Reay Show host Rob D'amico and Martin will recap last Sunday's 98th Indianapolis 500 and preview Sunday's second Chevrolet Dual in Detroit IndyCar race.