Analysis: Why NASCAR made the right decision on 2016 aero package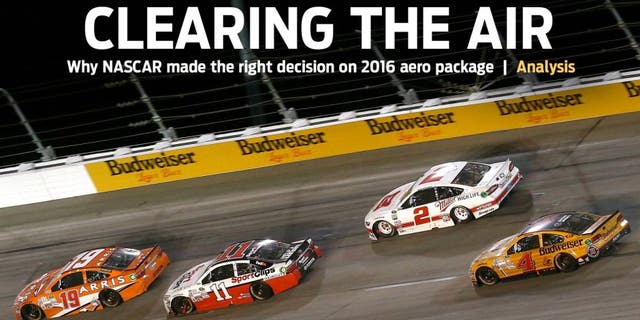 It's official: NASCAR is adopting a low-downforce base rules package for the Sprint Cup Series in 2016, a package very similar to what was tested successfully earlier this year at Kentucky Speedway and Darlington Raceway.
Not only is it official, but it is also absolutely the right move to improve the quality of racing, especially at 1.5-mile tracks where aerodynamics play such a critical role in performance.
Put bluntly, with the current rules package, the race leader has a tremendous advantage over the cars behind him. The leader has clean air on the nose, which gives him more downforce than the cars behind him, so his car turns into the corners better.
The farther back in the pack a driver is, the dirtier the air is and the harder it is to pass.
All you have to do is look at last Sunday's race at Charlotte Motor Speedway. Matt Kenseth qualified on the pole for the Bank of America 500, took the lead on Lap 5, and for the next 72 laps looked like he was in his own ZIP code, so fast was his Joe Gibbs Racing Toyota.
But when he got shuffled back in the pack on a pit stop on Lap 77, Kenseth suddenly couldn't pass anyone at all, and he just couldn't move forward after being so dominant early. For the rest of the race, Kenseth fought the handling of his car, eventually bouncing off the wall and finishing 42nd.
So pronounced was the aero difference that Kenseth in the lead and Kenseth running 15th didn't even look like the same car. "We're real fast up front and we're real tight in traffic," Kenseth said after the race.
Or to look at it another way, here's how much of an advantage the leader has: In the last five Sprint Cup races, the driver who has led the most laps in a given race led about 75 percent of the laps in that race. Four times in the last five races, one guy has led at least 215 laps. Twice, drivers have led more than 350 of 400 laps. Those aren't the "Game 7 moments" NASCAR CEO and chairman Brian France talks about.
Asked about the quality of racing witnessed at Charlotte on Sunday, NASCAR executive vice president and chief racing development officer Steve O'Donnell said it needed to get better.
"I think the racing action at Charlotte, we're always going to try and improve, and that's why we're announcing what we are today," O'Donnell said. "I think it took us some time to get there in terms of really making sure we were all aligned and making sure we put the right things in place for '16. So I'd look at Charlotte as a racetrack that we've got to improve upon, and we will do that."
O'Donnell is correct -- the racing needs to get better.
But with the current rules package, passing the leader anywhere other than on pit road or a restart is nigh unto impossible, and that's not what NASCAR racing is supposed to be about.
As with any new rules package, the devil will be in the details with regard to the 2016 regulations. Specifically, Goodyear will play a huge role in getting rubber that works well with the low-downforce setups. But early returns have been encouraging.
"For me as a racecar driver, that's the stuff I dream about -- 25 laps to go, Southern 500, I'm racing with two champions, we're swapping the lead back and forth, and I think you're able to do that because there's less aerodynamic influence and the tires fall off and it's really fun," said Carl Edwards, who won the Bojangles' Southern 500 at Darlington with what essentially is the 2016 aero package. "I really applaud NASCAR for running that package here."
"I loved it," said second-place finisher Brad Keselowski. "... It separates the racecar drivers from the pretenders, and that's the way it should be."
Dale Earnhardt Jr. was positive, too, saying: "I loved the package. ... The car was a lot of fun to drive all night."
There will be many details to follow on this announcement, and NASCAR has said there will be some tweaks from track to track next year. Fair enough.
How this will all play out, of course, will be determined over the course of 36 races next year. But it looks like we're in for some much improved racing, and that can't come a minute too soon.