Amanda Nunes, Valentina Shevchenko explain face-off scuffle at press conference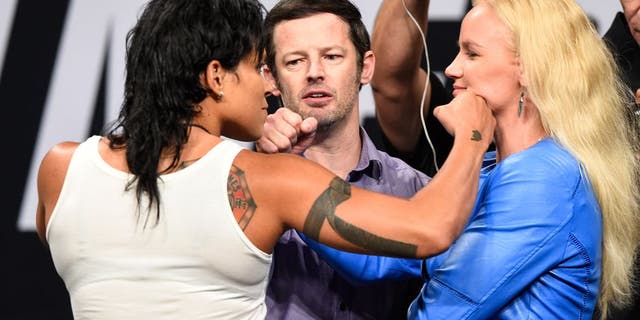 DALLAS It was a fiery day all around at the UFC Summer Kickoff press conference and the upcoming womens bantamweight title fight was no exception.
Champion Amanda Nunes and challenger Valentina Schevchenko sniped back and forth at each other on the dais, but the tension finally bubbled over when the two fighters faced off on the stage after the press conference ended.
The fighters engaged in an intense stare down but then Nunes used her fist to shove Shevchenko, which then resulted in the fighters being separated before the physical altercation could turn violent.
After the press conference was over, Nunes explained that Shevchenko actually touched her first and the shove was in reaction to that move.
"She touched me first. She's not supposed to touch me at all," Nunes said. "There's no reason for [her to] touch my face. You guys [didn't] see because my back was like that and she touched me first and make [my] reaction like the way it was."
Following the face off, Nunes could be seen chatting with UFC matchmaker Sean Shelby, who was standing in between the two top ranked women's bantamweights on the stage.
Needless to say, Nunes was not a fan of that incident and her opinion of Shevchenko clearly changed as a result.
"No, I don't respect her at all," Nunes said. "I told Sean [Shelby], she touched me first. She's not supposed to touch me and that happened."
For her part, Shevchenko simply said that Nunes' shoving her was just a sign that she's worried about the rematch coming up on July 8 at UFC 213.
Nunes defeated Shevchenko in their first fight in 2016, but the closely contested bout was a back and forth war over three rounds. Now Shevchenko will get her chance for revenge in a five round battle with the women's bantamweight title on the line.
"She's afraid. She's scared of this fight," Shevchenko said. "And that's why she's acting like the crazy one and how I tell before, she feels that she holds this title belt two months more and this is it. That's why she's acting like she did."