Already a champion in '06, Italy's Buffon matches Matthaus and Carbajal at his 5th World Cup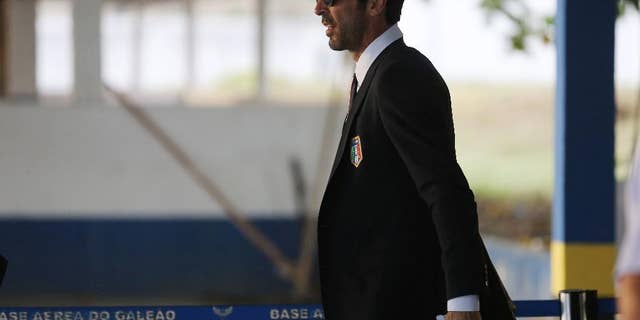 MANGARATIBA, Brazil – A hard rain was falling when Gianluigi Buffon paused for a moment during an Italy training session Tuesday.
Leaning forward with both hands on his knees, Buffon appeared to be resting or somehow trying to withstand the rain.
Or perhaps the 36-year-old goalkeeper and Italy captain was reflecting on this: He is only the third player in history to be part of five World Cup squads, along with Germany great Lothar Matthaus and former Mexico goalkeeper Antonio Carbajal.
Buffon first went to the World Cup back in 1998, although he didn't play a second-choice option behind Gianluca Pagliuca. He then took over the starting position from 2002 onward.
"A fifth World Cup is a nice milestone but that doesn't mean I'm satisfied," Buffon said before departing for Brazil. "Both individually and as a squad we're preparing to surprise people."
Buffon, of course, doesn't need to prove anything at this point in his career.
He was one of the driving forces behind Italy's run to the 2006 World Cup title, when he didn't concede a single goal to opponents during normal play over the course of seven matches — letting in only an own goal from Cristian Zaccardo and a penalty from Zinedine Zidane in the final won over France.
He helped Parma to the UEFA Cup title way back in 1999 and has since won five Serie A titles with Juventus — including the last three.
"As the years go by, Gigi still has the same amount of desire," said midfielder Claudio Marchisio, who plays with Buffon with both Italy and Juventus. "He's a great professional, a great friend, and a top-level player. He's a player who is able to give his all in every moment and always offer the right words of encouragement.
"There are players here who are at their first big tournament and he's always there offering the right words of advice," Marchisio added Tuesday.
Now that Buffon is setting records for longevity, it's worth remembering what an early start he had.
Born to members of Italy's national teams in athletics (his mother) and weightlifting (father), Buffon's distant relative Lorenzo Buffon was also Italy's goalkeeper in the 1950s.
Having played in midfield as a kid, Buffon decided he wanted to be a goalkeeper after seeing Thomas N'Kono defend Cameroon's goal during the 1990 World Cup in Italy — when Buffon was 12 — and years later Buffon named his first son Louis Thomas after N'Kono.
In 1991 when Buffon was just 13, Parma purchased his rights and put him in their youth system.
At 17, Buffon made his Serie A debut with Parma, keeping a clean sheet in a 0-0 draw against AC Milan.
At 19, Buffon made a memorable Italy debut on a snowy pitch in Moscow during a playoff with Russia for a spot in the 1998 World Cup. Coming off a frigid bench as an injury replacement for Pagliuca, Buffon first raised eyebrows by wearing shorts in the arctic-like conditions then made a series of impressive saves in a 1-1 draw.
Fast forward to 2006, when Buffon was one of the few key players to stay with Juventus when the Turin club was relegated to Serie B due to a match-fixing scandal — meaning that a month after guiding Italy to the World Cup title, he was playing in small second-division stadiums.
Then at the 2010 World Cup, Buffon struggled with back pain. He played only a portion of Italy's opening match and the Azzurri were promptly eliminated after the first round. But he was back in place to help Italy reach the final of the 2012 European Championship.
And last October, Buffon surpassed Fabio Cannavaro with an Italy-record 137th appearance.
So how does Buffon keep going?
"Motivation is the key," he said in a recent interview with Italian daily La Repubblica. "Reflexes diminish. At my age you don't improve anymore, so it's better to reduce training and take better care of injury prevention, nutrition and gym work."
Buffon has often recounted how he fell into depression about 10 years ago, then resuscitated himself by turning to literature. He has also been the subject of a couple betting scandals.
In 2011, he married Czech model Alena Seredova but Buffon announced last month when Italy gathered to begin training that they had separated.
In announcing their split, Buffon thanked Seredova publicly for not making things too difficult for him, and said that he hopes she will bring their two boys to watch him play in Brazil.
Whether Seredova and the boys come is yet to be seen. Either way, Buffon has already inscribed his name in the World Cup record books.
And who knows, maybe Buffon will continue playing and go back to Russia and the site of his Italy debut for the 2018 World Cup, when he'll be 40 — the same age that one of his idols, Dino Zoff, was when he helped Italy to the 1982 World Cup title.
"I'll keep playing as long as I don't become a reserve," Buffon said. "Once the day comes that I get benched, that's when I'll hang my boots up."
___
Follow Andrew Dampf at http://twitter.com/asdampf