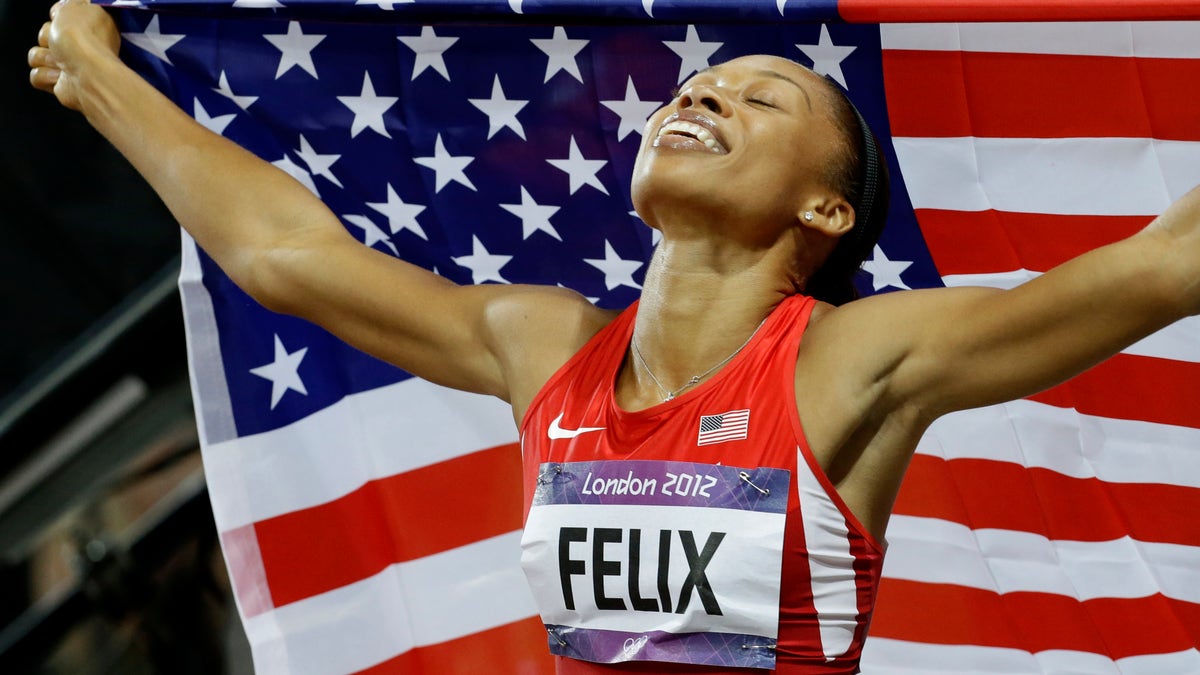 No more heartbreak for Allyson Felix. No more silver, either.
Denied twice on the world's biggest stage, Felix won the Olympic gold medal she's been yearning for, taking the 200 meters Wednesday night to fill the last, and biggest, hole in her otherwise stellar resume.
Felix won the race in 21.88 seconds, topping Jamaica's Shelly-Ann Fraser-Pryce, who won the 100 four nights earlier, by .21 seconds. American Carmelita Jeter added bronze to go with her silver in the 100 meters.
''I think it was all for a reason,'' Felix said. ''It kept me motivated and it made this moment very special. It was a big weight being lifted.''
She won easily, leaving nothing to chance — or a coin flip that caused such a flap at Olympic trials — as she hugged the line around the curve, then burst ahead of Fraser-Pryce with 40 meters to go and gave coach Bobby Kersee another gold medal to celebrate.
Finishing fourth was Jamaica's Veronica Campbell-Brown, who defeated Felix in the Athens and Beijing Games and was trying to become the first woman to win the same individual track and field event in three consecutive Olympics.
Instead, the Americans were the ones celebrating three straight, their own 15 minutes of fame: Felix, followed quickly by Aries Merritt in the 110 hurdles and Brittney Reese in the long jump.
''We are always aware of what the medal count is,'' said Jason Richardson, who finished second to Merritt in the hurdles as part of a seven-medal day at the track for the United States. ''I know track and field can ... let the world know the Americans are the best track and field country.''
Reese, a two-time world champion, became only the second American woman to win the long jump at the Olympics, leaping 23 feet, 4½ inches (7.12 meters) on her second attempt. Jackie Joyner-Kersee gave the U.S. its other gold in 1988.
Janay Deloach added a bronze and now the Americans head into the last four days of the Olympics with 20 medals at the track — 10 away from fulfilling their ''Project 30'' aspirations for the London Games.
Felix certainly did her part.
''She's been trying very hard for this moment,'' said Jeter, who became the first U.S. woman to medal in both sprints since Florence Griffith-Joyner in 1988. ''When I gave her a hug, that's exactly what I told her: 'You've waited for this moment.'''
In 2011, Felix and her coach, Bobby Kersee — Joyner-Kersee's husband — harbored visions of an Olympic double in the 200 and 400 meters. That turned out to be misguided, and at the world championships, Felix settled for silver in the 400 and an uncharacteristic bronze in the 200.
o they decided on a different double — the 100 and 200 — and it wound up causing them an unexpected dose of trouble.
It was the third-place tie in 100-meter qualifying at U.S. trials earlier this summer that hovered over Felix's run-up to these Olympics — forcing her to defend herself off the track for the first time in an otherwise-pristine career.
Her tie with Jeneba Tarmoh for the third and final spot in the 100 forced USA Track and Field officials to scramble for a solution. One possibility was a coin flip; instead, they settled on a run-off. But Tarmoh begged off. Felix, admittedly not a serious medal contender for the 100, had to defend her decision not to give up the spot, and she went on to finish fifth.
The three heats in the Olympic 100, she said, were the perfect tuneup for the race she really wanted to win.
''Everyone just expected me to give up this spot, because I think lots of people ... know me and they know that I'm seen as this very nice girl,'' Felix said with a chuckle a few days before the start of track and field in London. ''But it's not just about me.''
On this night, though, it was.
Twice before, Felix came into the Olympics on even footing, or even a slight favorite, against Campbell-Brown. Both times, the American ended up disappointed — and the last time in Beijing, choking back tears, she called it ''deja vu, and not in a good way.''
This time, there would be no regrets, and nobody can say Felix didn't earn it.
Also in the race were the Olympic champions at 100 (Fraser-Pryce) and 400 (Sanya Richards-Ross), the two-time defending Olympic champion at 200 (Campbell-Brown) and the reigning world champion at 100 meters (Jeter).
''I don't think you could ever put eight ladies like that again in a race,'' Fraser-Pryce said. ''I would never run.''
Had this race been only 140 meters, Fraser-Pryce would have another gold. But Felix has another gear in the 200, and she quickly made up her deficit and then pulled away. When she crossed the line, her reaction was calm. A big smile. Arms raised. Not much else.
''Bobby told me just to go out and get it,'' Felix said. ''I knew if I ran my race, it would come together.''
Felix adds this gold to the two individual silvers and one 4x400 relay gold from the 2008 Olympics.
She is, according to USATF, the most decorated woman in 200-meter history. At 26, she now has seven Olympic and world championship medals at the distance — four of them gold.
Maybe just as importantly, she's the athlete who has consistently stood out as a smiling, trustworthy exception in a sport that has nearly buried itself under the weight of doping scandals and performances that seem too good to be true.
Richards-Ross, who finished fifth, said Felix ''definitely deserves this moment. ... She's wanted this for a very long time.''
With the victory, Felix put at least a brief stop to Jamaica's relentlessness in Olympic sprints. Before she won, Jamaica had won seven of the last eight Olympic sprints, including relays.
Next up, Usain Bolt.
The 100-meter champion made it easily through his 200-meter semifinal — grabbing a big lead, letting it slip away, then pulling away again — to set up a chance to become the first man to win both sprints in successive Olympics.
His training partner, Yohan Blake, will be there, as will American Wallace Spearmon, who finished third in 2008, but had the medal taken away after officials ruled he ran outside his lane.
Are Bolt and Blake beatable?
''Yeah, man,'' Spearmon said. ''That's why we're racing. If they weren't beatable, they would just hand them medals and we'd race for third.''
Felix will receive her first-place prize Thursday at a ceremony shortly before the men's 200, and then she'll prepare for the relays, where she could have a spot in both the long and short races.
Yes, there could be more medals in her future. But none as precious as the 200 gold.
''It's crazy,'' she said. ''I remember just coming over here in tears in Beijing. Gosh, just completely opposite tonight. For all of it to come together is just extremely special and I'm overjoyed.''