Alli goal earns Tottenham a share of points away at Everton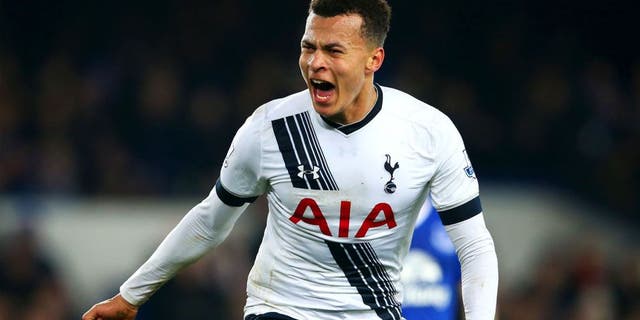 Everton and Tottenham played to a 1-1 draw Goodison Park in what was the most entertaining game of the weekend. Aaron Lennon and Dele Alli traded goals in the first-half, but neither team could find the decider despite a frantic second half of action. The result left Spurs in fourth, and kept Everton in the bottom tier of the league at 11th.
Tottenham were in full control of the match early on yet found themselves behind after 21 minutes off Everton's first attack of the game, having spurned several excellent chances. Alli had seen what should have been a simple tap-in after 3 minutes swept away by Seamus Coleman; Harry Kane beat Tim Howard from range only to see his shot come back off the far post.
But Hugo Lloris could do nothing to keep out former Spurs man Lennon's half volley. Against the run of play, Leighton Baines dispossessed Christian Eriksen at the center circle and then backheeled the ball to Tom Cleverley. Cleverly sent a searching forty-yard pass on to the head of Romelu Lukaku in the penalty area, which the big man knocked down for Lennon. Lennon chested the ball down and then ripped a shot to the far post that had the keeper helpless.
Spurs could have done what Spurs usually do and rolled up into a little ball in the corner, but they did not. In fact, Howard continued to be beat by shots from Spurs, and continued to be saved by his woodwork. Everton's defense seemed allergic to pressing on the day, and when Ben Davies was left all alone of a play right off the training ground to belt a shot off a corner kick, only to see it come back off the bar, you did sense Everton's lead would not last.
Finally, Spurs got one to fall in first-half stoppage time as Alli tucked in a fine goal at the near post off a long pass from Toby Alderweireld. Howard might have done better on the goal, but Alderweireld's pass was on the proverbial dime.
Everton looked a bit more enthused in the second half, with Gerard Deulofeu coming on to give them some speed and invention out wide. He and Lukaku nearly combined in the 66th minute with a great ball whipped in to the far post that the Belgian could not get his head to.
And while Tottenham continued to control more of the game, Everton had the more dangerous chances. Muhamed Besic forced a world-class stop out of Lloris in the 80th with a lash that almost dipped under the crossbar.
In the end, however, neither team could find the breakthrough, and for Spurs, it was a valuable road point that kept them three points clear of chasing Manchester United. For Everton, it was two points dropped at home, and a chance to clamber into the top half of the table left begging.
One gets the sense from fans and the media that Everton should be higher up the table than they are. Then, you watch their game and you realize that mid-table for these Toffees is in fact dead-on. They are frankly poor in the back -- Howard looks past it as a top-tier keeper -- and they control in midfield to win against the better teams in this league. Everton look as if they have regressed under Roberto Martinez, trading the defensive steel that served them well, for the desire to play free-flowing football that often does not. To be sure, Everton are a fiscally-poorer team in a league increasingly dictated by money, but it is also difficult to look down the names on Everton's roster and wonder why this collection of talent is not delivering more.
Tottenham, on the other hand, seem a team that is overdelivering under Mauricio Pochettino.
"Normally we have music in the dressing room," said Pochettino after the match." We did not after this game because we are disappointed. Maybe tomorrow we can feel proud we have a point but now we feel this is two points lost. This is good for the future and I'm really pleased because it shows we have a winning mentality."
Their supposed flaws -- over-reliance on Harry Kane, a middling midfield, that historic tendency to collapse -- have all been checked off and yet Spurs are in the top four, and look to be there to stay. For a young team in the midst of what was supposed to be a rebuilding year ahead of a new stadium and revenue stream, this is something of a surprise.