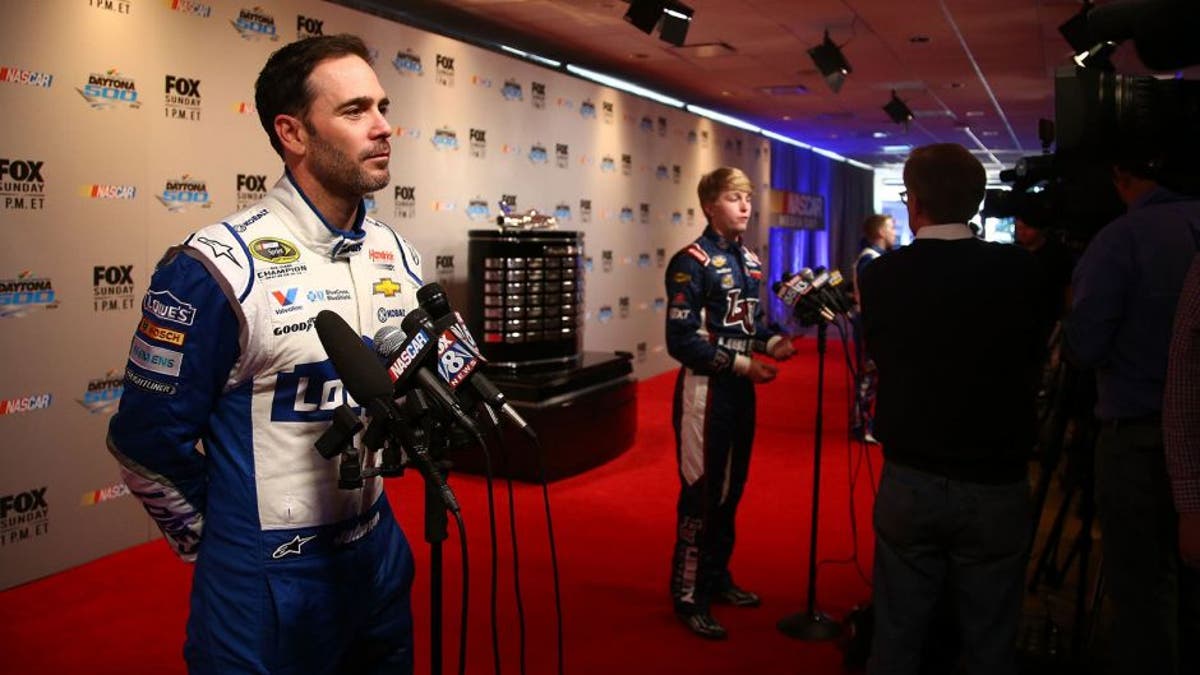 Tuesday is Daytona 500 Media Day at Daytona International Speedway, where NASCAR Sprint Cup Series drivers spent the day meeting the press from television, radio and print. Here are six surprises from the afternoon session.
SIX-TIME SUMS IT UP -- If you follow Jimmie Johnson on Twitter, you know he's a much funnier guy than he comes across in interviews. Friday at Daytona, however, he summoned some of his trademark humor during his media availability. Asked what he'd feel like if he never managed to win a seventh NASCAR Sprint Cup Series championship, Johnson smiled. "My life sucks. That would be terrible," he deadpanned.
And then he explained. "Honestly, my goal was to win a race when I came in," said Johnson. "I thought, 'Man, if I can win a race, they'll keep me around for a couple more years, make a little money, then I'll go back racing dirt, life will be good.'
"To win three (races) in that first year, I realized quickly that I needed to reframe my goals, set some new marks out there for myself," Johnson said. "Then I looked at a championship, then we knocked off five straight, on and on. So, yes, I'm very happy with where I'm at. Am I satisfied? No. But I'm very satisfied with where I'm at."
IN THE HOLE -- Brian Vickers, who appears in commercials for a blood-thinning drug called Xarelto, said one of his fellow pitchmen, Arnold Palmer, is still deadly on the golf course.
"He can't play a full 18 any more," said Vickers of Palmer, who is 86 years old. "But we had some chipping and putting competitions. He pretty much schooled us in all of them. Even at 80 whatever years he is now. He pretty much smoked us. There was one putt that was like a 30-footer that no one could make, and he drained it six out of seven tries."
KAHNE TO RUN INDY? -- Hendrick Motorsports veteran Kasey Kahne said he tried to put together a ride to compete in this year's 100th running of the Indianapolis 500, but it didn't materialize.
"I worked on a couple of deals, but nothing really played out," Kahne said. "Maybe in the future there still would be an opportunity to do something. ... It's definitely on my radar. It's something that could happen in the future. It didn't really get off the ground, but I did some talking to see what was out there."
TY'S TIME -- Ty Dillon confirmed what FOXSports.com first reported last week -- that he is line to fill in for Tony Stewart in the No. 14 Stewart-Haas Racing Chevrolet for at least a couple of races. But Dillon said nothing is set yet.
"It would be an honor for me to drive Tony's car in his last year, and hopefully do good for those guys," Dillon said. "Nothing has been announced yet. I haven't signed anything yet. We've been in talks. Hopefully we will have some news sooner or later, but nothing is finalized yet. But, if the opportunity were to come about, I would be honored to drive the No. 14 car and represent Tony in his last year."
THREE-PEAT -- Two-time Daytona 500 winner Michael Waltrip will drive the No. 83 BK Racing Toyota in Sunday's big race, but he admitted the team has work to do to get the car to the front of the field.
"Well, if I hadn't qualified 29th, I'd feel better about it. You can't be the hero the better part of a second off the pole -- that'd be a hard day's work," said Waltrip. "But we'll go out there Thursday (in his Can-Am Duel qualifying race) and maybe in the draft the car does things that I recognize, that I need to have to be able to win, then my optimism will go up a notch or two. But after qualifying, I feel like we can be in the top five because we squeezed our way in there, but our car is a little bit off of the pace."
COMMAND PERFORMANCE -- Actor Gerard Butler will serve as the Grand Marshal of the 58th Daytona 500 on Sunday (1 p.m. ET, FOX). Butler, the star of the upcoming action thriller London Has Fallen, will attend the drivers meeting, deliver the command to start engines and ride in one of the Grand Marshal cars during the pace laps prior to the green flag.