5 things to know about NASCAR's signature event, the season-opening Daytona 500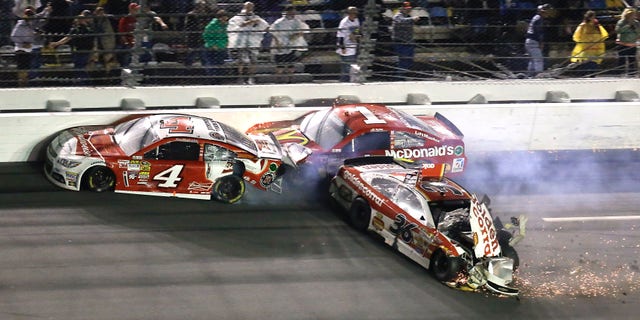 NEWYou can now listen to Fox News articles!
DAYTONA BEACH, Fla. – Five things to know about the rain-delayed Daytona 500, NASCAR's signature event that finished under the lights Sunday at Daytona International Speedway:
___
HENDRICK DOMINATION: Richard Childress Racing garnered attention last week. Joe Gibbs Racing grabbed headlines this week. Hendrick Motorsports left Daytona International Speedway with the only prize that really mattered.
Dale Earnhardt Jr. won his second Daytona 500 and first in more than a decade Sunday night, overcoming rain and wrecks to end a 55-race drought with a victory under the lights at the famed speedway where his father died in a last-lap crash at the 2001 race.
"It's obviously very significant (when) any Earnhardt wins at Daytona," second-place finisher Denny Hamlin said. "It's a significant day for their family and great for the race team."
Earnhardt celebrated by giving team owner Rick Hendrick a ride to Victory Lane and then climbed out of his car and hugged every crewmember. Teammates Jimmie Johnson and Jeff Gordon stopped by to join in the festivities.
Gordon finished fourth, one spot ahead of six-time and defending Sprint Cup Series champion Johnson. No one should have been surprised to see those guys up front. After all, Johnson won his second Daytona 500 last year, Gordon has three victories in "The Great American Race," and Junior had three second-place finishes in NASCAR's premier event the previous four years.
But they were mostly overlooked during Speedweeks, especially after rookie Austin Dillon gave RCR the pole in the return of the famed No. 3 car associated with Earnhardt's father and Gibbs drivers Hamlin and Matt Kenseth combined to sweep the first three Cup races.
___
SHR STRUGGLES: Tony Stewart's stretched his Daytona 500 winless streak to 0 for 16.
He had another failed effort in the Stewart-Haas Racing No. 14 Chevrolet as he battled engine and fuel-cell issues. Stewart was never a factor and finished 35th, 26 laps behind Earnhardt. The three-time Cup champion was driving in his first Sprint Cup points race since he broke two bones in his right leg in an August sprint-car crash.
Daytona was a tough day, and deep into the night, all around for Stewart-Haas Racing.
Danica Patrick, who led Daytona 500 laps for the second straight year, slammed nose first into the concrete in a 13-car accident late in the race and finished 40th.
"It was the best car that I had all Speedweeks," she said.
Up next, Kurt Busch, whose spin down the stretch sent him to pit road and knocked him out of contention for a solid debut with SHR. He was 21st. Kevin Harvick was 13th after getting caught up in an accident with seven laps left.
___
DENNY'S DISAPPOINTMENT: Hamlin wasn't sure how to feel after he fell just shy of a Daytona sweep. Hamlin tried to become the first driver to win the exhibition Sprint Unlimited, his 150-mile qualifying race and the Daytona 500 in the same Speedweeks. He settled for second in the 500 behind Earnhardt.
Hamlin is off to a great start after he sat out five races last season with a fractured vertebra. His runner-up finish was his best in the 500, topping his fourth-place finish in 2012. He did it all after losing radio communication after the long rain delay.
"There's a lot to be disappointed about, but there's a lot to be happy about," Hamlin said. "I had to wing it those last 150 laps on my own. With not having a spotter there on that last green-white-checkered, I didn't know whether to back up more."
___
RCR WOES: Rookie Dillon slumped in his chair, staring across the room at a television screen that was showing highlights of the Daytona 500. He was in a bunch of them — and they were mostly negative.
Dillon started on the pole in the famed No. 3, taking the late Dale Earnhardt's number out of mothballs and back to the top of the scoring tower. He got significant attention leading into the season opener, but it faded along with his position on the track. Dillon dropped as low as 39th before working his way back through the field and finishing ninth. In between, he started two wrecks that knocked out several cars and was involved in another.
"I think the yellow stripes on the bumper showed a little bit tonight," said Dillon, who made contact with teammate Ryan Newman and fellow rookie Kyle Larson in separate incidents.
Dillon's teammates didn't fare much better, making it a long night for RCR. Newman was in two accidents and came home 22nd. Brian Scott was in three accidents and finished 25th. Paul Menard also wrecked and crossed the line 32nd.
___
REPLAY REACTION: Jimmie Johnson was hailed as the Daytona 500 champion all over the place Sunday — he was trending on Twitter and even had friends congratulating him via text message — despite the race being in a rain delay.
Showers halted the race after 38 laps and it resumed more than six hours later. Johnson eventually finished fifth, but someone probably believes he won.
Fox Sports showed a replay of last year's season opener, the one in which Johnson won his second 500. Fox ran an intermittent crawl across the bottom of the screen, saying the 2013 race was being shown while Sunday's race was being delayed because of rain. But thousands, possibly hundreds of thousands, of people failed to get the message. Johnson's phone started blowing up with congratulatory texts while he was hanging out in his motorhome.
Fox News, for one, erroneously reported Johnson's victory. And several Fox affiliates relayed the bad information.