5 reasons Kurt Busch will win the Chase for the Sprint Cup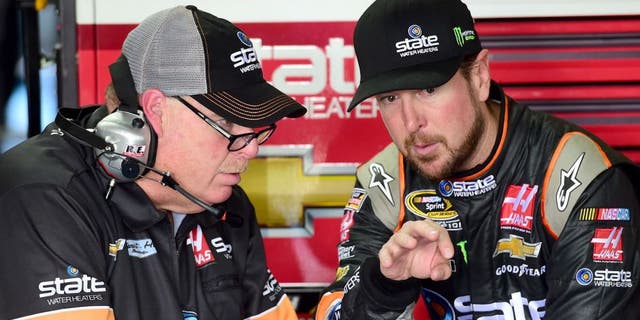 With two races down and one left in the Contender Round of the Chase for the NASCAR Sprint Cup, Kurt Busch is third in the Chase standings -- no guarantee of advancing but a solid position nevertheless.
After beginning the year with much uncertainty, Busch has put up rock-solid numbers on the way to not only making the Chase, but also reaching the Contender Round made up of 12 drivers.
Now, with Sunday's elimination race at Talladega looming, he's laser-focused on getting to the Eliminator 8 and going all the way to Homestead-Miami Speedway, where four drivers will fight it out for the championship in the winner-take-all finale.
Here are five reasons why Busch will win the 2015 Sprint Cup Series title:

5. He's won it before: Remember the first Chase for the Sprint Cup, in 2004, when Busch averted near disaster to take the championship by a slim margin over Jimmie Johnson? You may not, but most folks haven't forgotten. And that includes Busch himself. When you're a past champion -- even if it's been a while --€" you have the confidence that comes with knowing if you've done it before, you can do it again. Busch is no exception.
4. He's streaky: OK, so this isn't always a good thing. But it can be in certain situations. While Busch has lacked the speed of teammate Kevin Harvick, Joey Logano and the Joe Gibbs Racing cars for most of the season, he's won twice and had one stretch where he reeled off seven consecutive top-10 finishes, including four consecutive top fives. If Busch can catch fire in the last five weeks, the sky is the limit.
3. He's already overcome long odds: When Busch missed the first three races of the season while serving an indefinite suspension for alleged domestic abuse, many pundits and fans doubted the Las Vegas native's chances of being able to salvage anything good from 2015. But when Busch was cleared of any criminal charges and subsequently reinstated by NASCAR, he was fast right out of the gate. Despite missing the three races, he managed to quickly climb into the top 30 in points --€" a requirement for making the Chase --€" and it's been pretty smooth sailing ever since. The bottom line: If Busch can make the Chase after missing three races and seeing his whole future in the sport be placed in jeopardy, he can win this championship.
2. He's in a good spot: By all appearances, Busch is as happy personally and professionally as he's been in quite some time. Just this week, Stewart-Haas Racing announced it has signed Busch to a new multiyear contract with additional sponsorship from Monster Energy. In August, Busch announced his engagement to girlfriend Ashley Van Metre, who has been seen with the SHR driver at numerous races this year. In a sport where having one's personal and professional life in order can have a major influence on performance, Busch is currently in a good spot.
1. He's actually flying under the radar: It's kind of hard to believe that a driver with Busch's accomplishments and outspoken personality could fly under the radar, but that's exactly what has happened for a significant portion of the season --€" especially during the Chase for the Sprint Cup. While Kevin Harvick, Joey Logano, Matt Kenseth and others have been grabbing most of the headlines lately, Busch has very quietly put himself in position to advance to the next round, barring a bad outing in Sunday's elimination race at Talladega.