$400M fraud? Fans fight back after learning wounded Pacquiao had little shot against Mayweather
NEWYou can now listen to Fox News articles!
Manny Pacquiao took a beating at the fists of Floyd Mayweather Jr. in Saturday's $400 million boxing match, but now it is fans who want a piece of the Filipino fighter after learning he was damaged goods when he entered the ring.
Pacquiao disclosed after losing a unanimous decision in Las Vegas that he had suffered a rotator cuff injury prior to the bout, and re-injured it in the fourth round. That might have explained Pacquiao's lackluster performance, which left fans who ponied up $100 pay-per-view fees almost as angry as bettors who wagered that Mayweather would lose for the first time in his career.
"Floyd knew I was injured. He kept pulling my arm"
"Pacquiao's injury unquestionably materially, significantly and negatively affected the quality of the product," charges a lawsuit filed in California, which is one of five filed in various courts by fans who say they got taken by Pacquiao, his manager and promoter Top Rank.
The suits seek class-action status, and could eventually come to include millions of pay-per-view customers. A suit filed Tuesday in Las Vegas seeks $5 million in damages for the alleged misrepresentation and non-disclosure that led to customers to unknowingly purchase a fight and wager incorrectly. That suit alleges that Pacquiao's team knew about his damaged shoulder and that the injury would affect his performance in a fight that guaranteed him a 40 percent cut of the estimated purse of $300 million. Mayweather, whose record now stands at 48-0, stands to make as much as $180 million, with the rest going to promoters and expenses.
It was not clear how much in wagers - legal and illegal - had changed hands. There are reports of losing gamblers refusing to pay their bookies, but legal sports books generally pay immediately barring any official protest filed during or immediately after the fight.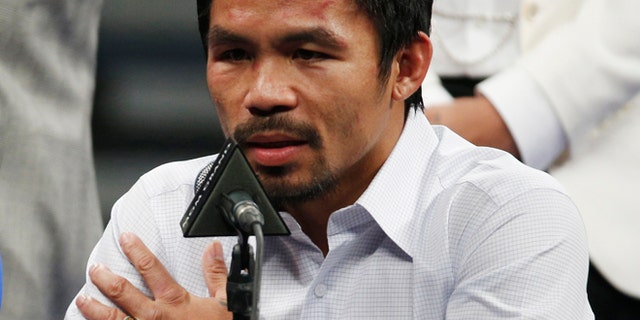 Boxers are required to disclose injuries that could affect their performance, and Pacquiao's injury, a partially torn right rotator cuff, may have been severe enough to have warranted a postponement of the bout. His camp claims the injury was not serious and had improved during training. His trainer said at one point they considered postponing the fight but the shoulder improved.
Pacquiao, for his part, said his shoulder didn't bother him until the fourth round, when he hit Mayweather with a big left hand and went after him with a series of punches. In a post-fight interview, Pacquiao, whose record fell to 57-6-2, told reporters from the Philippines that his opponent seemed to know he had an injured wing.
"Floyd knew I was injured," he said, according to the translation. "He kept pulling my arm."
A copy of the medical form that was signed at last Friday's weigh-in was posted on the True.Ink website, signed by both Pacquiao and his manager, Michael Koncz. The form claimed Pacquaio had no injuries. Yet, just hours before the fight, Pacquiao's corner asked Nevada regulators if he could be given a shot of Toradol, an anti-inflammatory drug. The request was denied because the commission was unaware of any condition meriting treatment, said Bob Bennett, executive director of the Nevada Athletic Commission.
"It's not just the fact he didn't fill out the question completely, it was that he wasn't honest and they didn't tell us a month ago when he had the shoulder injury," Bennett said. "They're not obligated to, but two hours before the fight they wanted a shot that's a pain killer in essence. That put us in a very precarious position."
A Top Rank official said the fact Team Manny sought and obtained permission from the U.S. Anti-Doping Agency to use an anti-inflammatory shot while he trained for the fight shows they weren't trying to hide anything. But USADA head Travis Tygart said the request was not a disclosure.
"We had no medical information, no MRIs, no documents," Tygart said. "It was not an anti-doping issue. The real question is why his camp checked 'no' on the disclosure. Either they made a terrible mistake to not follow the rules or they were trying not to give information to the other side. I'm not sure there's a middle ground."
A spokeswoman from USADA told FoxNews.com that it is common for athletes to inquire about pain medications and the substance Pacquiao's team inquired about was not a banned substance.
Daniel Petrocelli, the lawyer for Top Rank, told ESPN Pacquiao was fit to fight when the opening bell rang, but was injured during the bout. He predicted the lawsuit will be KO'd.
"As Manny has said multiple times, he makes no excuses," the statement read. "Manny gave it his best."
HBO boxing commentator Jim Lampley said whether there was fraud or not, the fans did not get their money's worth. While many believe it is "noble and brave" for boxers to fight through an injury, Lampley said, in Saturday's fight, the public had a right to know Pacquiao was "damaged goods."
The Associated Press contributed to this report