3 keys to the Tigers' success after a productive offseason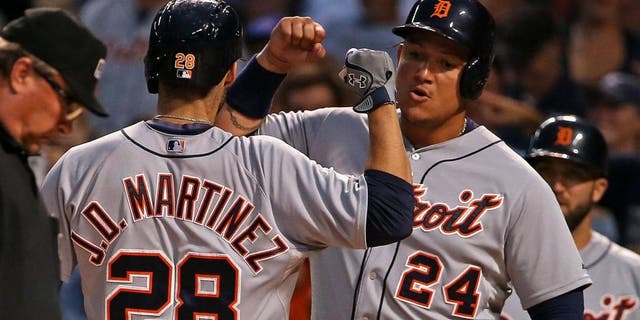 Each weekday between now and the end of spring training, we'll analyze one team's keys for success (or keys to avoid complete irrelevance) in the 2016 season. We focus on the Tigers today, and we'll continue with the rest of the AL Central this week.
1. Get the ball -- and the lead -- to K-Rod. For what now seems like decades, the Tigers' most glaring weakness has been the bullpen. Their latest solution -- after ranking 27th in the majors with a 4.38 bullpen ERA last season and tying for the fifth-most blown saves (24) -- was to acquire closer Francisco Rodriguez and reliever Justin Wilson and to sign free-agent setup man Mark Lowe. Despite pitching for the Brewers the past two seasons, K-Rod ranks fourth in the majors with 82 saves while posting a 2.66 ERA and a .194 batting average against since 2014. And even though it seems he has been pitching since the late 1890s, Rodriguez just turned 34.
Alex Wilson (2.19 ERA last season) and Blaine Hardy (3.08 ERA, 8.1 K/9 ratio) are back, which means this unit looks a lot more impressive than it did at the end of the 2015 season. But Detroit has felt that way plenty of times in recent years, only to get burned by its bullpen.
2. Hope for the best with the rotation. Justin Verlander posted a 2.27 ERA over his final 14 starts last season (after a 6.62 ERA in his first six), and he is the surest thing among the Tigers' returning starters. Anibal Sanchez's 4.99 ERA in 2015 was his worst for any full season of his career, and Alfredo Simon is gone.
Newcomer Jordan Zimmermann will help, but he is coming off his worst season (3.66 ERA, 1.21 WHIP, 24 homers allowed) and will have to adjust to the more offensive American League. Behind those three will be some combination of Mike Pelfrey, Daniel Norris, Matt Boyd and Shane Green. Deep breaths.
3. Warm up the whirlpools. Verlander will turn 33 this week, DH Victor Martinez is 37 and first baseman Miguel Cabrera will be 33 in April. All missed a considerable amount of time last season. In addition, second baseman Ian Kinsler is 33.
Having three outfielders -- Justin Upton, J.D. Martinez, Cameron Maybin -- in their primes will help. But even shortstop 26-year-old shortstop Jose Iglesias missed the entire 2014 season and 42 games last year. An injury epidemic could be akin to a fastball to the groin. If healthy, however, Detroit can make a wild-card run.
PREVIOUS PREVIEWS