2 Detroit Tigers stars become US citizens during ballpark ceremony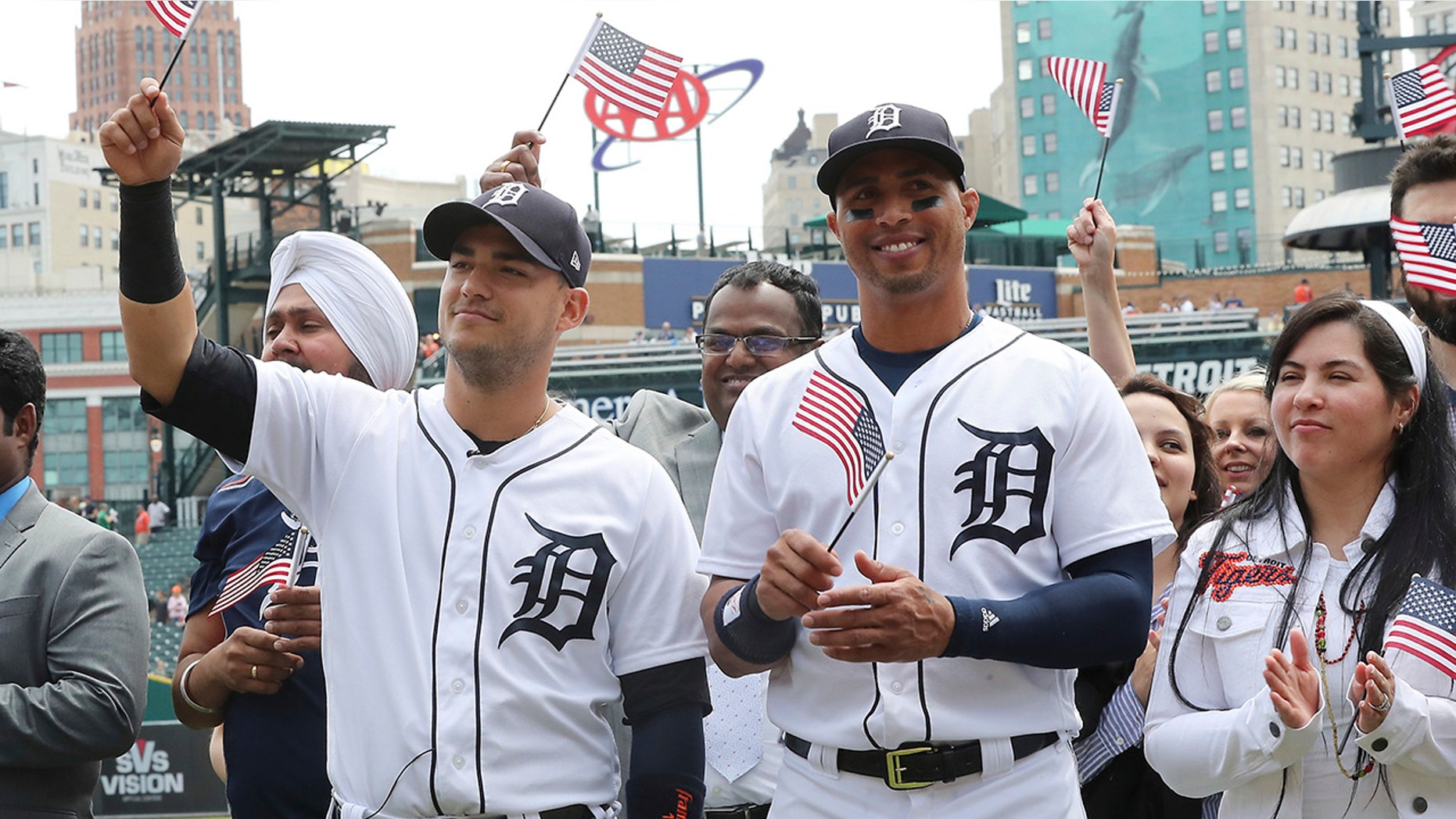 Two Detroit Tigers stars had much to celebrate Monday night despite losing 5-4 to the Oakland Athletics.
Leonys Martin and Jose Iglesias, both natives of Cuba, were among a group of people who were sworn in as American citizens in pre-game festivities hosted by the Tigers before the game.
"I will never forget about my country, but it's amazing to be part of United States," said Martin, a 30-year-old outfielder. "Being able to do it here in the ballpark, right in front of the fans, that was really emotional."
Martin played for Cuba in the 2009 World Baseball Classic. After defecting, he received a $15.5 million, five-year contract with the Texas Rangers in 2011. This is his first season with the Tigers.
Iglesias, a 28-year-old shortstop, made his big league debut in 2011 with the Boston Red Sox before he was traded to the Tigers in 2013. He said he can look back now at the daunting process of getting used to a new country.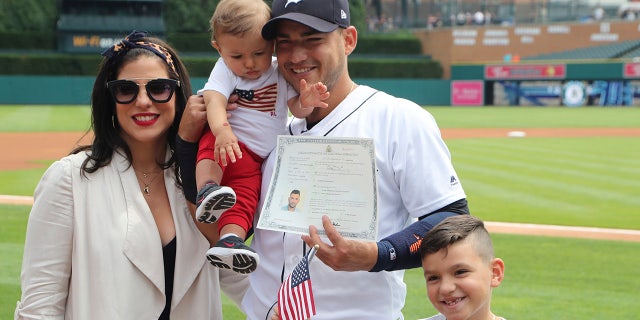 "It's hard, man. You came. You face a new culture, face a new language, facing new food, new everything," Iglesias said before the game. "Still learning. I've been here for 10 years, and I'm still learning."
Iglesias and Martin had their ceremony at a time when a national debate over President Trump's immigration policy has been dominating the news. Iglesias wasn't about to wade into that.
"I don't really have a comment on that. I try to stay away from that," Iglesias said. "If there's anything I can do to help a human being in the end of the day, I will do it, but I try to stay away from politics."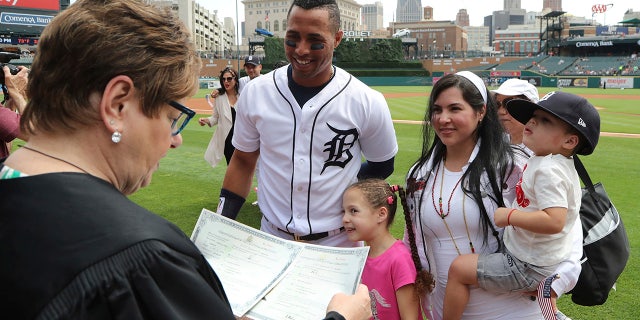 Manager Ron Gardenhire was excited about the ceremony.
"It's really cool. These guys are really proud of that. I'm just hoping they can get to Canada," he said. "They've lost their visas and green cards now once they've taken this citizenship, so they have to get a passport so they can go with us to Canada here in a few days."
The Tigers play a four-game series at Toronto starting Friday night.
For a brief moment, it appeared Monday's game against the Athletics might unfold in storybook fashion — with Martin driving in Iglesias with the winning run. The score was tied at 1 in the seventh inning, and Martin hit a drive to center. Iglesias raced around from first, but he had to stop at third when the ball bounced over the wall for a double. He was thrown out at home when the next batter hit a grounder.
Nicholas Castellanos hit a three-run homer later that inning for Detroit, but Oakland rallied in the eighth and eventually won 5-4.
No matter what, this was still a special day for Iglesias and Martin.
"It's amazing," Iglesias said. "Become an American citizen at a ballpark, and with full uniform and everything. It's a blessing."
The Associated Press contributed to this report.