WikiLeaks founder Julian Assange facing possible prosecution by DOJ: report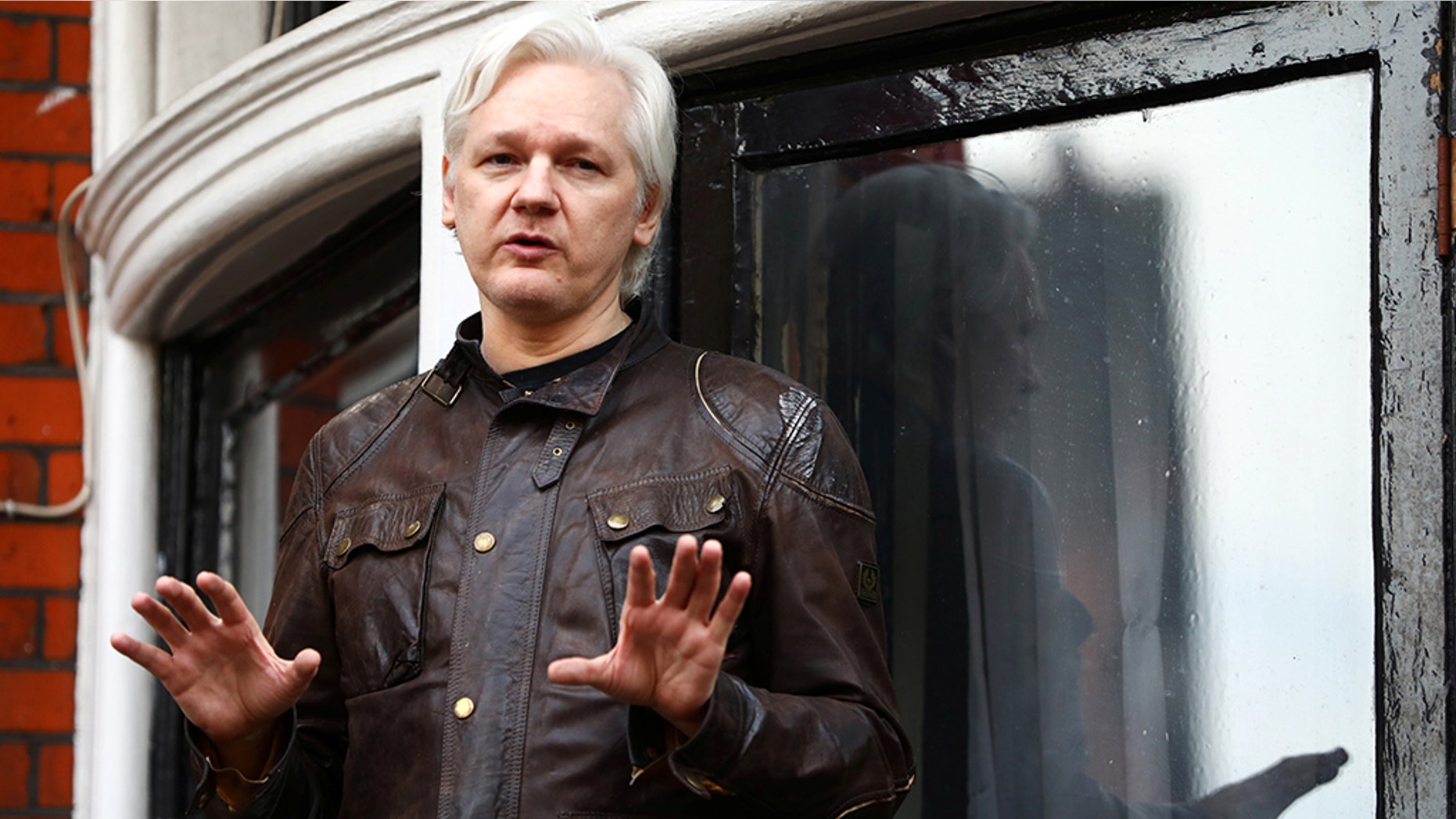 WikiLeaks founder Julian Assange is reportedly facing the prospect of prosecution by the U.S. Justice Department.
A variety of potential charges have been talked about recently amongst U.S. prosecutors, the Wall Street Journal reported Thursday, citing sources familiar with the details. And while those potential charges have yet to be determined, it's possible that they could include the Espionage Act, the outlet reported.
Assange has been seeking asylum in the Ecuadorian embassy in London since 2012 when British courts ordered him extradited to Sweden to face questioning in a sexual assault case. That matter has since been dropped, but WikiLeaks supporters have claimed that Assange fears being extradited to the United States if he leaves the embassy.
JULIAN ASSANGE SAYS ECUADOR IS TRYING TO END HIS ASYLUM
WikiLeaks is facing a federal grand jury investigation over its publication of American diplomatic and military secrets stemming from the war in Iraq.
The website also gained attention amid the 2016 presidential election when Russian spies allegedly gave WikiLeaks emails from Hillary Clinton's campaign in a bid to help elect then-candidate Donald Trump. Assange has denied getting the files from the Russian government or backing the Trump campaign.
It wasn't clear if conversations regarding Assange had taken place with officials in the United Kingdom or Ecuador, sources told the Journal. However, updates pertaining to the manner as of late have made them optimistic, they added.
Officials have mulled the possibility of presenting charges against Assange publicly in order to induce his ousting from the embassy, believing that their evidence could provide Ecuador with an excuse to expel him from the embassy, sources told the Journal.
ECUADOR TELLS JULIAN ASSANGE TO CLEAN BATHROOM, LOOK AFTER CAT, CURB SPEECH IF HE WANTS INTERNET, REPORT SAYS
Late last month, Assange argued in court that Ecuador's government was attempting to force him out of their London embassy with the goal of handing him over to the U.S.
Assange sought a court injunction to force the government to withdraw new rules requiring him to pay for doctor visits and WiFi, among other things. A judge ruled against Assange.
Barry Pollack, a lawyer who represents Assange, told the Journal that he hadn't been made aware of any developments and condemned the notion of prosecuting him.
"We have heard nothing from authorities suggesting that a criminal case against Mr. Assange is imminent," Pollack said. "Prosecuting someone for publishing truthful information would set a terrible and dangerous precedent."
Fox News' Samuel Chamberlain and The Associated Press contributed to this report.