Why the IRS scandal won't die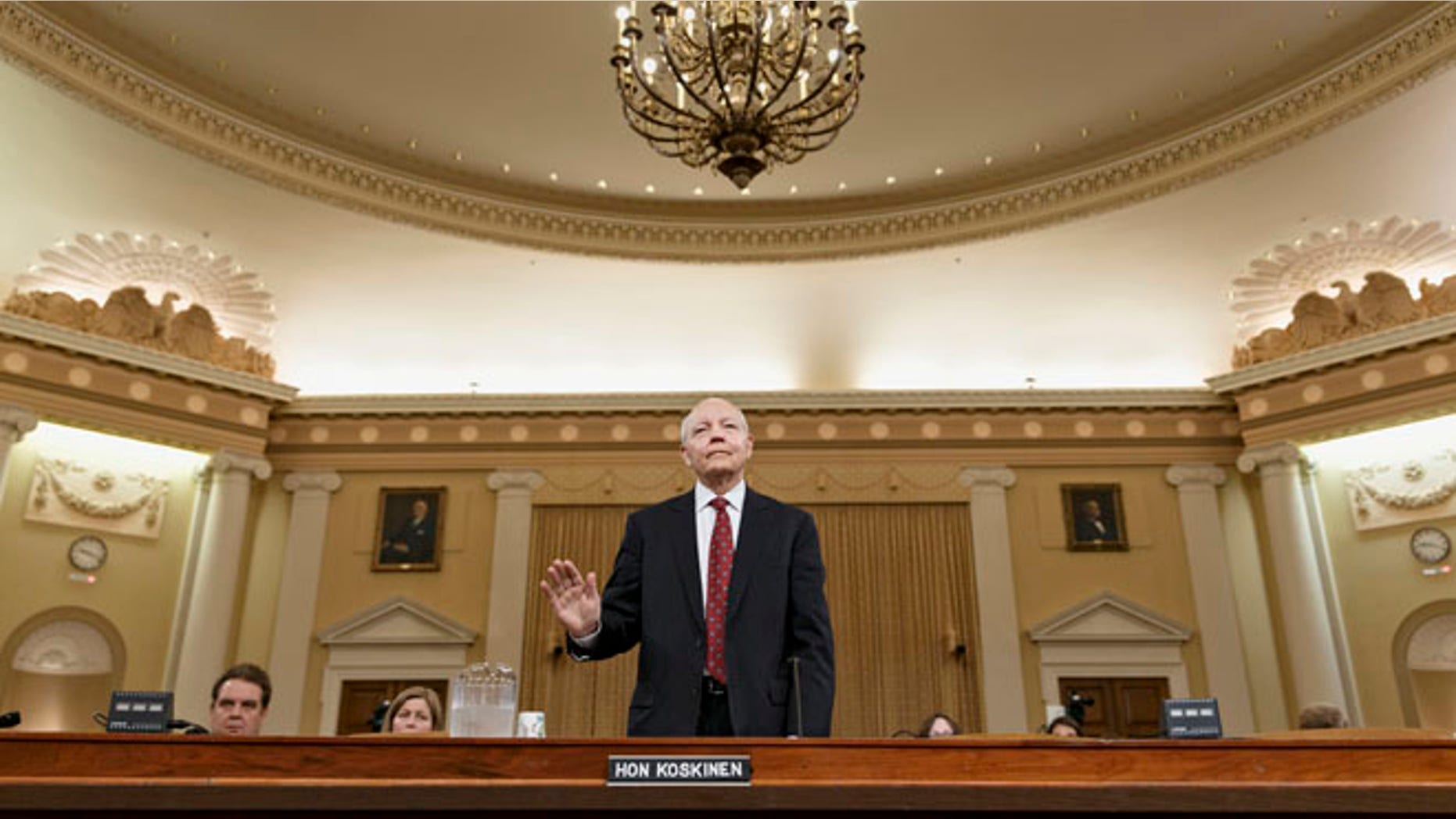 **Want FOX News First in your inbox every day? Sign up here.**
[Editor's note: Happy 151st West Virginia Day! Mountaineers are always free, and we're always Mountaineers, so please indulge me today as amid the political news we highlight some of the best of my beloved, and always underappreciated, home state on its birthday.]
Buzz Cut:
• Why the IRS scandal won't die
• Obama takes credit for ending the Iraq war, except when he doesn't
• Big ObamaCare subsidies not big enough
• Power Play: The bellwether of 2014
• Hallowed hollow
WHY THE IRS SCANDAL WON'T DIE
IRS Commissioner John Koskinen is on the Hill today for another round of contentious hearings on mounting allegations of misconduct at the agency. Taking center stage: the vanished emails of key figures in the scandal. The agency, accused of harassing conservative groups, claims that emails from individuals who are the focus of congressional investigators are gone and unrecoverable. A dubious claim. As the partisans haggle over "recycled" hard drives and the existence of back-up servers, though, let's not forget why we care. This isn't just an ordinary story about an over-powerful government agency run amok. The allegations here are of political corruption in which officials appointed by the party in power allegedly sought to impede and punish those of the opposing view with the intent to alter the outcome of two elections. That's not just the usual stuff we read about with regulators gone wild – consequences of an obtuse and overbroad bureaucracy that rains misery on citizens just and unjust. This is an allegation of rigging two elections by high officials in an agency with enormous powers to harass and intimidate.
[Famous West Virginians in politics and government - Ward Hill Lamon was Abraham Lincoln's devoted bodyguard and trusted confidante. Lamon, sent by Lincoln to Richmond the day before the president's assassination, famously warned the president not to go to the theater without him. Other notable names: Booker T. Washington, Sylvia Matthews Burwell, Robert Byrd and Henry Louis Gates]
Outbox - It would be bad enough if the emails – which happen to involve the central figures in the scandal from the precise period of time of the alleged wrongdoing – were gone. But that fact that the agency withheld word of their disappearance until now reeks of a cover-up and calls into question all the previous claims of transparent cooperation. The Obama administration, its back against the wall, cries out "The server ate my emails." And there's this:  The emails in question are between scandal figures and those outside the agency. That matters because the most important question in the whole affair is: At whose direction and with whose knowledge did the targeting of the president's enemies occur? We know Democratic senators were pushing the IRS to move against conservative groups. The narrative from the administration is that a rogue executive, Lois Lerner, pushed subordinates to overzealous enforcement against conservative groups. But were any of the senators calling for a crackdown or their staffs in communication with Lerner or her subordinates? There's evidence that Lerner colluded with an official at the Federal Elections Commission about targeting. Which other agencies was she sending to? And, the biggest question, what about the White House and officials in the president's political shop?
[Strange but true - West Virginia was the site of the only known aerial bombardment in U.S. history, when federal forces responded to a 1921 uprising of coal miners in Logan County, including a bomber squadron led by aviation pioneer Billy Mitchell.]
What's so special? - If this was a simple corruption case, it would be much simpler. But the charge here isn't that individuals acted for personal profit. The claim from Republicans is that IRS officials were deliberately suppressing efforts to defeat Democrats, including the president, in elections. That's a big claim, and Republicans will pay hell for it if it turns out not to be true. But given the most recent revelations, it hardly seems like the alleged beneficiaries of the misconduct ought to be the ones investigating. The Obama administration has gone to remarkable lengths to avoid having special prosecutors rooting around, the idea of having partisans investigating their fellows for political malfeasance is probably too much even for this team. An irony: If the IRS really is the victim of its own shoddy IT department, this may be an even more consequential technological failure for the Obama administration than even the crashed launch of ObamaCare.
[Famous West Virginians in the arts - Hawkshaw Hawkins was a rising star in country music – he had already scored hits with "Pan American" and "The Sunny Side of the Mountain" – when he was killed in the same 1963 plane crash that claimed Patsy Cline.  Other notable names: Brad Paisley, Don Knotts, Davis Grubb, Steve Harvey,John Knowles, Bill Withers, John Corbett and Pearl Buck]
Issa calls White House to testify Tuesday - Daily Caller: "House Oversight and Government Reform Committee chairman Rep. Darrell Issa requested the testimony of White House Counsel's Office lawyer Jennifer O'Connor at next Tuesday's hearing on the IRS lost emails scandal. Issa wrote a letter to O'Connor, who worked at the IRS in the first months of its conservative targeting scandal in 2013 and was promoted to the White House earlier this year, asking her to appear alongside IRS commissioner John Koskinen at Tuesday's Oversight hearing. Issa made clear that he thinks O'Connor "knew or should have known" that ex-IRS official Lois Lerner's emails were missing.
[Fun fact - West Virginia may be the most unusually shaped state in the Union. Its crooked borders run an astonishing 1,170 miles. It is the only state with two panhandles and includes the famous Mason-Dixon Line.]
OBAMA TAKES CREDIT FOR ENDING THE IRAQ WAR, EXCEPT WHEN HE DOESN'T
WaPo: "President Obama surprised a few people during a news conference Thursday by claiming that the 2011 decision to withdraw all U.S. forces from Iraq, a politically popular move on the eve of an election year, was made entirely by his Iraqi counterpart. The implication ran counter to a number of claims that Obama has made in the past, most notably during a tight campaign season two years ago, when he suggested that it was his decision to leave Iraq and end an unpopular war."
That was then - "Four years ago, I promised to end the war in Iraq. We did." – President Obama, campaigning in Sept., 2012.
This is now - "Well, keep in mind that wasn't a decision made by me. That was a decision made by the Iraqi government." – President Obama asked by reporters Thursday if he regretted his 2011 decision not to leave some U.S. troops in Iraq.
[Famous West Virginians in military history - Gen. Chuck Yeager was the first person known to have flown faster than the speed of sound, piloting the experimental plane he dubbed "Glamorous Glennis" on Oct. 14, 1947. He knew how to fight, too. Other notable names: Ebenezer Zane, Gen. Thomas "Stonewall" Jackson and Gen. Thomas Jessup]
BIG OBAMACARE SUBSIDIES NOT BIG ENOUGH
A Kaiser Family Foundation study found 43 percent of ObamaCare enrollees report having difficulty paying their premiums, even with government subsidies. Washington Examiner's Byron York crunches the numbers: "Of the 8 million, about 85 percent, or 6.8 million, actually paid for coverage. Of those, about 87 percent, or 5.9 million, receive taxpayer-paid subsidies to help them pay. In other words, nearly everyone who has bought insurance through the Obamacare exchanges has done so with money from the government. And the subsidies are significant — an average of $264 a month, according to HHS. The average monthly premium is $346, according to the report, so minus the $264 subsidy, the average subsidy recipient is paying a net cost of $82 a month for coverage. The government pays the rest… After Democrats finish crowing about what a success Obamacare is, it's likely they will argue that subsidies must be extended to more and more Americans to pay for coverage that Obamacare has made more and more expensive. Republicans will resist, but at the same time realize Obamacare has changed the health care system in ways that will be difficult to overturn and hard to fix."
'Start over' Obamacare - Reuters: "U.S. Republican party officials are putting together a new election year messaging campaign to reach women voters on issues including Obamacare, jobs and education as they seek to gain an advantage in the Nov. 4 congressional elections. About three weeks of internal polling and focus group research has identified jobs and household finances as the most important issues among 1,206 likely women voters, according to the Republican National Committee, which commissioned the surveys along with the National Republican Congressional Campaign…. The research identified the phrase 'start over' as a message that resonated with many women on Obamacare. The Republicans have been seeking to bridge the gap between loyal voters who want the healthcare law thrown out and those who favor retaining its consumer protections as part of a different reform environment."
[Fun fact - Modern outdoor advertising as we know it got its start in Wheeling, W.Va. around 1909 when Bloch Brothers Tobacco began deploying artists to paint bridges and barns with their slogan: "Treat Yourself to the Best, Chew Mail Pouch."]
WITH YOUR SECOND CUP OF COFFEE...
Does your state celebrate its birthday? Not too many do, but West Virginia makes a big production on of the event on June 20 each year – government offices close and historical re-enactors start popping up. Why? Aside from the special pride Mountaineers take in their beautiful state, their story is unlike any other in the union. The very short version is that when Virginia left the Union, West Virginia left Virginia. But the two-year-long effort, and the exploits and intrigues that surround it, is a great story for every American to know. The stakes were high, especially since the state was smack-dab in the central front of the war, and the consequences were enormous. If you want to know what you owe to those audacious men of 1863, read here.
Got a TIP from the RIGHT or LEFT? Email FoxNewsFirst@FOXNEWS.COM
POLL CHECK
Real Clear Politics Averages
Obama Job Approval: Approve –  42.3 percent//Disapprove – 53.9 percent
Direction of Country: Right Direction – 28.5 percent//Wrong Track – 63.5 percent
Generic Congressional Ballot:  Democrats – 42 percent// Republicans 42 percent
PROSECUTORS ALLEGE WALKER AT CENTER OF 'POLITICAL SCHEME' IN ANTI-CONSERVATIVE PROBE
Wisconsin prosecutors, having tried unsuccessfully to press a case against Gov. Scott Walker, R-Wis., in a secret probe have gone public accusing Walker of being at the center of a scheme to illegally coordinate fundraising with outside groups. The Hill: "According to the [court documents]… prosecutors allege 'a concerted effort to circumvent Wisconsin's campaign finance contribution prohibitions, limitations and disclosure requirements" to boost him in 2011 and 2012 during his gubernatorial recall election and help other state senators facing recall elections." The probe has been decried by Walker supporters as a partisan political operation aimed at the governor as he seeks re-election. Watchdog.org: "Looking at the same documents, two judges have already ruled that John Doe prosecutors have absolutely no evidence of wrongdoing. U.S. District Court Judge Rudolph Randa, who last month shut down the investigation through a preliminary injunction, described the prosecutors' claims against Walker as 'simply wrong.'
Clinton donor bans Free Beacon from Razorback stacks- Washington Free Beacon: "A Hillary Clinton donor who serves as dean of the University of Arkansas libraries has banned the Washington Free Beacon from the school's special collections archives, after the news outlet published revealing stories about Hillary Clinton based on documents available at the university library. The ban came days after the Free Beacon ran a story about Clinton's 1975 defense of a child rapist that drew from audio recordings available at the University of Arkansas library's special collections archives."
#mediaBuzz: Recap Hillary – Howard Kurtz hosts the Fox News Channel duo who sat down with former Secretary of State Hillary Clinton this week. "Special Report with Bret Baier" anchor Bret Baier and "On the Record" host Greta Van Susteren will dive into how they approached the interview.
[Famous West Virginias in sports - No golfer will ever beat Slammin' Sammy Snead's record for most tournament wins, 82. That's because no one works hard enough in professional golf anymore to even come close. Other notable names - Nick Saban, Mary Lou Retton, Randy Moss, Lou Holtz, Jerry West, John Reger and Hack Wilson]
POLL: ROMNEY, SHAHEEN COME OUT ON TOP
Boston Herald: "The surprise early frontrunner in New Hampshire's next GOP presidential primary is the loser of the last White House race – former Massachusetts Gov. Mitt Romney, who wipes the 2016 field by a more than 2-1 margin, a new Suffolk University-Boston Herald poll reveals. The poll of 800 likely Granite State voters has less encouraging news for another ex-Massachusetts politician, former U.S. Sen. Scott Brown. He trails incumbent Democrat Jeanne Shaheen by 10 points and is now viewed unfavorably by 46 percent of New Hampshire voters. But the biggest loser in the Suffolk-Herald poll is President Obama, whose approval rating has tumbled to an all-time low in New Hampshire. Just 39 percent of Granite State voters give a thumbs up to Obama's job performance, while 52 percent disapprove, according to the poll."
POWER PLAY: THE TAR HEEL TOSS UP IN 2014
Polls have Republican state Rep. Thom Tillis and Sen. Kay Hagan, D-N.C., nearly tied in this key race in the midterm contest for control of the Senate. Democratic strategist Chuck Rocha, Solidarity Strategies, and GOPAC President David Avella join Power Play host Chris Stirewalt to handicap Tillis's chance to unseat Hagan. Watch the discussion here.  And how about that Senate race in Iowa?  Will recent primary winner Joni Ernst make the difference for the GOP?  Watch here.
CRUZ TOUTS T.W. SHANNON'S SUPPORT OF OKLAHOMAN IDEA
The Dallas Morning News: "Sen. Ted Cruz, having rankled fellow Republicans by working with the Senate Conservatives Fund — which has tried to unseat some of them — is starring in an ad for the group in Oklahoma. In a new statewide TV spot, Cruz urges voters to support T.W. Shannon, a former state House Speaker hoping to succeed Sen. Tom Coburn….In Oklahoma, SCF is spending $163,429 to air the 30-second Cruz/Shannon ad statewide, today through primary day on Tuesday. "Liberty is under assault," Cruz says into the camera. "In Oklahoma there are a number of good Senate candidates, but T.W. Shannon is a conservative fighter. He has the courage to look Washington insiders in the eye and say, I don't work for you… On June 24th, let's make DC listen and vote T.W. Shannon for U.S. Senate."…Shannon's toughest opponent is two-term U.S. Rep. James Lankford, also a conservative. The winner would replace Coburn, who is resigning at the end of the year."
GARDNER PROPOSES OVER-THE-COUNTER BIRTH CONTROL PILLS
AP: "Rep. Cory Gardner,[ R-Colo.,] is proposing that women be allowed to buy birth control pills without a prescription. Gardner made the suggestion Thursday after being criticized by Democrats on women's rights. Gardner, a Republican, is challenging Democratic Sen. Mark Udall in November's Senate election. Udall aired an ad this week accusing Gardner of wanting to ban birth control because he backed a measure to give legal rights to fertilized eggs. Planned Parenthood also hit Gardner on the issue in an ad Thursday. Gardner has since disavowed the so-called personhood proposal. In a piece for the Denver Post, he said it would be safer and cheaper if the pill was available over the counter. Gardner and Udall are competing for the votes of a small number of suburban women who often decide statewide Colorado elections."
FRIENDLY MEETING TURNED SHOUTING MATCH
Jackson (Miss.) Clarion-Ledger: "What was supposed to be a meet-and-greet with citizens at a supermarket for Chris McDaniel turned into a shouting match between the U.S. Senate candidate and an onlooker. McDaniel arrived at a Jackson Kroger in Thursday morning planning to meet approximately a dozen senior citizens for coffee and pastry… things escalated when 77-year-old John Davis yelled, 'How, with no seniority and a promise simply not to get along with anyone, will you accomplish any of the things you want to accomplish?' McDaniel responded by saying 'What have they accomplished besides putting us in debt?'… Things became testy when Davis wagged his finger in the face of the two-term state senator… McDaniel then reportedly responded by telling Davis to get his finger out of his face... The [Sen. Thad Cochran] campaign responded by sending out an email with the subject line 'Clean up in aisle 4.'"
McCain backs Cochran - Jackson (Miss.) Clarion-Ledger: "U.S. Sen. John McCain[, R-Ariz.,], scheduled to campaign for [Sen. Thad Cochran] on the Coast on Sunday, will also campaign for Cochran in Jackson on Monday, the Cochran campaign said….In 2008, before McCain secured the GOP presidential nomination, Cochran made headlines when he said of his colleague: 'The thought of him being president sends a chill down my spine. He is erratic. He is hotheaded. He loses his temper and he worries me.' But later, after McCain became the Republican nominee, Cochran endorsed him."
NEW HAMPSHIRE GOVERNOR TRAVELLING ON TAXPAYER FUNDS
The New Hampshire Republican State Committee attacked Democratic Gov. Maggie Hassan for her lavish lifestyle on "the taxpayer's dime." "She is a do as I say and not as I do Governor, and our state deserves better than her hypocrisy," said GOP state Committee Chairman Jennifer Horn in a statement.  "We look forward to replacing her with a responsible Republican who actually can manage our state's finances this fall." As a candidate, Hassan promised fiscal responsibility and balanced budgets. But when the state went into a hiring and travel freeze, she still went on a trade mission trip to Turkey.
PICK SIX
Republicans are hoping to pick up an additional six seats to gain control of the Senate this November. Which Democrat-held seats will prove to be the most likely flips for the red team? The current consensus among Fox News First readers: Arkansas, Montana, Louisiana, South Dakota, North Carolina and West Virginia.
Share your top six picks. Email them – just your top six, please – to FOXNEWSFIRST@FOXNEWS.COM or tweet @cstirewalt.
Fox News Sunday: McCarthy makes it as majority leader - In his first TV interview since he was elected House majority leader, California Republican Kevin McCarthy will sit down with host Chris Wallace, to delve into his plans to lead the GOP forward. "Fox News Sunday with Chris Wallace" airs at 2 p.m. and 6 p.m. ET on Fox News. Check local listings for air times in your area.
[Famous West Virginians in business, industry and technology -They called Michael Late Benedum "The Great Wildcatter" for his unprecedented success in opening new oilfields, but the Bridgeport, W.Va. farm boy is now best remembered for the remarkable charitable foundation his fortune built. Other notable names: Walter Reuther, James Rumsey, John Chambers, Dutch Kindelberger and John Forbes Nash]
HALLOWED HOLLOW
The great-great-great-great granddaughter-in-law of William Anderson "Devil Anse" Hatfield of the infamous Hatfield and McCoy family feud will be laid to rest this week. Pearl Jane Trent Hatfield will be the last person interred at the family cemetery that is the final resting place of those who fought and died in the long feud along the Tug Fork of the Big Sandy River, which snakes along the Kentucky-West Virginia border. The two clans get together every year around West Virginia Day to celebrate their famous fight. The struggle between Devil Anse and his kin against the Kentuckians of Randolph "Old Ranel" McCoy's family has gotten the Hollywood treatment, but the story stretches all the way back to the Civil War and the 1865 murder of Old Ranel's brother by a local militia that included Devil Anse. The tale even has star-crossed lovers from the Montagues and Capulets of the Tug Valley. And in death, even as in life, nothing has been simple. The burial area of the families, who intermarried throughout the years, even was under dispute. But that ends this week as Miss Pearl will be the last family member to be buried in the hallowed plot.
AND NOW, A WORD FROM ABE…
"The admission of the new State turns that much slave soil to free; and thus, is a certain, and irrevocable encroachment upon the cause of the rebellion" – President Abraham Lincoln, in his opinion on the question of West Virginia statehood.
Chris Stirewalt is digital politics editor for Fox News. Want FOX News First in your inbox every day? Sign up here.