'Why didn't they prepare?' Hundreds of VA vacancies, as returning vets strain system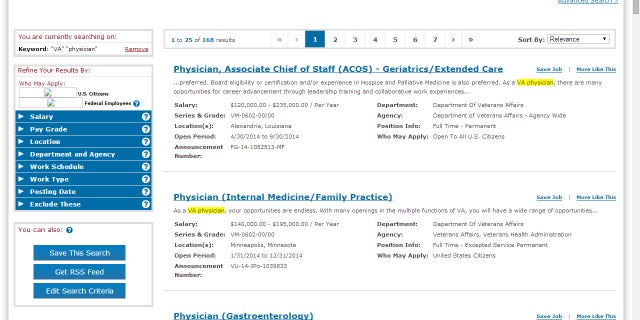 NEWYou can now listen to Fox News articles!
WASHINGTON – Despite rampant allegations of veterans stuck in limbo waiting for care, hundreds of jobs remain unfilled at the Department of Veterans Affairs -- including at some of the very locations where doctors supposedly were too short-staffed to see patients.
A search by FoxNews.com on Friday of the USA Jobs federal employment website showed more than 1,080 current vacancies in health-related fields at the VA.
A search of the words "VA" and "physician" yielded 167 jobs openings with top-range salaries of roughly $295,000 a year. There are 18 openings alone in the Phoenix VA Health Care System – the same one facing allegations that up to 40 people died while waiting for treatment.
One full-time position is for the chief of medicine. The vacancy, posted April 15 and open until June 13, comes with an annual salary up to $235,000.
The VA pitches the job as a don't-miss opportunity. The ad boasts that "as a VA physician, your opportunities are endless" -- the agency offers "generous paid time off and a variety of predictable and flexible scheduling opportunities."
So why the vacancies, at such a critical time?
In recent weeks, whistleblowers have come forward to criticize how the agency is handling its massive caseload. The allegations generally accuse local VA facilities of pushing off patients and then manipulating their own records to make it seem like they're receiving care in a timely fashion.
Officials, in explaining the overburdened system, have pointed to the influx of veterans from the wars in Afghanistan and Iraq, as well as the long-term care of aging vets from Vietnam.
"We go into Afghanistan, leave Afghanistan for Iraq with unfinished business in Afghanistan," House Speaker Nancy Pelosi said Thursday, suggesting these problems were years in the making. "Ten years later, we have all of these additional veterans -- in the past five years, two million more veterans needing benefits from the VA. That's a huge, huge increase."
But the hundreds of vacancies show that the VA, with the influx of veterans a well-known factor, is not even operating at full capacity now.
Pete Hegseth, CEO of Concerned Veterans for America, questioned why the department didn't better prepare for the returning veterans by staffing up.
"These are self-inflicted wounds. This isn't a money issue. This is a prioritization issue," he said. "They knew there were going to be more veterans who needed care. Why didn't they prepare?"
Hegseth, a Fox News contributor, said he's not surprised that lawmakers are trying to shift the blame. "It's cover your ass time," he said.
The inspector general at the VA says 26 facilities are now being investigated nationwide, including the one in Phoenix.
Some have accused administrators of cooking the books and creating an environment that encouraged VA staff to manipulate wait times of veterans who need medical or mental health care. Others, though, have called the scandal political theater and say for the most part, the VA medical system works.
In a letter to veterans Friday, VA Secretary Eric Shinseki vowed to do better and promised to investigate every allegation brought to the department's attention.
"As we approach our observance of Memorial Day and its special significance to our nation, VA is re-doubling its efforts, with integrity and compassion, to earn your trust," he wrote.
On Wednesday, President Obama broke his silence on the issue, vowing to "fix whatever is wrong" but stopping short of calling for Shinseki's resignation.
As the scandal plays out in D.C., the VA continues its march to fill the hundreds of vacancies for health care officials at its clinics and hospitals across the country.
Among those is also a position in Kansas City, Mo., for a full-time radiologist, with a pay range of $98,967 to $295,000.
There are also openings at the VA teaching hospital in Danville, Ill., for urologists, pulmonologists and dental laboratory technicians. The facility also has an opening for an outpatient pharmacist, tasked with dispensing "appropriate medications and counseling patients on proper medication administration and storage." The salary range is between $101,580 and $123,776.
Calls to the VA for comment were not returned.