White House Tries A Kinder, Gentler Approach To Achieving Immigration Reform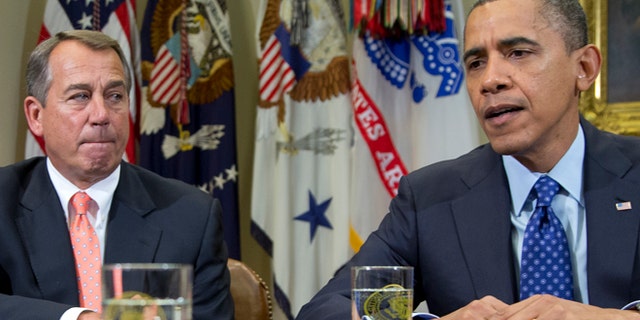 The White House is going to try a kinder and gentler approach to immigration reform in the hope that a carrot this year will bring more success than the stick did last year.
White House officials reportedly have told leading immigration reform advocates in recent meetings that President Obama is choosing to tone down his rhetoric on the need to overhaul the system, and will give Republicans in the House of Representatives the space to work on legislation, according to Politico.
Many Republicans in the House, where they have a majority, have expressed anger over what they say is Obama's overly aggressive approach to reforming immigration. In June, the Senate passed a bipartisan comprehensive immigration bill that called for tightening border security, expanding foreign work visa programs, and providing a path to legal status for undocumented immigrants who meet a strict set of criteria.
Last year, Obama threatened to put forth his own comprehensive measure if the Congress did not pass one — a move that angered many Republicans. House Republicans said they would not rubber-stamp the Senate bill, and added that they prefer to deal with the complex issue through smaller, separate measures.
Politico quoted an unnamed White House official as saying that Obama will give House Republicans the time and flexibility they feel they need to come up with immigration bills they can put up for a vote.
"We're focused more on the result and less about the process," the official said, according to Politico. "If they have to jump through a series of hoops, we're happy to let the House work its will."
Some of the more conservative Republicans in the House object to providing legal status to people who live here illegally, saying that would be tantamount to rewarding law-breakers. Others in their party, however, argue that all the estimated 11 million undocumented immigrants cannot be deported, and that something must be done to bring them out of the shadows.
The Obama administration has taken some immigration matters into its own hands while disagreements in Congress over how to handle the issue brought work on reform to a virtual halt.
One such move the president made was to suspend deportation for two years for undocumented immigrants who were brought to the United States illegally when they were minors. Those who qualified for the program have been able to get work permits and, in some states, driver's licenses.
"You're not going to see the president talking critically or negatively about Republicans on an issue like this when he wants to see this happen," said Jim Wallis, president of the Christian social-justice organization Sojourners. "They're not looking for conflict here, they are looking for cooperation and collaboration."
House Republicans, meanwhile, are working on what they're calling "immigration principles" which would give potentially millions of undocumented immigrants a chance to permanently live and work in the United States.
The plan, which is reportedly days away from being released to the public, will cover ideas on how the U.S. border should be protected, how immigration laws should be enforced inside the United States, the expansion of visas for certain foreign workers, and how many of the country's estimated 11 million undocumented immigrants can embark on a path to legalize their status, according to published reports.
House Speaker John Boehner, a Republican from Ohio, is said to want the principles released before Obama delivers his State of the Union address on Jan. 28.
Sen. Jeff Sessions, a Republican from Alabama, assailed the principles.
"House Republican leaders must dismiss the whispers of the consultant class, the pleadings of the business lobby, and the pressure campaign from the activists who believe illegal immigration is a civil right," Sessions said in a written statement. "It would be tragic if the [Boehner's] immigration principles were simply a 'piecemeal' repackaging of the Senate plan."
Some in the Republican camp say they are leery about the White House plans for a more conciliatory approach to immigration, Politico said.
"Playing nice has not been a hallmark of this administration," said Brendan Buck, a spokesman for House Speaker John Boehner (R-Ohio), according to Politico. "But if we're going to solve our immigration challenges, the White House and its allies will have to understand that the House is going to take its time and get this done the right way."
On Tuesday, U.S. Homeland Security Secretary Jeh Johnson visited the Texas-Mexico border.
Johnson said that the surge of immigrants from countries other than Mexico crossing the border illegally presents challenges to the department.
"What has been brought home to me today is that we need to continually monitor trends in border crossings," Johnson said at the Anzalduas International Bridge. "We need to continually try to stay ahead of the game when it comes to trends, emerging trends."
While arrests of Mexican citizens remained nearly unchanged last year, arrests of immigrants from other countries, including Guatemala, El Salvador and Honduras, increased 55 percent, according to data released by U.S. Customs and Border Protection on Friday.
Johnson, who won Senate confirmation to lead the Department of Homeland Security in December, did not elaborate on those challenges, but in the past year the growing flow of immigrants especially from Central America have at times overwhelmed Border Patrol stations in South Texas creating backups in processing and other logistical challenges.
The Associated Press contributed to this report.
Follow us on twitter.com/foxnewslatino
Like us at facebook.com/foxnewslatino