Venezuela's Maduro Endures Rough Inauguration Day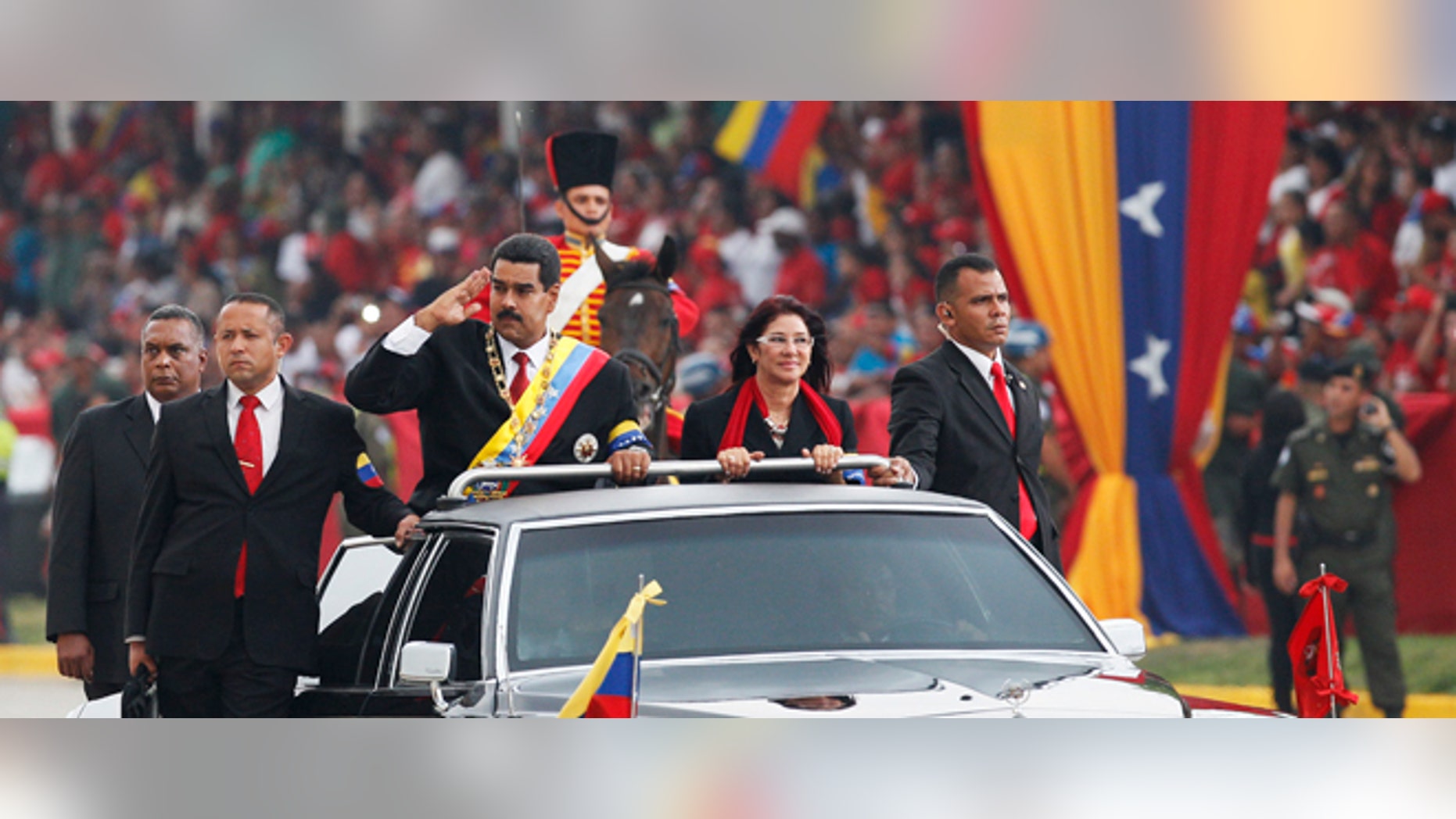 Caracas, Venezuela – The man picked to lead Venezuela's socialist revolution for the next six years could have had a better inauguration day.
Hours before President Nicolás Maduro's swearing-in, his government announced it would allow a full audit of the razor-thin vote that the opposition says he won by fraud, which analysts said was likely a bow to both domestic and international pressure.
Then the massive crowds that used to pack the streets for late leader Hugo Chávez failed to appear.
Finally, a spectator rushed the stage and interrupted Maduro's inaugural speech, shouting into the microphone before he was grabbed by security.
It was an inauspicious start to the first full term of the burly former bus driver laboring in Chávez's shadow and struggling to inspire the fervor that surrounded the former lieutenant colonel during his 14 years in power. Maduro, who has the support of the Chavista bases, needs all the momentum he can muster to consolidate control of a country struggling with shortages of food and medicines; chronic power outages; one of the world's highest homicide and kidnapping rates.
Addressing a dozen heads of state including Presidents Dilma Rousseff of Brazil, Juan Manuel Santos of Colombia, Raul Castro of Cuba and Iran's Mahmoud Ahmadinejad, Maduro promised to address crime and purge the country's popular social service programs of corruption and inefficiency, although he mentioned few specifics.
Alternatively striking conciliatory and incendiary tones, he expressed willingness to deal with the opposition, although the government has made a series of similar promises that it hasn't acted on.
"I call the country to a revolution of socialist efficiency, to fight red tape, corruption, laziness, to fight backwardness, the culture of lethargy ... we'll turn these six years into a miracle of economic prosperity," Maduro said. "We will guarantee peace in this country, only us, and I say that with modesty ... I'm ready to talk even with the devil."
Venezuelan government officials appeared confident there will be no reversal of the result by an audit that's only slated to begin next week and could drag on well into May. Many independent analysts agreed. Still, the announcement of the audit by the government-controlled National Electoral Council was a surprise reversal for a government that insisted all week that there would be no review of Sunday's vote and took a hard line against the opposition — including the alleged brutal treatment of protesters.
The announcement late Thursday night came moments before the official start of an emergency meeting of the union of South American leaders, Unasur, to discuss Venezuela's electoral crisis. The leaders wound up endorsing Maduro's victory after their meeting in Lima, Peru. Analysts said that appeared to be in exchange for his concession to the audit.
"The democratic legitimacy of Unasur as a group and of each one its members would be placed in doubt if Venezuela refused to accept a recount," said Alexandre Barros, an analyst with the Early Warning political risk group in Brasilia, Brazil.
Opposition candidate Henrique Capriles said the audit will prove he won the presidency. And even if it leaves the vote standing and calms tensions, the recount will strengthen the opposition against a president whose narrow victory left him far weaker than Chávez ever was, analysts said.
"The regime has no intention of modifying the existing situation," said Vicente Torrijos, a political scientist at Colombia's Universidad del Rosario, suggesting it won't let the audit force them from office.
Still, he said, "I think this is a weak government, incredibly fragile, and it's an unsustainable regime."
The International Monetary Fund said this week that it expects Venezuela's economy to contract 0.1 percent this year compared to 5.5 percent growth in 2012 and to have the region's highest inflation at 27 percent, forcing an inevitable cutback in the public spending that was key to Chávez's popularity.
On Friday, the first day of a long holiday weekend, administration's red-clad backers were fervent but marched in relatively small numbers through the capital, dancing and blowing trumpets, led by riders on horseback and even massive bulls yoked in pairs. Opposition backers leaned out of their windows banging pots and pans in protest as government backers shot fireworks.
As Maduro addressed the crowd inside the National Assembly building, a spectator rushed the stage and pushed him away from the microphone, startling millions watching on national television with a shout that sounded like "Nicolas, my name is Jenry!" before the intruder was tackled and dragged away.
The broadcast cut away, then returned to the lectern and Maduro, who continued his speech.
"He could have shot me here," Maduro said, dressing down his security detail before continuing with his address.
Prosecutors said in a written statement that a man they identified as Yendri Sánchez González, 28, had been detained and would be charged with unspecified crimes for interrupting the swearing-in. They offered no further details.
Maduro, 50, was declared the winner of Sunday's election by a slim 267,000-vote margin out of 14.9 million ballots cast. That did not include more than 100,000 votes cast abroad, where more than 90 percent were cast for Capriles in an earlier election against Chávez last October.
Venezuelans voted on computers that issued paper receipts used to confirm the accuracy of the electronic vote. Authorities checked 54 percent of the electronic vote against the paper receipts and registers containing the names, signatures and fingerprints of each voter.
The National Electoral Council said just before the start of the meeting in Lima that it would audit 46 percent of the vote not already scrutinized on election night. An electoral official told The Associated Press that the new process, to start next week, would replicate the one from election night.
Capriles has alleged a series of vote irregularities, some of which would be turned up by a new audit, such as charges that there was damage to 3,535 voting machines, representing 189,982 votes, and that voting rolls included 600,000 dead people. He said that many of those irregularities took place in polling locations that weren't audited on election day.
Capriles had demanded a full vote-by-vote recount but said he accepted the ruling.
"We are where we want to be," Capriles told a news conference. "I think I will have the universe of voters needed to get where I want to be."
Some analysts saw the possibility that the audit could turn up enough irregularities to throw the election result into question and spawn turmoil.
"It opens a sort of Pandora's box," said Edgar Gutierrez, an independent political analyst in Caracas.
Maduro had never rejected the audit publicly, and it was possible pressure from the military or more moderate members of his ruling clique were a factor. Maduro heads a faction believed to be more radical.
"This is a concession to Capriles, but it is also a way of calling his bluff. It is exceedingly unlikely that such an audit will show a different result," said David Smilde, a Venezuela expert at the University of Georgia.
A petition to halt Maduro's inauguration had been rejected earlier Thursday by the country's highest court.
"This government will continue to govern until this thing gets resolved," Capriles said. "It's a history of chapters."
Based on reporting by The Associated Press.
Follow us on twitter.com/foxnewslatino
Like us at facebook.com/foxnewslatino